Callum Sinclair – Deck of DT 2016
On New Years Eve Anthony takes a look at one of his old Eagles as he heads East for a shot at more ruck time and more Fantasy points.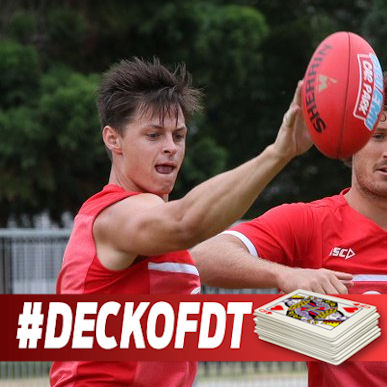 Name: Callum Sinclair
Club: Sydney
Position: Ruck / Fwd
AFL Fantasy: approx $415,000
AFL Dream Team: $433,700
Bye Round: 14
2015 Average: 74.1
2015 Games Played: 17
Predicted Average: 80 – 90
Click here for DT Live profile.
Why should I pick him?
New year and new opportunities await Callum Sinclair. Consistently playing 2nd and 3rd fiddle to Nic Nat and Lycett over at West Coast, Sinclair has moved to Sydney in search of more game time. So why should he also move into your Dream Team considerations?  Here's 5 possible reasons and 1 slightly crazy theory.
First, Job Security. This has always been an issue in Sinclair's career but not anymore. With the retirement of Mike (did you know he is Canadian?) Pyke, Sinclair is a 26 year old ready made Ruckman who has found a team in Sydney who need a ruck! He will perfectly compliment Tippett as he also has the ability to swing forward and contribute to the scoreboard after kicking 13 goals last year. (fun fact: he played as a full forward throughout his junior years)
Second, Price. While we are yet to have Sinclair's exact price this season, we can assume he'll come in priced at his 74 average. But if he is able to push his scoring average up to 80 or 90 then you've got the extra $50K – $100K that you'd have spent on that ruck to spend elsewhere.
Third, No more Vest! In the past we would be very hesitant in picking a ruckman from a team with multiple rucks as they would generally be the first player subbed when coaches needed to inject more speed into the game. But with the vests gone in 2016, we can safely pick these players and know that even if they're having a down game, they'll still be a chance to keep the DT scores ticking over.
Fourth, Cover. This year we're finding a lot of the best ruck men are sharing the round 15 bye, Sinclair could be a nice point of difference with his round 14 bye to give you a bit of ruck cover.
Sinclair also has the dual position ability giving you a chance to switch him between fwd/ruck which could be useful if partnered with another to save you a trade if injury strikes.
Fifth, Scoring potential. Last year saw Sinclair score over 80 points 8 times, including 103, 105 and an impressive 21 disposal, 29 Hit Out, 129 point game against Sydney in round 17. Not a bad effort at all! By picking Sinclair you'll be hoping that more responsibility at the Swans will lead to him reaching these scores more often.
Which leads to the slightly crazy theory.
If we take a look at Sinclair's lowest scoring games last year we can notice a slight trend. They came against teams with very physically dominant Ruckmen. 36 pts against Goldstein at North Melbourne, 53 pts against Jacobs at Adelaide, 66 pts against Sandilands at Fremantle and 59 pts against Gawn at Melbourne.
While at first glance this could seem like Sinclair really struggles against the bigger rucks in the comp. However, I'd like to suggest a different theory.
Sinclair was not West Coast's first choice ruck. In these games against the bigger ruckmen, West Coast prefer to use Nic Nat more to try jump over these giant rucks to negate their influence. Meaning that Nic Nat spends more time on the ball and Sinclair would see a lot less action in these games.
This is my reasoning behind thinking that 74 is not a true reflection of what Sinclair can average.
As Sydney's first choice ruckman and after his first full preseason in a while, who know's what he'll be capable of!
Why shouldn't I pick him?
Because he is a massive gamble! That crazy theory could just be that and maybe he does really struggle against larger ruckmen.
There are also question marks over his durability with him never playing a full season without injury.
Even at his possible approx $400kish price point there are still rucks around him who could be seen as a safer gamble.
Honestly I think the biggest reason to not pick him is the scary 'unknown' factor. There is too much about Sinclair that we just don't know at this stage.
We don't know if he'll get the majority of ruck time or have to split it evenly with Tippett. We don't even know if Sinclair has the tank or is capable of running out a full game as a solo ruckman or how he'll score in that scenario. We don't know how he will fit into his new side and we don't even know if his body can hold up to a fulltime AFL ruckman's season.
As far as 'risky picks' go, these reasons put Sinclair right up there!
Deck of DT Rating.
JACK – Risk vs Reward. At the end of the day, that is what you'll be weighing up when considering Sinclair.
The plus side to taking this risk is that as long as Sinclair is lining up as Sydney's first choice ruck, I can't see him dropping too much cash in the first few rounds while giving us a look at how he'll go. But if he doesn't perform better than his average then you will be burning a trade to get him out early.
I'm thinking Sinclair could honestly be one of those players this year who'll set up your season or sends you into a depression spiral.
Honestly, Sinclair is not in my team at this moment. He is most certainly on my 'wait till NAB and see' list.
Loading ...
FOLLOW ME ON TWITTER: @Anthonydsmith86 and don't forget to hashtag #DeckofDT