Harley Bennell – Deck Of DT 2016
Bennell is first on Jep's agenda and the troubled star is likely to provide plenty of fantasy value to those willing to give him a go.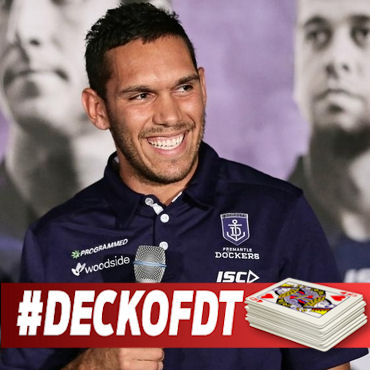 Name: Harley Bennell
Club: Fremantle
Position: Forward / Midfielder
AFL Fantasy: $509,000
AFL Dream Team: $533,300
Bye Round: 15
2015 Average: 92
2015 Games Played: 15
Predicted Average: 96
Click here for DT Live profile.
Why should I pick him?
Bennell is about to go bang! The talented youngster hasn't had the smoothest footy career to date but joining Freo in the off-season will see him turn THE corner. Ross the Boss will put the rocket under Harley every single day and he's already looking in tiptop shape at this stage of preseason (source).
Harley doesn't just ton up, he can go big. Last season at the struggling Suns, he managed 5 tons from 15 games (33% strike rate), 4 of which were 110+ scores…not bad for a forward! Furthermore, he scored below 70 just once last year providing a level of consistency for coaches. At just 23 years of age, there's plenty of improvement left in Harley hence the hype and it will propel him to forward premo status pretty darn quickly in my opinion. Don't miss the boat.
Having Gaz around no doubt aided Bennell's Fantasy scoring output over the years but what about being surrounded by Fyfe, Mundy, Neale, Barlow with Sandi tapping down your throat! Playing as a go to midfielder and having the support and discipline that his Freo teammates will provide each week will be invaluable next season.
With Daisy, Wells and Kerridge providing a bit of value, many of us will be picking at least three premo forwards to start and Dusty is probably the only lock. Montagna – old and pricey, Dahlhaus – plenty to like but can stink it up, Barlow – slow and on the slide maybe? As a high scoring forward, Bennell will be slightly cheaper, a healthy point of difference and facing the Dogs, Suns, Eagles, Roos and Blues is a great run early likely to pay dividends.
Why shouldn't I pick him?
Off field issues saw Bennell get the axe from the Suns and being around family and friends in Perth doesn't guarantee good behaviour. If he does get into strife, the Dockers wont hesitate handing down a heavy suspension forcing Fantasy and Dreamteam coaches to trade.
There's likely to be a teething phase for Bennell learning the Dockers structures and his role within the team. We know that he'll be used in the midfield but how much of a free 'reign' Harley will get to go out and win the footy is unclear. This will prompt many coaches to put a line through him early but my advice is to monitor him over the preseason before ruling him out.
Deck of DT Rating
KING – With all the adversity from last season, Bennell enters 2016 as a Top 10 averaging Forward. The majority of coaches will see Harley as a risk to start with (fair enough) but reliable forwards are hard to pick this year so why not be a bit different? Bennell is a proven ball winner who knows where the goals are and he will thrive under the guidance of Ross Lyon. Playing amongst the Dockers star-studded line up on the vast spaces of Patterson's Stadium will also boost his Fantasy scoring. Don't be surprised if Bennell turns out to be the recruit of the year and Fantasy GOLD.
Loading ...
FOLLOW ME ON TWITTER: @JeppaDT for all thing AFL Fantasy (and more). Got something to say about the deck? Use the hashtag… #DeckofDT.