Jaeger O'Meara – Deck of DT 2016
Time for a Jaeger Bomb! Get out your shot glass and enjoy. This kid can play but how is he priced and how is he tracking this pre-season after missing the entire year.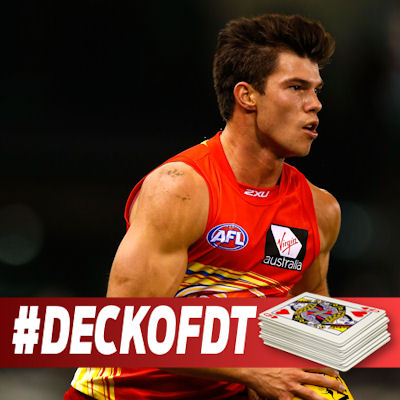 Name: Jaeger O'Meara
Club: Gold Coast
Position:  Midfielder
AFL Fantasy: $415,000
Real Dream Team: $322,500
Bye Round: 13
2015 Average: DNP
2015 Games Played: DNP
(2014 Average: 93)
Predicted Average: 92
Click here for DT Live profile.
Why should I pick him?
Let's get this clear… if Jaeger O'Meara is fit and firing come round one, you WILL be picking him.
In just his second season, he dominated 2014 where we played all 22 games. He averaged 93 which consisted of 10×100+ scores. The kid is a jet and even in his first year of AFL he averaged 89.
O'Meara ruptured his patella tendon (knee for those non-doctors) in a NEAFL practice match (bloody sh*t NEAFL) in March and therefore failed to play any part in the season.
As hindsight would have it, this might have been a blessing in disguise as he would have been the only decent player left battling the entire midfield work load by himself.
O'Meara was the 2013 Rising Star and is feeling great about his return.
"Everything's going smoothly with my rehabilitation, and I'm on track to return at the start of the season," O'Meara said.
This sounds like a man of confidence and a man you sounds be locking in come round one.
Click here for the Gold Coast prices and targets from aflratings.com.au.
Why shouldn't I pick him?
As confident as Jaeger is, it appears he is in no rush to get back asap and to be playing the game he was when he averaged 93.
So will he be managed and eased into the season with an easier role?
"With our midfield depth, I might have to develop other areas of my game over the pre-season and learn how to be more damaging going forward, or to play off the wing or halfback," O'Meara said.
Or will he even be right come round one?
"Whether it's round one or round five, I'm not fussed. I just want to make sure I get it right." O'Meara said recently. This doesn't sound like a guy overly keen to be in our teams from the word go!
He also shares a bye with the likes of Jack Steven, Cotchin, Gibbs, Pendlebury and of course Gary Ablett. Many of these guys will be popular picks and could cause mayhem.
Deck of DT Rating.
KING – At this stage of the early pre-season, O'Meara certainly needs to be in your plans. He has plenty of upside priced at an average of just 75 and should increase this by at least 15pts.
The concerns about him being ready for round one will be answered in time. I honestly think he'll be fine, but maybe receive a rest at some point before his bye as they will manage their young star.
A new role? This may prove beneficial to his Fantasy game and maybe float through the half back picking up easier touches.
But it's a no brainer… pencil him in now and be ready to ink him in in a few months time.
Loading ...
FOLLOW ME ON TWITTER: @CalvinDT for all thing AFL Fantasy (and more). Got something to say about the deck? Use the hashtag… #DeckofDT.