Matthew Leuenberger – Deck of DT 2016
The Deck of DT for 2016 kicks off with Warnie's look at new Bomber and bargain RUC/FWD Matthew Leuenberger.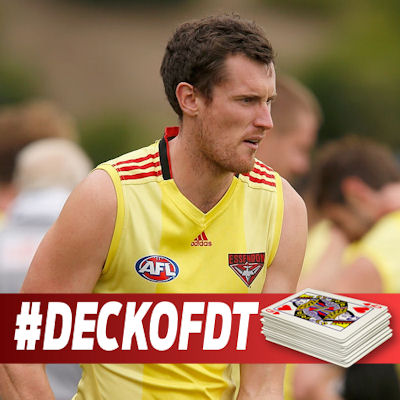 Name: Matthew Leuenberger
Club: Essendon
Position:  RUC/FWD
AFL Fantasy: $301,000
AFL Dream Team: $315,500
Bye Round: 14
2015 Average: 54.43
2015 Games Played: 14
Predicted Average: 75-80
Click here for DT Live profile.
Why should I pick him?
The 'Berger landed at the Bombers via free agency in the Trade Period seeking opportunities as he had fell behind Stefan Martin in the pecking order at the Lions. Playing 14 games, his Fantasy output was limited averaging 54 points. This was atrocious but we can put it down to role.
Let's take a look at his history. Leuenberger went 92.8 from 22 games in his fifth season and with injuries, he has been on our Fantasy radar since as a bargain almost every second year. In 2013 he averaged over 85 but then the last two seasons a knee and Martin's resurgence has meant he hasn't been what we wanted.
The 27-year-old picked up FWD status to give him the very handy FWD/RUC due to playing second fiddle last season but by all reports, John Worsfold has stated that he will be the number one ruckman due to Tom Bellchambers being better up forward. Of course it's best if he's the sole ruckman – he scored 124 this year with Martin out of the side, but at that price there is plenty of upside still working in tandem with Belly. I'm predicting him to average in the range of 75-80 which is enough to fit the mould for my strategy.
I wouldn't be picking him in the forward line, however the flexibility of his DPP could help during the season.
Considering he is worth less than half the price of Stefan Martin and Todd Goldstein, we can save a decent amount of cash by opting for a mid-priced player. Obviously this is risky, especially with his body and a bit of unknown at a new club, but the reward surely outweighs the risk.
Click here for the Essendon prices and targets from aflratings.com.au.
Why shouldn't I pick him?
Shouldn't we start with the two best rucks and set and forget? It makes sense – if there were two midfielders who would be pumping out 115 each with a gap to the next group, we'd be all over it for captiancy alone… why should the rucks be any different?
Leuenberger has has plenty of injury woes over his career and at the end of the day, he's only had a couple of seasons where he has averaged high enough to be considered a premium. Let's be honest here, if we were betting on it, the 'Berger isn't really that underpriced considering he comes in priced at what he has delivered in six of his nine seasons. It would be safer to go with a set and forget strategy, regardless of their prices.
Risk on body, risk on role, risk on output… there is plenty to worry all of the best coaches – even though he comes in at $301K.
Deck of DT Rating.
QUEEN – He's risky (have I said that enough), but at this stage I am willing to take the punt. With plenty of upside and hopefully the Bombers playing a fantasy friendly game, there will be plenty of hitouts and touches around the ground for the big man. It will suck if he is stuck forward for extended periods of time, but I'll back in what Woosha said with the 'Berger being the go-to man. Heck, he's been a long standing member of the Warne Dawgs over the last few years and I guess another year won't hurt.
Loading ...
FOLLOW ME ON TWITTER: @WarnieDT for all thing AFL Fantasy (and more). Got something to say about the deck? Use the hashtag… #DeckofDT.