BBL Fantasy: Round Two Review and Round Three Preview
Now that the BBL's innings break, otherwise known as Christmas, is out of the way, it's time to have a look at what we learned in round two and have a look forward to round three.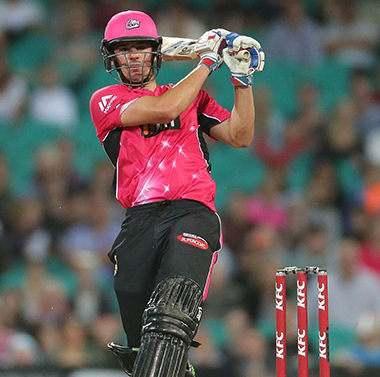 Now that the BBL's innings break, otherwise known as Christmas, is out of the way, it's time to have a look at what we learned in round two and have a look forward to round three.
Told You So
Round two was always going to be a reality check round and considering the average score from the top 10% of players was 495, it was certainly a harsh one at that. Only six players cracked the 80 point barrier and that was compounded with a lot of captain's options scoring poorly. If you managed to survive round two with your ranking intact, well done – I certainly, possibly, maybe did not.
Positives in the Carnage
There was a lot of bad this week, but there were a few good signs to take into round three as well. For starters, international superstars Mahela Jayawardene, Kumar Sangakkara and Chris Gayle all had good weeks after average starts, showing that they're finding their grooves in this tournament. Mahela might be an issue with his low strike-rate scoring, but give that a few more weeks. Cameron Bancroft filling in as wicketkeeper for the injured Sam Whiteman is also a big tick for his job security, making him one worth bringing in at just over 20k. Finally, it was a week dominated by all-rounders with Moises Henriques, Dan Christian, Dwayne Bravo and David Willey among the highest scorers, showing that it's always worth backing them in.
Hold Your Renegades, but watch the Heat
The Melbourne Renegades have the bye this week and are coming off a relatively poor scoring round, but I strongly recommend benching them and not trading them. The Renegades are one of three teams that have a double game round next week and so if you can maximize the amount you have in your team, you give yourself a higher probability of a better score. I also rate the Renegades as a potentially very high scoring team throughout this tournament. If you can get away with benching them this round, do it. In saying that, be responsible and use common sense when it comes to double game players. For example, if you have the dilemma of whether to play Marcus Stoinis or Andrew Fekete this round with Fekete's Brisbane Heat having the double game round, back form over playing twice. Stoinis has given you no reason to bench him and Fekete is coming off a 20. Even doubled, Stoinis could beat that. It's just an example of how a player having a double game round is not a set-and-forget thing, you still have to pay attention to form.
Captain's Round Three
Round three is going to be another round where you probably won't be relying on the double game team for your captain. Here are my five best options for round three.
Glenn Maxwell: As mentioned earlier, back in your all-rounders. Maxwell is a great player of spin and the Sixers will go into this match with at least two of them, which works in his favour. The Sixers and the Stars always put on good matches so let's just hope Maxy is able to slog a few.
Michael Klinger: The Scorchers take on the undermanned Brisbane Heat at home and a situation like that is set up for someone like Klinger to dominate. With the Scorchers line-up set to be shaken up with four players out on test duty or injury, Klinger is the reliable one we know will open the batting, so of the Scorchers players, I'd be backing him in.
Andre Russell: The big West Indian showed some serious form in round one and is probably worth backing in round three. The Thunder take on the Strikers at home and Russell has actually been taped hitting a ball out of Spotless Stadium. That counts in his favour in my books.
Kumar Sangakkara: I think the veteran has found his feet and he did not look troubled one bit last round down in Hobart. The Hurricanes play there again this week and Sangakkara should be reliable option for a good score.
Shane Watson: We go into round three knowing Watson is most likely going to bowl at least three overs. Despite missing out in round one, I'm still backing him in as my highest scorer of the tournament and a good captain option most weeks.
Smokies: George Bailey continues to show great form, there's no reason against picking him as your captain unless you simply have someone else in mind. Ben Cutting is probably the best option as far as the Heat go in their double game week, but you'd probably also be safe in backing in someone like Chirs Lynn. One final option, if you want a real smokie is Adil Rashid, who could dominate on the spin-friendly Spotless Stadium and is a handy hitter down the order if the Strikers collapse, you never know.
Final Thoughts
Good luck in round three, well, you're most likely already doing better than me… so actually I retract that good luck. Good luck to me!
Anyway, as mentioned last week, keep your eye on round four for big scoring potential and make sure you look out for weather reports with there being a lot of rain floating around this week.
Merry Boxing Day.