Make the Best of the Vest – Part One
Bandicoot has submitted his first article looking at who could be slightly under-priced due to wearing the no abolished sub vest.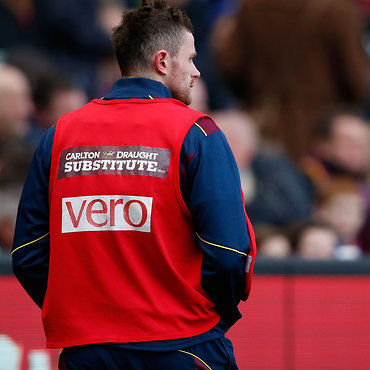 How often over the past two or three years have we cursed our misfortune when we see the stating line-ups only to find one (or more) of our team are wearing the dreaded green vest.  The 70 points we expected to get from player a, b or c has suddenly dried up to how many he can possibly get in 30 minutes or less.   If that wasn't enough we then discovered why we couldn't see another of our players in the last quarter – he had the red vest on.  The 50 or so points we were deprived of then turned out to cost us our head to head match that week.
There is little doubt that the "sub rule" together with the bye rounds have been the biggest bugbears of anyone playing fantasy/Dream Team over the past few years.  Thankfully the AFL have seen the error of it's ways and will do away with the sub rule for 2016 and hopefully forever thereafter.
For all the pain it has caused over those years, 2016 represents a little bit of payback with the number of great bargains the vest(s) of last year will offer us.  Brady gave us some insight recently as to the bargain picks based on those who will receive discounts next year due to having played only a handful of games this year.  Our good friends at dtlive.com.au have given us a wonderful tool with their data view function giving us access to not only scores of every player for every game last year but also whether they wore a vest in that game as well.  So when we look at the 41 points scored by Tom Mitchell in round 17 – it wasn't due to him not being able to get the footy.  It was due to him sitting on the bench for three quarters with the green vest on.  Or Taylor Adams lousy score of 41 in round 19.  Again it was due to a bloody vest – literally.  He was off the ground with the red vest on.  The data view tool allows you to view players by team, position, age, number of games played or any combination you choose.
When we consider that what we are going to pay for a player in 2016 is based primarily on their 2015 average score a number of games when a vest was involved will bring that average well down on their expected output when playing a full game.  Just a quick look through each team has brought up some fantasy gold selections in 2016 in my humble opinion.  Let's have a look at what each team could offer us starting with Adelaide through to Geelong.
Greater Western Sydney to West Coast will follow in a few days time.
Matt Crouch:  Matt missed only one game since coming into the side in round 6 so job security is not an issue even with his brother's return next year.  Of the 15 games he played he suffered with 4 green and 1 red vest games reducing his overall average to 71.5.  Take out those 5 vest games and his average rises to 85.7.  It is worthy to note that Matt's "points per minute" score (PPM) of .9892 is getting up there with the elite. With Dangerfield no longer a Crow his midfield time could increase even further in 2016.  Consider.
Jarred Lyons:  If ever there was a player to suffer from the vest it is he.  Played 12 games for the year including the last 6 with 8 of them in the green vest.  Of his 4 games starting on the field he averaged 60.75 but his vest games brought his overall average down to 44.7.  Could be a worthwhile F6 if he continues with mid / forward dual position status.
Pearce Hanley: Not one who ever needed to worry about the green vest however had three games last year where injury during the game severely impacted his scores (57, 31 and zero).  Finished with an overall average of 81.8 however this would have been as high as 99.33 without those impacted games.  If named as a defender at any stage would be a great pick but still feel there are better midfield options.
Due to same scenario as Pearce Hanley,  Tom Rockliff and Dayne Beams will be discounted and worthy selections.
With 15 new players coming into Carlton's list it is hard figuring out the likely makeup of their best 22 for 2016.  Even though there are a few players who were badly affected by the green vests last year at Carlton (C Smith, B Walsh & N Holman) I doubt that any of them represent good fantasy/DT value for 2016.
Adam Oxley:  Adam played 17 games in Collingwood's defence this year and did not start any of them with a green vest.  He did however finish 5 of those with a red one.  Considering he finished with an overall average of 72.2 it is fair to suggest the red vested scores of 25, 36, 29, 63 and 38 were due to injury rather than anything else.  Take those 5 games out and Adam shows a very healthy average of 86.33 which would rank him as our 7th best defender of 2015.  If he can stop getting injured could be a worthy starting defender.
Although there are a few other Magpies who fit the criteria of having vests reduce their averages I'm not convinced that any others are suitable candidates for 2016.
David Myers:  David suffered a serious injury early in the first term at the sodden SCG in round 1 and scored a massive 3 points for the match.  Fortunately he returned in round 23 to score 70 points.  I say fortunately as I have no doubt had he finished 2015 with only the 3 points from round 1 the administrators of fantasy/DT would have based his 2016 value on his 2014 average of 81.24 less discount for games played.  Now with an average of 36.5 for 2015 they will hopefully base his 2016 value on that.  This would put him at the very lower end of midfielders.  If priced as I hope will be a certain starter for 2016.
S Edwards, K Langford, E Kavanagh, J Ashby, A Brown, K McKenna & W Hams all fit the criteria of having their average scores reduced by vest games however I'm not convinced that any of them will get regular games with the Dons next year.  If any of them are named for round 1 they will need some consideration.
Matt De Boer:  Matt represents great value for 2016 as he is likely to be in Fremantle's best 22 each week and next year he will not have half of his games impacted by wearing a vest.  7 green vests and one red one reduced Matt's 2015 average to a very low 57.6.  For the games where he did not wear a vest he averaged 77.55 with the last 5 of those at an average of 88.2.  Matt will be a certain starter in my forward line.
Matt Taberner:  Similarly with M De Boer, Matt Taberner had half of his games affected by vests.  Unfortunately for him, he was handed the RED vest in 7 of his 14 matches.  Not all of these were as a result of injury however even in the games he did play out, a top score of 74 (rd 2) doesn't bode well for him to be on our radar for next year.  NO!
Hayden Crozier, Tim Sheridan and Lachlan Weller also had vest affected seasons but did not score sufficiently when given full games to warrant selection next year.
I feel that Geelong only offer us one player who is a vest bargain.  He only played two games.  In fact he has only played two games in 4 years!!  It was great to see Daniel Menzel sparkle with 93 points in his comeback game and I thought then that he was out of DT contention for 2016 as a result of that.  A rest vest just after half time in the last round and a miserly score of 21 brought his 2015 average back to 57.  Combine that with the discount he will receive for only playing two games and he becomes a viable F6.  Problem is that we have had no history over the past 4 years to figure what his likely output could be and is it wise to be picking a player with his history?  NAB challenge will be vital before making a decision on him. 
Even though N Cockatoo had numerous games where a vest was involved (7 out of 11) his scores when not in a vest were not that much higher making him of little value.  Same could be said of Horlin-Smith, Kersten, Simpson and Luxford.
Aaron Hall:  After an indifferent start to the year with a high score of 57 and two vest affected games (24 and 17) in his first 5 matches one would hardly think of Aaron as a likely starter for 2016.  After all he finished last year with an awkward average of 76.3 however it is more than worth noting that from round 17 to round 23 he averaged an amazing 106 per game.  Fair to say he spent a bit of time in the midfield during those 7 games and with the return of Ablett, O'Meara and Swallow this may reduce significantly.  Worth looking at his role during NAB challenge.
Jack Martin:  No-one doubts Jack Martin's football ability and I am certain he will play a major role in Gold Coast's rise up the ladder next year however I feel it will be as a small/medium forward rather than as a midfielder.  That being so, I do not see his figures rising next year to the level where he is likely to be a keeper.  His three injury interrupted games this year (31, 2 and 28) reduced his average from 78.77 to 64.2 (17.4% reduction) but I do think there a better alternatives at this stage.  Keep an eye on during NAB challenge but I don't think so.
Sean Lemmens and Jarrod Garlett are others who had vests affect their overall average but again, they would need to improve significantly to be looked at for next year.