Predicting the Top Five Highest Scorers of BBL|05
In an article that is sure to blow up in my face come the end of the season, I will attempt to come up with the top five scorers of BBL|05 by position and then the top five overall.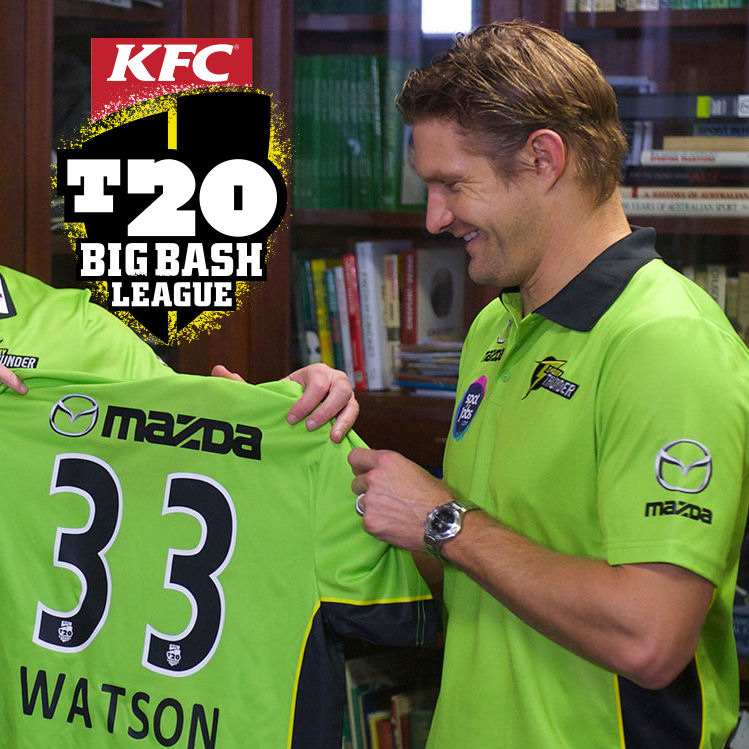 In an article that is sure to blow up in my face come the end of the season, I will attempt to come up with the top five scorers of BBL|05 by position and then the top five overall. These rankings will be based on form in previous tournaments, recent form, predicted positioning within the team and unadulterated fluke guesses. So without further ado, I will tie the noose around my neck and predict the top five scorers from each position!
Batsman
Shane Watson ($73,500)
Watson could prove to be a total domestic level bully in this tournament. Watson has always looked good in the shorter format and the only thing that might stop him from dominating this tournament is a lack of cricket under his belt in recent months. If he bowls, which he should, he could be the highest averaging player of the tournament. Or he could pull a hammy in game one and sit the tournament out, you know, Watto style.
Glenn Maxwell ($69,800)
Despite his inconsistencies, Maxwell is a world class short form batsman and if he finds form early in the tournament, he could do some serious damage. Maxwell will probably bat at four or five for the Stars which is a little low, but given how fast he can score and the fact that he's a handy spin bowler, he should be a very high scorer in this tournament.
Aaron Finch ($42,200)
Lack of form and recent injury issues aside, I have a hunch that Finch is going to be very eager to make up for his shocking BBL|04. The Renegades skipper should be in for a massive tournament.
Chris Gayle ($88,900)
He's Chris Gayle. He could be far and away the player of the tournament if he chooses to be. He'll definitely open the batting for the Renegades and he could bowl a few handy overs too.
Kevin Pietersen ($77,600)
The thing that makes me think Pietersen will do well is the chip he has on his shoulder with his home nation moving on from him. The BBL is a big stage and Pietersen could see it as the perfect opportunity to remind everyone how good he is. He's certainly got the ability, it's all about his application.
Wicketkeepers
Brad Haddin ($65,400)
Haddin has proven in previous tournaments that he is a reliable wicketkeeping option and given he should open the batting for the Sixers, he'll be in the best position to score as many points as possible. He's a safe pick for the number one spot.
Ben Dunk ($59,600)
Earning a spot in the Australian T20 team a few years ago, Dunk has shown that he's one that can dominate this tournament. Expect him to open the batting for the Hurricanes which should put him in a position to score well.
Tim Paine ($55,300)
The other man who should open the batting for the Hurricanes, Tim Paine is another safe pick who should score well this season.
Tim Ludeman ($78,200)
Ludeman was the best performing keeper of BBL04 over the whole tournament and based on that, he should be in the top five wicketkeepers again. I assume he'll open the batting for the Strikers again this summer.
Matthew Wade ($56,100)
As mentioned in my players to avoid article, the Renegades batting strength will probably force Wade to bat further down the order this tournament and that will limit his scoring potential. He should still find a way to score well considering how good he is and that's why he makes the top five.
Bowlers
Note: I'll be ranking the top five bowlers not including anyone I've already mentioned who have bowler DPP status eg: Shane Watson and Glenn Maxwell.
Moises Henriques ($98,500)
The new Sixers captain will probably bat at four or five and if he can get his bowling to the level he had it last tournament, he should be a very reliable player despite the price tag.
Dwayne Bravo ($93,700)
Bravo has played bits of the tournament in the past and whenever he does, he dominates. He's a class above with the bat and always capable of jagging a few wickets. Not to mention he's one of the best fielders on the planet. On paper, he could be the guy that dominates the tournament and should definitely be a high scorer.
James Faulkner ($80,000)
Faulkner is another reliable player who should bat in the top five or six for the Stars as well as bowl his full overs. He's a specialist at bowling towards the end of innings' and while that means he can sometimes leak runs, he keep a solid economy rate making him a high scorer this season.
Jacques Kallis ($102,700)
I've put Kallis pretty low on the overall list just because of his age and because of his lack of quality cricket over the last year or so. Given it's Jacques Kallis we're talking about, he's worth the cost at any price, but I don't see him dominating this tournament. Watch him do so now.
Jason Behrendorff ($90,800)
Behrendorff is currently injured and might miss the start of the tournament, but the talented West Australian quick will dominate this competition if he can get back to his best. From an overall score point of view, he obviously won't be at the top if he misses games, but from a score average point of view, he could tear the competition apart with some top quality swing bowling.
Top Five Overall
Shane Watson
Glenn Maxwell
Aaron Finch
Chris Gayle
Moises Henriques