The Chosen Few – Teams that gave up 120pt games in 2015
Yep, the Tigers once again were restrictive when it came to 120+ points given up, but there is a whole lot of epic info in the latest post from aflratings.com.au!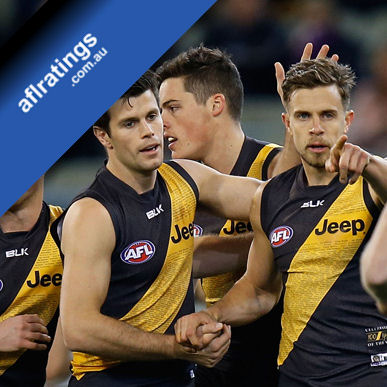 Dayne Beams, Steele Sidebotoom, Patrick Dangerfield & Mitch Duncan were the only 4 players to hit 120pts or more against the Tigers in 2015, that's right only 4 players hit 120pts vs Richmond last season.  Not even 1% of players that played the Tigers in 2015 hit 120pts, 0.0083% to be exact.
Richmond just suffocate AFL Fantasy Coaches dreams of grandeur, no matter which way you look at it a Fantasy Coach must take in to consideration a line-up vs the Tigers especially during the AFL Fantasy Finals. Richmond conceded an average of 0.2 players each week to hit 120pts.
Hawthorn were not too far away from Richmond in 2015 conceding just 9 120pt games, only 0.4 players each week were able to hit the premium score.  The Hawks never conceded multiple 120pt games all of last Home & Away season.
Brisbane was somewhat of a surprise conceding an average of 0.7 players to score 120pts or more in 2015, the Lions did however concede multiple 120pt games. Twice Brisbane conceded 3 120pt games, Round 2 vs Nth Melbourne & Round 10 vs GWS Giants.
Nth Melbourne were ranked 6th conceding an average of 0.9 120pt games each week, interestingly they conceded only 2 in their final 10 Home & Away games in 2015. The Kangaroos conceded 5 multiple 120pts games in their first 12 games of the season, none in their last 10 games.
Enough of the pain for AFL Fantasy Coaches and on to some good news, Gold Coast conceded an average 1.7 120pt games each week in 2015. The first 10 games of the year was a feast for opposition teams against the Suns hitting 120pts a total of 22 occasions (Ave 2.2), with a healthy midfield next season expect improvement similar to their final 12 games when they conceded an average of only 1.3 120pt games each week.
The Western Bulldogs were a plentiful resource for many opposition teams and AFL Fantasy Coaches in 2015, the Bulldogs conceded an average of 1.5 120pt games each week last season. Alarmingly the Dogs gave up 4 or more 120pt games on 4 occasions during the Home & Sway season, a total of 7 multiple 120pt games for the year.
When the Crows gave up points they gave up big points, of the 69 players to score 100pts a total of 30 players went on to eclipse 120pts at an average of 1.4 each week. Adelaide conceded an average of 2.3 120pt games in their final 9 games of the Home & Away season.
The Magpies also conceded an average of 1.4 120pt games each week last season, Collingwood conceded 9 multiple 120pt games against their opposition.
Follow @aflratings on Twitter and check out aflratings.com.au for more analysis.