Teams that leaked 100pt games in 2015
Continuing his look at 2015 stats, Peter from aflratings.com.au analyses which teams gave up the most 100 point games.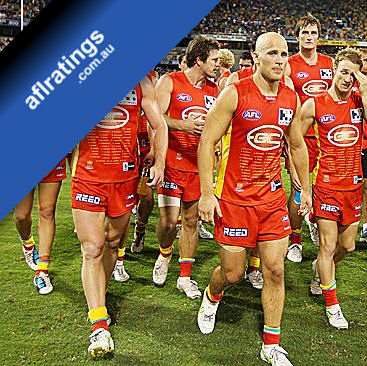 Spending 6 months in a leaky boat in reality is not a good position to be in, using it in an early 1980's hit by Split Enz is quite good but being part of a leaky team in AFL Fantasy is absolute gold! In 2015, there were 3 teams that gave up plenty of 100pt games in the AFL Fantasy Season. We take a look at the more notable leaky teams this past season, plus a reference to the more stingy teams.
Gold Coast endured a season from hell on the injury front, the Suns were without their 'A' grade midfield for much of the 2015 AFL Home & Season and it told dearly in Fantasy conceding the most 100pt games at an average of 4.8 per week. A healthy midfield in 2016 should reduce the amount of 100pt games conceded in 2016, Gold Coast are slated to play Fremantle, GWS, Essendon, Melbourne  & Brisbane twice next season.
The Western Bulldogs slide in at No.2 in 2015 conceding an average of 4.3 100pt games each week, the Bulldogs were more attacking under 1st year Head Coach Luke Beveridge and that was a bonus for AFL Fantasy Coaches as they were easy to score points against. Next season should see more of the same, the Bulldogs are slated to play Nth Melbourne, Fremantle, Collingwood, St Kilda & Geelong twice.
No surprise Collingwood fall in at No.3 conceding an average of 4.2 100pt games each week in the 2015 Home & Away season, the Magpies were without a genuine tagger and liked to go head to head with most midfield opposition teams. Macaffer should be right to go next season, it remains to be seen whether or not he will be used in what is now a stacked Collingwood midfield. Watch this space on the Magpies as they could reduce opposition scoring in 2016, they are slated to play Richmond, Western Bulldogs, West Coast, Carlton & Melbourne twice.
At the stingy end of teams conceding 100pt games were the Tigers at just 2.2 per week, only 49 (10.1%) players  were able to hit the ton vs Richmond in the 2015 AFL Home & Away season. The Tigers are slated to play Hawthorn, Collingwood, Sydney, Essendon & Port Adelaide twice next season, be aware of the Tigers run in AFL Fantasy Finals as they are matched up against Collingwood (R20), Geelong (R21), St Kilda (R22) & Sydney (R23).
As expected the Hawks were the 2nd best team conceding 2.7 100pt games each week in 2015, Hawthorn just get it done on both sides of the ball – much respect! The Hawks are slated to play West Coast, Richmond, Nth Melbourne, Sydney & Melbourne twice in 2015, be aware of the Hawks run in AFL Fantasy Finals as they are matched up against Melbourne (R20), Nth Melbourne (R21), West Coast (R22) & Collingwood (R23).
To a team that didn't make Finals in 2015 and were ranked at No.3, Port Adelaide conceded an average of only 2.9 100pt games each week. Expect similar numbers again in 2016 as they are likely to be very competitive, be aware of the Power run in AFL Fantasy Finals as they are matched up against Sydney (R20), Melbourne (R21), Adelaide (R22) & Gold Coast (R23). Port Adelaide play Adelaide, Brisbane, Richmond, Melbourne & GWS twice in 2016.
Interestingly Sydney, Collingwood & Melbourne are slated to play 2 of the Top 3 stingiest teams giving up 100pt games in the 2016 AFL Fantasy Finals. This should be considered at some point during the season.
Follow @aflratings on Twitter and check out aflratings.com.au for more analysis.