Brady's Potential 2016 Bargain Picks
One of Warnie's students wanted to research who some of the potential discounted players for 2016 are. Here are his thoughts.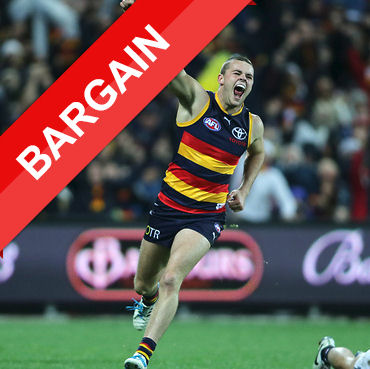 One of my students, Brady, wanted to write a piece as part of a school project for DT Talk and he decided he would look at some of the potential bargain picks for 2016. The prices aren't too far away from being revealed, but Brady has used a formula based on last year's pricing model (ie. how discounts are applied and basing off last year's initial magic number of approximately 5660). Whether these prices are accurate, there is good reason to consider a lot of these guys below as they are likely to be priced unders! (Please note: Hawthorn, Melbourne, North Melbourne, St Kilda and Sydney aren't included here).
Thanks Brady and feel free to post your thoughts on discounted players and potential bargains in the comments.
– Warnie.
Brad Crouch: This young gun will be extremely under-priced in 2016, having not played a game in 2015. Crouch is a Fantasy gun with his first season average of 92 in 2013 which he lifted to 92.5 in 2014. He's a certain pick for the 2016 season, with his extremely low price of only $367,000.
Trent West: He's been around a while now and still has some potential in the game of AFL Fantasy. Playing only 2 games for the Lions last year means he'll have a huge discount in 2016 (approx. 24%). He was priced at a decent price in 2015 but after only 2 games with an average of only 28.5 means he will only cost $139,000 at the start of next season. With Matthew Leuenberger gone from the Lions team means he is a big chance to play most, if not, every game, and at that price, he is a certain lock for your ruck interchange.
Dale Thomas: Now a veteran of the AFL and almost a certain pick for 2016. He was a price of $345,000 last season which seemed a bit too much for Fantasy coaches. But after only 5 games for the Blues last year means he will only cost $274, 000 in 2016 after his discount. For a player of his talent and someone who averaged 75 in 2014, this price is far too low and he will definitely be a good pick for next season. let's not forget that Daisy has averaged 90+ before.
Brent Macaffer: He averaged 61.62 in 2014 which doesn't sound like a lot, but after no games in 2015 means he gets a huge 2016 discount which will see him at a low price of only $244,000. He will probably be the tagger in the Magpies team but will definitely make you some cash and is a good pick for the start of the 2016 season.
Craig Bird: He played at the Swans for a few years and is a premiership player. He now finds himself at the Bombers and potentially have some big numbers in 2016. He only played 6 games for the Swans in 2015 which means he will be a discounted player in 2016. He will only be priced at $328,000 and on his day is a very good player. He is under-priced for next year and will be a good pick for next season regardless of role (hopefully not as a tagger though).
Michael Barlow: This man is a superstar of the game and should be in most teams Fantasy anyway. But next season he will have lost $100,000 since last year and is a certain pick as a premium in everyone's midfield. He will only cost $526,000 and for his quality that is a low price and should be in most, if not, everyone's midfield in 2016.
Mitch Duncan: He was injury ridden last year but if he has no injury worries next year he will dominate the league for Geelong and at his price he is a certain round 1 pick in 2016. He only played 11 games for the Cats last season and played a few of those with injuries.While this would warrant him a discount, he only averaged 79.8 and this will see him priced at approximately $452,000 in 2016. He will be awesome value and should be a certain pick in the new look Cats midfield next season.
Jaeger O'Meara: He is a young gun of the competition and 2 years ago, in his first year, he dominated for the Suns and won the NAB Rising Star award comfortably. Last year he was very good as well averaging 92.73 after playing every game. But in the pre-season of 2015 a horrible knee injury saw him out for the whole season. This means he will have a huge discount on his 2016 price. His 2016 price will be a whopping low $367, 000 which is a price at an average of only 65. He will average at least 90 next season and at that price he has to be in every Fantasy midfield in 2016.
Gary Ablett: That's right! The modern day master of the AFL Gary Ablett is an under-priced player in 2016! He played only 6 games in 2015 due to a number of injuries, in one of which he dominated and scored the season high 176. But due to his low amount of games in 2015 means he will have a discounted price in 2016 which will see him with a very low price of only $471, 000. He is the best player in the competition and for that reason his price is way too low. He is an absolute lock for next season and should be in everyones team!
Tim Mohr: Not much to say about this guy apart from the fact the he is under-priced in 2016. He played only 8 games in year 2014 but he averaged 72.38 in those games. However, in 2015 he played zero games for the Giants which means he gets a big discount for an already low price. He will cost around $230,000 in 2016 and if he can get a game he will be good value and a handy pick.
Jared Polec: He could be a superstar of the game, this young man, if he gets no injuries. However, having only played 5 games in 2015 Polec will get a large discount next season and have quite a low price for someone of his talent. His price will only be $355,000 next year which is a price at an average of 65. The former Lion guy can average much more than that and possibly score some big numbers in 2016. For his price he is a very good pick and will be good value.
Reece Conca: This man (on his day) can be very electrifying and dominate the game. Last season he struggled to get a game for the Tigers and only played 2 games late in the season. This means he gets quite a heavy discount and a very low price. In 2014 he averaged 77.28 and is capable of even more than this. His price for next year will be well under what he is capable of. His price will be only $264,000 and will be great value for that price and he will be a very handy pick for 2016.
Eric Mackenzie: Not recognised as one of the great players in the league, but next year in Fantasy he could be very handy in defence. He averaged 68.14 in 2014 and was quite a good price, but after 0 games in the 2015 season will see him get a big discount and only cost $270,000. He will be very handy for the start of the season and good value.
Tom Liberatore: This man is an absolute gun of the AFL and he dominates the Fantasy points. Unfortunately in the pre-season on 2015 he tore his ACL and could not play any games in the 2015 season. This meant a got a huge discount and for his ability his price will be extremely low. Libba will only cost about $383,000 and is another definite pick for the midfield next season. In my opinion he will average at least 30 more than what his price is and will dominate.
The 2016 prices will start being revealed on AFL.com.au from 14 December. The annual Deck of DT will commence on Boxing Day (26 December).