Moneyball's Daily Fantasy NFL – Week 13
Over in the U.S. the days are getting shorter, and colder – anyone who watched the Patriots versus Broncos game can attest to that. How does the weather affect fantasy scoring? Find out!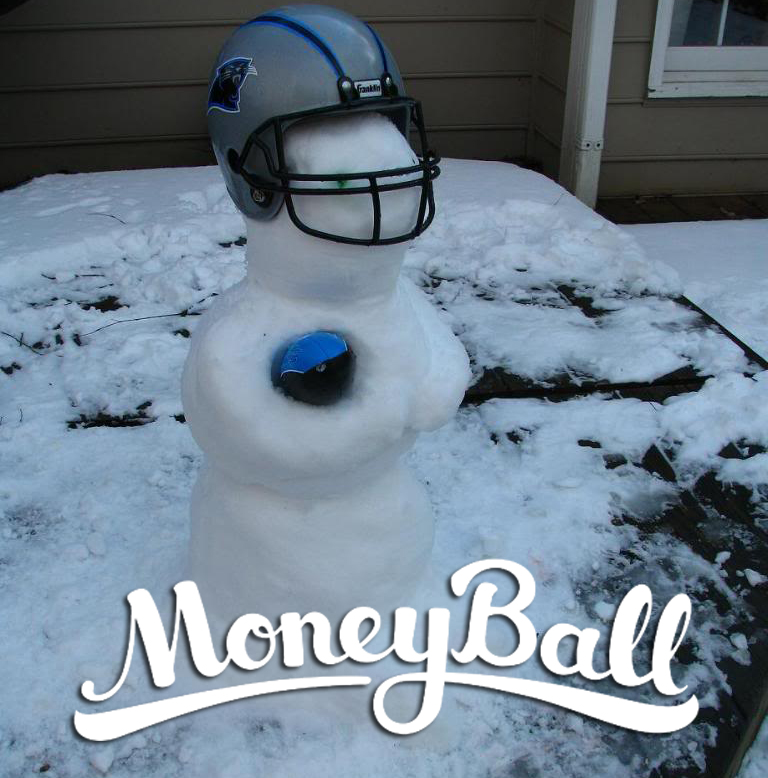 And the hits just keep on coming. We lost more players in this "season from hell" last week with Arizona RB Chris Johnson suffering a fractured tibia, Seattle TE Jimmy Graham a rupturing his patella tendon and New England TE Rob Gronkowski also with a bung knee. Gronk may well return soon, but the others are done for the fantasy season.
Don't forget, as we come into shorts and singlets weather, over in the States it's the complete opposite. Inclement weather can play havoc on fantasy scores. Quality RBs will thrive but receivers can struggle. This can also affect QB scoring, as their yardage may drop. If the weather is really bad it may pay to invest in a player like Adrian Peterson or Lesean McCoy, who are used to the conditions
The following teams play indoors, or have a retractable roof, so keep them in mind for home games: Atlanta, New Orleans, St. Louis, Detroit, Houston, Arizona, Dallas and Indianapolis.
This week's moneyball.com.au action.
Guaranteed Contests
$2K Hail Mary Special All ($15 entry, 156 person)
$2.5K

Sunday

Blitz
($15 entry, 196 person)
Other Contests
Sunday

Spike Early
($10, 112 person)
Sunday

Touchdown Late
($10, 112 person)
Double-up Contests
Hail Mary $10 Double-Up
Sunday

Blitz $10 Double-Up
Single Game Contests
$1K Guaranteed Lions vs Packers Special ($15 entry, 78 person)
$1K Guaranteed Redskins vs Cowboys Special ($15, 78 person)
Steelers vs Colts Special ($15, 75 person)
Members also have the ability to create their own contests from as little as $2.
Click here to take part in an Aussie daily NFL game.
As of today, William Hill's higher total game scores are as follows:
Philadelphia v New England (49)
Carolina v New Orleans (48.5)
Green Bay v Detroit (46.5)
Atlanta v Tampa Bay (46)
Players I like this week.
Quarterback
Matt Hasselbeck (Indianapolis, $6000)
Recorded over 20 points last week, and their depleted RB offence faces a stout Pittsburgh defence that will force more throwing.
Matt Schaub (Baltimore, $5500)
Had 232 yards and two TDs last week, but also two interceptions. Very cheap stack with Aiken.
Case Keenum (St Louis, $5000)
Playing Arizona, so will likely be finding themselves behind on the scoreboard and needing to throw a lot. He's a deep throwing threat.
Running back
Thomas Rawls (Seattle, $5700)
While Lynch is still out, Rawls will continue to get a heavy workload.
Javorius (Buck) Allen (Baltimore, $5500)
Is being utilised as a pass-catching RB which makes him harder to match up on, so will be a good play versus Miami.
David Johnson (Arizona, $5000)
With Johnson and Ellington suffering injuries, Johnson will take over as the lead RB for Arizona. 
Wide receiver
Danny Amendola (New England, $5600)
Now that they've lost Gronk too, Amendola should get a majority of targets.
Kamar Aiken (Baltimore, $5300)
Stepping up nicely as the lead WR in Baltimore. Showed on Tuesday that having Matt Schaub throwing to him won't hurt his scoring.
Marvin Jones (Cincinnati, $5200)
Bargain priced and if Eifert isn't 100% they'll need red zone targets.
Tight end
Jordan Reed (Washington, $6100)
Has either been getting the yardage or the TDs recently, which makes him a reliable option.
Julius Thomas (Jacksonville, $4700)
Looks the healthiest he's been and has scored a TD in his last two games.
Scott Chandler (New England, $4500)
He's no Gronk, but he's a cheap substitute. The Homebrand version of Gronk.
Defence
Houston ($5100)
After a bad start to the season, the Texans D is showing what they were expected of in the preseason, led by sack machine, J.J. Watt.
Cincinnati ($4800)
Played great last week and with the Cleveland starting-QB job up in the air, they should feast.
Indianapolis ($4700)
Bit of a cheap flyer just in case Big Ben doesn't play this week, and Jones has to fill in.
Kicker
Graham Gano (Carolina, $5500)
They should make a meal of New Orleans, giving Gano plenty of opportunities.
Josh Brown (NY Giants, $5100)
Still hasn't missed a field goal attempt.
Brandon McManus  (Denver, $4700)
The Denver offence showed some spark last week, and he's cheap for his skill set.
PLAY MONEYBALL NOW.
Click here to take part in an Aussie daily NFL game.