Big Bash Fantasy Mid-Priced Player Bargains
The way to be successful in Big Bash Fantasy is to find the best mid-priced players to fill your team with. Nic takes a look at the best options.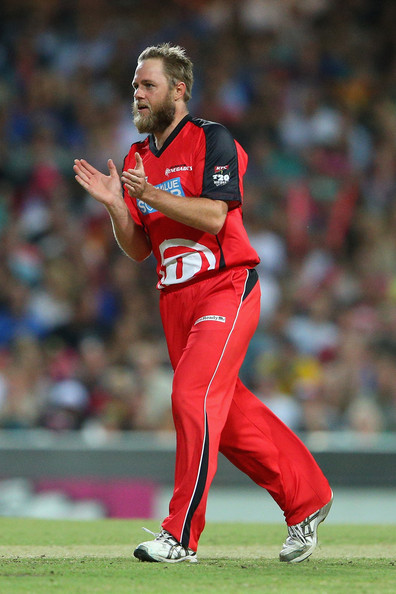 The way to be successful in Big Bash Fantasy is to find the best mid-priced players to fill your team with. The pricing system means there aren't many players priced above $80,000 which means it's all about who you pick in that middle tier. By position, here are the best value players in Big Bash League Fantasy priced over $40,000 and under $80,000.
Click here for "A Guide to Big Bash Fantasy".
Batsman
Aaron Finch ($42,200)
The Melbourne Renegades skipper is $60,000 cheaper than he was last season due to having a very poor BBL04, but this has put him in a prime bargain position for this season. While Finch's form isn't necessarily great at the moment, he is an absolute bargain at that price and the only reason for not picking him is if you want to roll the dice and go without him, because everyone else will have him. At that price, he is a cash cow and the first player you should be picking in your team.
Cameron White ($45,400)
Cameron White has jumped from the Stars to the Renegades and the change might just be a blessing for the veteran. Expect him to bat in the top four despite the Renegades' powerful batting line up and with Finch and Gayle alongside him, expect him to probably be more cautious at the crease. At $45,400, he is great value and should be a reasonably consistent performer this season.
Luke Wright ($49,600)
Luke Wright's safety comes from the fact that he's opened the batting for the Stars in almost every match in the tournaments history. He didn't have a great BBL04 and thus his price has plummeted, but if he gets back into form, he'll make you $25,000 while giving you some all-important DPP as a batsman/bowler. Don't expect him to actually bowl much however, as he's used exclusively as a batsman more often than not.
Chris Lynn ($70,100)
Lynn is one of those guys you can count on every week. His price is fair and despite injury, his form is good heading into BBL05. Lynn gets better every season and you know what you're going to get from him. The only fear here is the possibility of Lynn getting called up to the test squad.
Travis Head ($57,500)
Expect Head to bat in the top four for the Adelaide Strikers and expect him to make you money. Head comes into BBL05 with plenty of form and with Johan Botha no longer with the team, Head may soon hold the clubs' captaincy. Head is a safe option and should play every game this season. Bonus: most of your friends probably don't know who he is.
Wicketkeepers
Tim Paine ($55,300)
Wicketkeepers are tricky for this article since they are all under $80,000. The number one criteria you should be looking for when picking a keeper is looking for someone who bats at the top of the order. If they bat at seven/eight, they're useless to you. Looking at the Hurricanes' squad, Paine should bat in the top three and at that price, he should be a good pick up.
Brad Haddin ($65,400)
In a similar vein, Haddin will probably  open the batting for the Sixers this season and without the worry of test match commitments, Haddin is probably the best value option as far as wicketkeepers go. The only concern here is whether he actually does any wicketkeeping. The Sixers also have access to Ryan Carters ($56,100) and may give the gloves to the younger man which means you'd be missing out on wicketkeeper points from Haddin.
Bowlers
Shane Watson ($73,500)
Watto has the potential to be an absolute domestic level bully in this tournament. Despite what you may think about him, Watson has always been a great short form player and might just tear this tournament apart. He should bat at the top of the order and he should bowl most games with the Thunder lacking all-rounders. His DPP status is the cherry on top.
Cameron Boyce ($71,900)
Remember, one of the most important facets of BBL Fantasy for bowlers is economy rate and Cameron Boyce has proven to be a reliable option in this regard. Boyce averaged 40 points last season which is about what you want from a bowler and without Xavier Doherty around anymore, his job security is better than ever.
Adam Zampa ($65,500)
If you're tossing up between Boyce and Zampa as options and you really want one of the leg spinners, what might give Zampa the edge is his batting. Zampa has moved to the Melbourne Stars this season, but for South Australia of late he has been batting between five and seven and even has a first-class half century to his name. He does not have DPP status, but he will bat more than most other bowlers.
Ben Cutting ($68,600)
Cutting doesn't quite have the economy rate of some other bowlers, but he makes up for that by being a consistent wicket taker. On top of that, he should bat most games with the Heat usually wanting to give him a swing towards the end of an innings. Cutting could be a guy who scores zero in one match, but comes out and scores 100 in the next with 30 runs off 10 balls and two wickets. He also has DPP status.
Nathan Rimmington ($46,200)
Rimmington isn't going to be a big scorer and he isn't going to make you a lot of money, but he is one of the cheapest bowlers who will get consistent games. He is a safe bench option and the Renegades are one of the few teams with only one bye which makes them a good team when considering bench options.
Remember, in BBL Fantasy a good score is roughly 40 or 50. This means you want batsman that can score quickly in order to get you strike rate bonuses and bowlers than can not only take wickets, but finish with a decent economy rate too. One of the most common scores that you'll be looking for from bowlers is 52. 52 means two wickets and the 'average' strike rate bonus of 12. For batsman, you're probably looking a little lower score wise with big scores harder to come by. This is why all-rounders are critical to maximizing the amount of points your players can score.
If you have any further questions, feel free to hit me up on Twitter: @NicNegrepontis
Good luck!