2015 AFL Fantasy 100pt games
Peter from aflratings.com.au takes a look back at some 2015 stats and today he analyses how many fantasy tons each team averaged.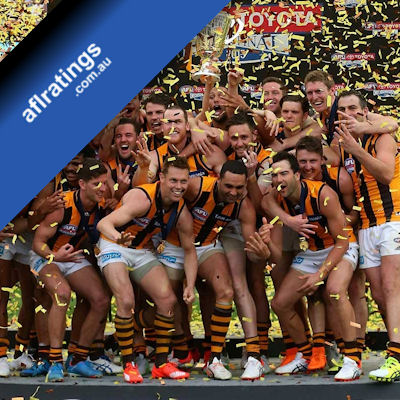 It is almost time to fill out our first team for the 2016 AFL Fantasy Season, looking back at 2015 may provide you that little bit of extra information in order for you to dominate next season.
Firstly to Hawthorn, not only did the Hawks take home another Premiership but they dominated the AFL Fantasy Season with an average of 4.8 players cracking the ton each week. Fair to say stacking your line-up next season with Hawks players might be a good idea.
Sydney were a good stable to look at in 2015 with an average of 4.5 players cracking 100pts each week, the Swans midfield will again be a very good source for fantasy points in 2016.
Despite missing the Finals for the 2nd year running, Collingwood equalled Fremantle with an average of 4.2 players hitting 100pts plus per game. The Magpies should be on the move up the ladder in 2016, they should be a reliable source for quality points again.
The 'it' Team for 2015 were the Western Bulldogs, as most Coaches clambered over each other to bring the Bulldogs players in to their teams reality hit late in the year with only 1.6 players hitting 100pts or more from the last 5 weeks of the year. The Bulldogs had 3.0 average players reaching 100pts for the 2015 H&A Season, expect that number to rise in 2016.
Nth Melbourne were one of the poorer Fantasy Teams to provide Coaches with some assistance in 2015, but one player stands out and we know him as Todd Goldstein. The Kangaroos Ruckman hit 100pts or more in 16 games, staggering to think he equated for 30.1% of all Nth Melbourne 100pt games in 2015.
Gold Coast were Ranked 17th with only 2.3 players hitting 100pts plus for 2015, with a host of players returning from injury including the likes of Gary Ablett & Dion Prestia don't expect another low output in 2016.
Carlton is deep within a rebuilding phase, the number of high quality players that can help you in 2016 will be limited. Expect the Blues to be Ranked around the bottom of 100pt games again in 2016.
Follow @aflratings on Twitter and check out aflratings.com.au for more analysis.