Moneyball NBA – The big point scorers
Today Pearcey has a look at the top scorers in Moneyball over the first few weeks of the season.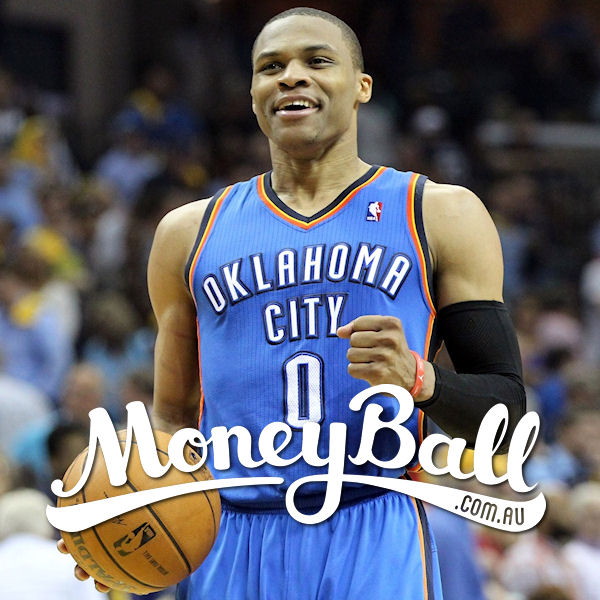 Daily Fantasy Sports has been bought to Australia in 2015 by the guys at Moneyball.com.au – the leading DFS platform in the country. They have a large array of games available in the lobby, ranging from an outlay as little as $2 up to $200 and beyond! Sign up today and join the Daily Fantasy Sports revolution!
Moneyball contests for NBA are easy to be involved in – simply select 9 players (2 point guards, 2 shooting guards, 2 small forwards, 2 power forwards and 1 centre), whilst keeping under the $60,000 salary cap. Jump in the lobby today and give it a go!
Every game day the contests include a Guaranteed Bank which can have total prize-money anywhere from $3,000 up to $8,000 ($15 entry) as well as Special games throughout the day (usually $10 entry). They also have H2H, Double-up and other competitions to satisfy your Daily Fantasy Sports appetite!
No Daily line-up tips but rather a list of the top 3 scorers by position. All of these players average over 35 FPPG and will score your squad the big points to help you win the cash!
Note – averages and prices effective 27/11/2015.
POINT GUARD:
Russell Westbrook (OKC) – 53.5 Fantasy Points per game ($11,800)
Westbrook has video-game averages this season of 28.1 points, 7.4 rebounds, 10.3 assists and 2.6 steals. His stats are slightly inflated due to his crazy-good play in the games Durant missed due to injury but he is still the top Fantasy Point scorer by over 4 FPPG.
Stephen Curry (GSW) – 49.1 Fantasy Points per game ($11,200)
Curry is leading the NBA in points per game with 32.1 as well as putting up averages of 5.1 rebounds, 5.9 assists and 2.6 steals per game. He is clear favourite for MVP again this season and his current form shouldn't drop off any time soon.
Damien Lillard (POR) – 40.8 Fantasy Points per game ($8,900)
Lillard is currently in the top 10 in the NBA in points per game (25.1) and assists per game (7.2) this season. He is the main man in Portland this season so expect his great numbers to continue all season long.
SHOOTING GUARD:
James Harden (HOU) – 47.0 Fantasy Points per game ($11,100)
Harden leads the NBA in minutes played per game with a 39.1 per game average. He is also averaging 28.7 points, 6.1 rebounds, 6.3 assists and 2.1 steals per game, helping him to have the leading Fantasy Point average amongst Shooting Guards.
Eric Bledsoe (PHO) – 38.1 Fantasy Points per game ($8,500)
There is a massive drop of almost 9 FPPG between first and second on the Shooting Guard list but that doesn't mean Bledsoe hasn't been terrific this season.  He is currently averaging 22.9 points, 4.1 rebounds, 5.9 assists and 1.9 steals per game, a great return for his current price.
Jimmy Butler (CHI) – 36.5 Fantasy Points per game ($8,400)
Butler is putting up solid numbers for the Bulls this season, averaging 21.1 points, 5.2 rebounds, 3.4 assists and 2.1 steals per game so far. If the Bulls ever decided to trade away Derrick Rose Butler would be the main beneficiary and his numbers would sky-rocket.
SMALL FORWARD: 
LeBron James (CLE) – 45.2 Fantasy Points per game ($10,600)
Even though other players seem to be talked about a lot more lately LeBron is still putting up exceptional statistics. He currently has the 5th highest Fantasy Point average in the league on the back of 25.7 points, 7.1 rebounds and 6.8 assists per game. 
Kevin Durant – 44.4 Fantasy Points per game ($10,600)
Durant's Fantasy Point average has been hindered slightly by the hamstring injury he sustained so expect it to rise over the coming months. He is still putting up Durant-like numbers of 28.2 points, 7 rebounds and 3 assists per game.
Paul George – 43.0 Fantasy Points per game ($9,800)
George is single-handedly keeping the Pacers high in the Eastern Conference standings with averages of 25.9 points, 8.4 rebounds and 4.8 assists per game. If he can continue this sort of form all season long he could be a sneaky chance of MVP.
POWER FORWARD:
DeMarcus Cousins (SAC) – 46.4 Fantasy Points per game ($11,100)
Cousins is a top 5 player based on his Fantasy Point averages and when he is on the court he is very hard to stop. His season averages include 27.9 points, 11.2 rebounds and 1.5 blocks per game. A sensational player when his mind and body are both at 100%. 
Anthony Davis (NOP) – 44.1 Fantasy Points per game ($10,300)
Another player whose season average is slightly under what it should be due to injury. When fully fit and firing Davis is the premiere Fantasy player in the competition. Look for him to improve on his season averages of 23.5 points, 10.8 rebounds, 1.2 steals and 2.5 blocks.
Blake Griffin (LAC) – 43.0 Fantasy Points per game ($9,900)
Griffin is showing his all-around skill set this season with averages of 25.4 points, 8.7 rebounds, 4.4 assists. 0.8 steals and 0.6 blocks. If the Clippers are going to make noise this season look for Griffin to increase his numbers even more.
CENTRE:
Andre Drummond (DET) – 44.9 Fantasy Points per game ($10,200)
Drummond is having a year to remember for the Pistons so far this season, with mammoth averages of 18.1 points, 17.8 boards, 1.7 steals and 1.6 blocks per game. If he can continue to put up those numbers his season will go down as one of the greatest rebounding seasons in the modern era.
Hassan Whiteside (MIA) – 37.1 Fantasy Points per game ($8,900)
Around 12 months ago Hassan Whiteside was a relatively unknown basketballer with less than 20 games of NBA experience. Today he is one of the best defensive players in the game, averaging a huge 4.7 blocks per game to go with his 14.6 points and 11.2 rebounds. If his current block average continues he will be right up there with the likes of Mark Eaton and Manute Bol at seasons end.
Brook Lopez (BRO) – 35.2 Fantasy Points per game ($8,400)
Lopez is the heart and soul of the Nets franchise (not sure if by choice?) and it shows in his season statistics of 20.1 points, 8.3 rebounds and 2.1 blocks per game. The Nets have not been very good this year but Lopez is doing all he can to keep them competitive.
Let me know your thoughts via Twitter – @pearcey47
Click here to find all of the Moneyball contests in the lobby.
And as always, remember to gamble responsibly.