Moneyball NBA picks – Saturday 28th November 2015
Pick your team for the Saturday Bank… $6K guaranteed!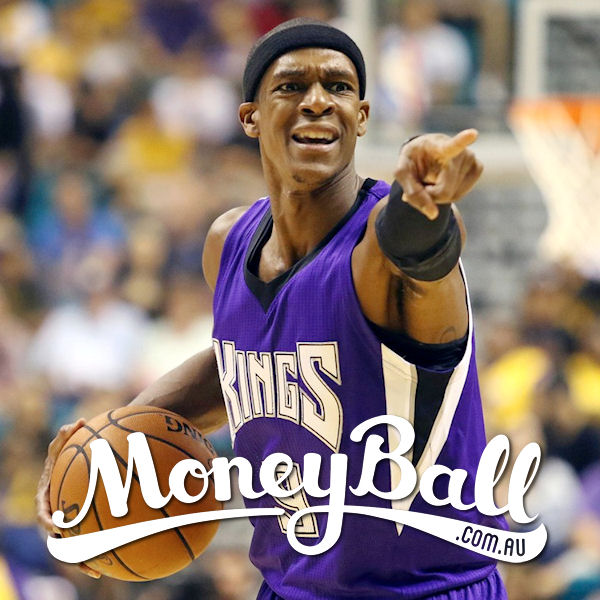 Daily Fantasy Sports has been bought to Australia in 2015 by the guys at Moneyball.com.au – the leading DFS platform in the country. They have a large array of games available in the lobby, ranging from an outlay as little as $2 up to $200 and beyond! Sign up today and join the Daily Fantasy Sports revolution!
Moneyball contests for NBA are easy to be involved in – simply select 9 players (2 point guards, 2 shooting guards, 2 small forwards, 2 power forwards and 1 centre), whilst keeping under the $60,000 salary cap. Jump in the lobby today and give it a go!
Saturday's contests include a Guaranteed $6,000 Saturday Bank ($15 entry) as well as a Buzzer Special (Turbo) and a Dunk Special for the late games (both $10 entry). They also have the usual H2H, Double-up and other competitions to satisfy your Daily Fantasy Sports appetite!
Picks for Saturday 28th November 2015:
POINT GUARD:
Rajon Rondo (SAC) – $8,300
Rondo put up another crazy stat-line in his last game, against the Bucks, falling just one rebound short of another triple-double. That means in his past 10 games he has had four triple-doubles and 2 games where he has fallen one rebound short. His price is increasing at a rapid rate but whilst he keeps putting up great numbers he is hard to go past.
Isaiah Thomas (BOS) – $7,600
Thomas is fresh off his third best game for the season, dropping 42.8 Fantasy Points to keep the 76ers at bay. He has put up 30+ Fantasy Points in 7 of his past 8 contests and will continue to be the Celtics main offensive player for the short-term, meaning his hot run should continue.
Tony Parker (SAS) – $5,400
Parker is in vintage form at the moment. He only just fell short of a triple-double in his last game, against the Mavs, putting up 16 points, 8 boards and 8 assists. He has now had 6 games in a row of 25+ Fantasy Points and that run should continue against the Nuggets.
SHOOTING GUARD:
James Harden (HOU) – $11,100
Harden is one of the top 5 scorers in Moneyball but he can be very inconsistent at times. He is just as likely to put up a 35 Fantasy Point game as he is a 60 Fantasy Point game. In his last game, against the Grizzlies, he was on-song, scoring 57.5 Fantasy Points, his second 50+ game in a row. He plays the 76ers here so look for the big scores to continue.
Giannis Antetokounmpo (MIL) – $6,800
A complete opposite to Harden, the Greek Alphabet is relatively consistent, only falling under 25 Fantasy Points three times this season but only scoring over 40+ twice. He is always good for around the 30+ mark. He is still very young so as he matures he will have more big games. He is a real chance to have one here against the Magic.
Gary Harris (DEN) – $3,900
Harris is in some decent form at the moment, putting up at least 18 Fantasy Points in his past 5 outings. He has started every game for the Nuggets and is averaging 26.7 minutes per game. Priced at only $3,900 any score over 20 Fantasy Points is great value.
SMALL FORWARD:
Kawhi Leonard (SAS) – $8,600
Leonard is just so consistent he is the sort of guy you can set and forget on a nightly basis. He always seems to be able to get his 35-45 Fantasy Points, whether it be by scoring, pulling down boards or by simply having a well-rounded game. He is contributing well to the Spurs success and if you pick him he will do the same for your Moneyball squad.
Nicolas Batum (CHA) – $6,900
Returning to the sort of play he displayed a couple of seasons ago when he played for the Blazers, Batum is putting up some solid averages of around 17 points, 6 rebounds and 4 assists. He can throw in the odd shocker but in five of his last seven games he has had at least 39 Fantasy Points. A good value play.
Robert Covington (PHI) – $5,700
After having a number of games off early with injury, Covington is back in the starting line-up and is playing great basketball. In his past three games he has put up an average of 33.9 Fantasy Points, a great return for his price of only $5,700. Look for his good form to continue against the Rockets.
Click here to sign up to Moneyball.
POWER FORWARD:
Kevin Love (CLE) – $8,400
Love has been playing some really good basketball over the past few games, scoring at least 36 Fantasy Points in each of his past four games.  Only two games ago he lit up the Magic for 34 points and 8 boards, and here against a weak Hornets frontcourt we could see similar numbers.
Tristan Thompson (CLE) – $5,800
Thompson had another handy night in his last game, a loss against the Raptors, putting up 8 points and 11 rebounds on his way to 28.2 Fantasy Points. That makes it four games in a row that TT has had a minimum of 26 Fantasy Points, which coincides with the Mozgov injury. As long as Mozgov is out Thompson will be a solid play.
Marvin Williams (CHA) – $5,000
The former number 2 draft pick is having his best season for quite some time, putting up season averages of 10 points and 7 rebounds in just over 30 minutes of action. His season average of 24.2 FPPG is great value at his low price of only $5,000.
CENTRE:
Andre Drummond (DET) – $10,200
Drummond is just an absolute beast on the court, putting up ridiculous season averages of around 18 points and 18 rebounds per game. The Pistons haven't seen a player of his calibre for a number of years and at just 22 years of age his best is yet to come. In this game against the Thunder expect Drummond to outperform his 45 FPPG season average.
Jahlil Okafor (PHI) – $6,500
Okafor is in some stellar form at the moment, with a three game average of 37.0 Fantasy Points. With all the early Rookie of the Year talk being about Towns, Okafor is just lurking in the background, putting up great numbers for a guy who has only played 15 games. If he keeps up this sort of form he will be holding the ROY trophy aloft at the end of the season.
EDIT – he was caught knocking a guy out cold outside a bar so there could be some disciplinary action handed down by the league. Watch this space.
Nikola Jokic (DEN) – $3,700
Due to a number of injuries to the Nuggets big men the rookie Jokic is starting and putting up some decent numbers over the past few games.  He has put up 25+ Fantasy Points in three of his past four games and if he gets the start again here against the Spurs he is going to be great value at a cost of only $3,700.
There you have it, my picks for Saturday 28th November 2015. Let me know your thoughts via Twitter – @pearcey47
Click here to find all of the Moneyball contests in the lobby.
And as always, remember to gamble responsibly.