A Guide to Big Bash League Fantasy 2015/16
BBL Fantasy is back and Nic has some tips to help you get started.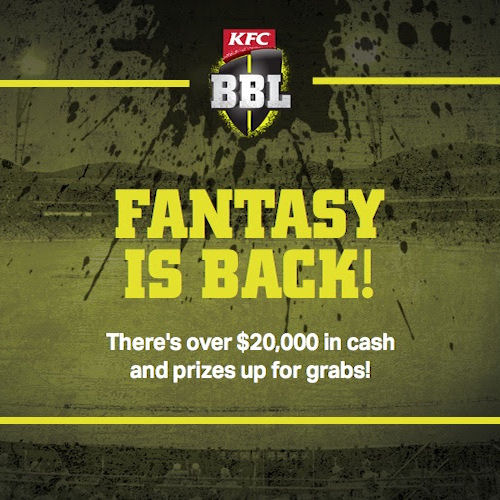 The first ball of the 2015/16 Big Bash League will be bowled in a little under three weeks and that means Big Bash League Fantasy is open for the season.
This article will explain the basics of how to play, as well as explaining the changes they've made to the game for this season, because they have made quite a few.
This article will be laid out in subsections in order to make it as easy as possible for you to find the bits you want to know.
Changes from last season
The biggest and most noticeable change is the introduction of dual position players and the removal of the all-rounder slot.
Last year, you were able to choose three all-rounders for your team and they sat in a separate position, but that has been scrapped in favour of batsmen and bowlers with dual position status.
The removal of the three all-rounders hasn't reduced the size of your squad however, with squads now holding 16 players instead of 15.
You still have a starting 11, but now you have two bench players in your bowler and batsman positions, giving you extra coverage.
This change is very important in terms of scoring because BBL Fantasy, unlike AFL Fantasy, has players scoring differently depending on what position they are in.
For example, in AFL Fantasy you can pick defenders who will kick goals, but in BBL Fantasy, unless you're picking an all-rounder, your batsmen and bowlers will have independent methods of scoring. However, if Aaron Finch decides to bowl and he takes a wicket, he gets those points.
The other big change is that player prices will change IMMEDIATELY after round one, which means you'll need to be on your toes if you want to bring someone in or out.
Scoring
BBL Fantasy has a completely unique scoring system that is vastly different from the AFL version, however it's not too hard to get your head around.
Batsmen score one point for every run the score – simple, right?
It gets trickier as batsmen are rewarded for their strike rates as well, meaning you want to pick players that score fast as well as big.
Once a player is dismissed or an innings is concluded, the strike rate bonus will be added:
20 points if the strike rate is 150+
16 points if the strike rate is between 140 and 149.99
12 points if the strike rate is between 130 and 139.99
8 points if the strike rate is between 120 and 129.99
These bonuses are crucial to winning in BBL Fantasy so keep quick scorers like a Glen Maxwell or a Nathan Coulter-Nile in mind.
There are two other things to keep in mind with strike rates.
Players only get strike rates bonuses if they've scored 20 or more runs.
All players can receive this bonus and it's not exclusive to players in the batsman position.
Wicketkeepers will receive 15 points for a stumping and they are the only players on your team that get this score.
A runout grants a player 15 points as well, BUT only the last person in the runout chain gets the points, not everyone involved. Basically, if a player is credited on the scoreboard with the runout, that person will get the points.
A catch is worth 12 points.
Players receive 20 points for taking a wicket and 12 points for a maiden over.
Bowlers also receive score bonuses, but theirs come from economy rate:
20 points if the economy rate is below 5
16 points if the economy rate is between 5.01 and 6
12 points if the economy rate is between 6.01 and 7
8 points if the economy rate is between 7.01 and 8
If all of this is stuff is confusing, don't worry, that is you and every other person who has ever played this game.
Channel Ten and most cricket apps will be able to give you the economy and strike rates of players instantaneously so don't fret about having to calculate them yourself.
Team Balance
You have to pay close attention when putting your team together because the Big Bash League, despite being an even, eight team competition, has byes.
To make matters trickier, there aren't byes every round and fixtures aren't identical so you'll have to pay close attention to keep your team up to date.
For example, in round one, the Melbourne Stars, Sydney Sixers and Sydney Thunder play twice with the Perth Scorchers having the bye and five matches in total in round one, whereas round two has three matches in total and the Thunder and the Stars have a bye.
Another quirk in the fixture is the fact that the final match of round one is on the SAME DAY as the first match of round two and takes place only a couple of hours afterwards.
Just pay close attention to the fixture and you will have an immediate advantage over everyone else in your leagues who assume the fixture isn't a twisted mess of DT carnage.
Obviously, you can take advantage of players playing twice with your captaincy and that can work in your favour, but make sure you know when each team is having their bye so you can plan your team accordingly.
Because of this, the best course of action is to have a wide variety of players in your side. If, like the demo side shown in this article (which is totally not my team), you have too many players in one position from the same team, you can be left with donuts aplenty come a bye round.
To summarize, make sure you have a good spread of players so you don't end up devastated by bye rounds and take full advantage of sides playing twice.
Player Selection
This section will cover a lot of areas, but first and foremost is the availability of international players.
If you select an international player in your side, make sure you know what rounds they're playing and if they're here for the whole tournament or for bits of it.
For example, last season the West Indian players had an international series scheduled during the Big Bash and thus the corresponding players were only signed to their respective teams for half of the tournament.
The West Indians will play three tests in Australia this summer, with two of them taking place during the Big Bash season so make sure if you're picking a West Indian player, that he's either not in the test side or that he's been selected for upcoming BBL matches.
In Big Bash League Fantasy you get 21 trades to use across the nine trading periods and you are able to use three trades per week, but once we hit the Big Bash Finals you are actually given unlimited trades.
While the normal policy is to avoid Australian test match players altogether, with so many trades available you can consider a test match player in your starting side as players in the test squad will, apparently, be available for the early matches of the Big Bash League before the Boxing Day test sweeps them away.
So if you choose to go down the test player path, make sure you have a plan on who to bring in for them and hope they perform well as their price will change immediately just like every other player.
Player Pricing
Don't let prices fool you – no Fantasy tournament has a weirder pricing structure than Big Bash Fantasy.
West Indian superstar Kieron Pollard is listed as a rookie priced 30,000 dollar dual position player.
Do not pick Pollard! He injured himself the day after Big Bash Fantasy opened!
The point here is that the prices are based off how players performed last year and since Pollard was signed last season but didn't play a game due to another injury, he fell to rookie price this season.
The same goes for the Melbourne Renegades captain Aaron Finch who had an awful season last year and has been priced at a ridiculous $42,200!
T20 cricket can be a strange sport sometimes and Finch last season, priced at over $100,000 at the start of the season, is proof that just because someone seems like a safe pick, doesn't mean they are.
Basically, don't select players because of their price – choose players that are being used in positions where they can score well and players that are showing form in other Australian domestic competitions like the Matador Cup and the Sheffield Shield.
What are positions that can score well you ask? Players that bat at the top of the order, players that are known for having good economy and strike rates and players that are good fielders should all be prioritized.
General Tips
Pick batsmen who bat higher up the order as they're more likely to score consistently. Players who bat at five or six mightn't even get a bat some games. This is especially important when deciding your wicketkeepers.
Bowlers that can pinch hit as batsmen like Ben Cutting and Nathan Coulter-Nile usually score better and in general you should fill your team with as many dual position all-rounders as is reasonable.
Use your bench strategically. Pick one cheap batsman and bowler you think can be a cash cow and pick another player who should play every game for cover because late omissions are released far later in the BBL and you sometimes won't catch them in time.
Watch the weather channel like a pensioner whose Foxtel remote is broken. You don't want players on your field with a match being rained out, you will get zeroes galore. There's not actually much you can do in these situations, but it's better to know than not.
A reminder, pay close attention to the fixture at all times.
If you follow these principles you should do well in BBL Fantasy this year… assuming you pick a good team… but of course you will!
I have total faith in your ability to crush the rest of the people in your league. Should multiple people in your league be reading this article… well, that's awkward.
We will be writing more articles over the next few weeks to get you as well prepared for the BBL|05 season as possible!
In the meantime, if you have any further questions, feel free to hit me up on Twitter: @NicNegrepontis
Good luck!