$8K Monster Moneyball NBA picks special – Thursday 26th November 2015
Oh yeah! It's back! Pearcey has his tips to help you share in the cash!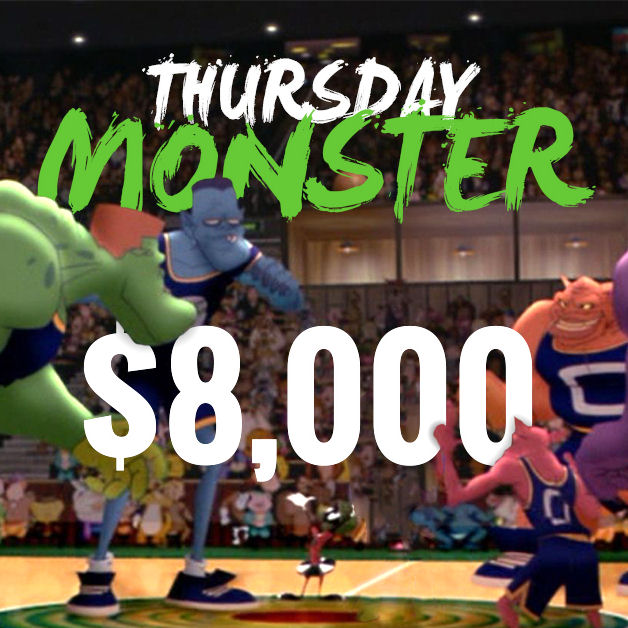 Daily Fantasy Sports has been bought to Australia in 2015 by the guys at Moneyball.com.au – the leading DFS platform in the country. They have a large array of games available in the lobby, ranging from an outlay as little as $2 up to $200 and beyond! Sign up today and join the Daily Fantasy Sports revolution!
Moneyball contests for NBA are easy to be involved in – simply select 9 players (2 point guards, 2 shooting guards, 2 small forwards, 2 power forwards and 1 centre), whilst keeping under the $60,000 salary cap. Jump in the lobby today and give it a go!
Thursday's contests include an ABSOLUTELY HUGE Guaranteed $8,000 Thursday Bank ($15 entry) as well as a Fadeaway Special (Turbo) and a Slam Special for the late games (both $10 entry). They also have the usual H2H, Double-up and other competitions to satisfy your Daily Fantasy Sports appetite!
Picks for Thursday 26th November 2015:
POINT GUARD:
Kyle Lowry (TOR) – $8,700
After having a huge pre-season where he shed some body fat and worked on his fitness, Lowry is currently enjoying his best season in the NBA. He is currently averaging 20.1 points, 4.6 rebounds and 6.5 assists per game, making him one of the more well-rounded players in the competition. He will have a good match-up here against the Cavs who will likely be missing their two best PGs.
Rajon Rondo (SAC) – $8,000
Words cannot describe the sort of form that Rondo is enjoying at the moment. He is coming off a club record 20 assists in his last game and has had four triple-doubles and two double-doubles in his past nine games. His price is now up to $8,000 but when he is in this sort of form any price would not be too much.
Tony Parker (SAS) – $5,300
Parker is playing some quality basketball right now. In his past four games he has played exactly 32 minutes in each contest, putting up averages of 18 points and 6 assists per game. This has resulted in an average of 31.1 FPPG over the same timeframe.  Look for him to score at a Fantasy Point per minute in this contest and total around the 30 mark once again.
SHOOTING GUARD:
Eric Bledsoe (PHO) – $8,600
Bledsoe didn't play in the Suns last game, against the Spurs, and is currently listed as day-to-day. He injured the knee in the previous game against the Pelicans but still managed to put up a line of 29 points, 7 rebounds and 6 assists and in this match-up they play the Pelicans again so expect similar numbers.
Avery Bradley (BOS) – $5,400
With Marcus Smart out Bradley has been given the start at SG and has been putting on a clinic. He has scored at least 18 points in each of his past five games and has not dropped under 25 Fantasy Points in that stretch. In a game against the winless 76ers he could put up season high numbers.
Marco Belinelli (SAC) – $4,100
Belinelli is in some great shooting form off the bench for the Kings, putting together a nice little run and a Fantasy Point average of 22.7 FPPG over a three game stretch. Belinelli was bought to the Kings from the Spurs to provide scoring off the bench and he is delivering at the moment.
SMALL FORWARD:
Kevin Durant (OKC) – $10,900
Durant returned to the court in the Thunder's last game and picked up exactly where he left off, dropping 27 points, 6 rebounds and 4 steals. He is priced high but when you have a player of Durant's ability you have to pay the big dollars. He should dominate this game against the struggling Nets.
Andrew Wiggins (MIN) – $7,500
Wiggins is hot after putting up his biggest score of the season, dominating the second half against the 76ers on his way to 47.7 Fantasy Points. He has put up at least 36 Fantasy Points in three of his last four games and is starting to show why he was last years number one pick.
Rondae Hollis-Jefferson (BRO) – $3,600
At a price of only $3,600 Rondae is an absolute steal based on current form. And speaking of steals, Rondae had 5 of them in his last game, against the Celtics. He doesn't put up hugh numbers but seems to be able to contribute across the board meaning he will always put up siolid numbers.
Click here to sign up to Moneyball.
POWER FORWARD:
Anthony Davis (NOP) – $10,400
Davis has been an absolute monster since returning from a shoulder injury that forced him to spend a couple of games on the sidelines. In the two games since his return he has put up Fantasy scores of 49.1 against the Spurs and 65.3 against the Suns. If he can put up that sort of score in this re-match against the Suns he will be a great buy.
Tristan Thompson (CLE) – $5,700
Since Timofey Mozgov went down with injury Thompson has been on a tear, putting up a three game average of 30.2 FPPG. He has been a beast on the boards, averaging 13.7 over the same three game stretch. Look for him to grab rebounds at will against an undermanned Raptors frontcourt.
Luis Scola (TOR) – $4,200
Priced at only $4,200, Scola is showing great value over the past few games, with two of his last three scores being 29.5 and 29.1 Fantasy Points. He has been asked to step up in the Raptors frontcourt after the injury to Jonas Valanciunas so he should see plenty of minutes in this game against the Cavs.
CENTRE:
Brook Lopez (BRO) – $8,400
In six of his past seven games Lopez has failed to score 35 Fantasy Points only once. He is undoubtedly the Nets number one option on the offensive end so he is always going to get scoring opportunites, but this season he is provding solid stats in other categories as well. The Nets play the Thunder so Lopez will have to put up big numbers if they are to be competitive.
Jahlil Okafor (PHI) – $6,500
In what was a huge match-up between Okafor and his fellow high draft pick Karl-Anthony Towns, Okafor took the chocolates, putting up a massive line of 25 points and 12 rebounds for 40.9 Fantasy Points, his secnd-highest score for the season. He is matched-up against the Celtics here so a similar line is not out of the question.
Bismack Biyombo (TOR) – $3,500
In the first game Biyombo started since Valanciunas went down with injury he produced 6 points and 14 rebounds in 31 minutes of action. With JV to be out again in this game against the Cavs, Biyombo will get the start again and will be a great value play.
There you have it, my picks for Thursday 26th November 2015. Let me know your thoughts via Twitter – @pearcey47
Click here to head to the Moneyball lobby to find all of the NBA contests.
And as always, remember to gamble responsibly.