Moneyball NBA picks – Wednesday 25th November 2015
$5K in the pool for the NBA Wednesday Bank. Get Pearcey's tips to help you pick a winning squad.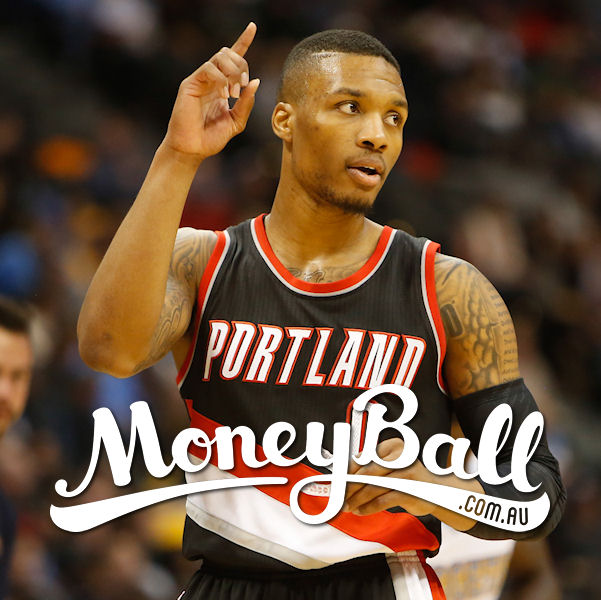 Daily Fantasy Sports has been bought to Australia in 2015 by the guys at Moneyball.com.au – the leading DFS platform in the country. They have a large array of games available in the lobby, ranging from an outlay as little as $2 up to $200 and beyond! Sign up today and join the Daily Fantasy Sports revolution!
Moneyball contests for NBA are easy to be involved in – simply select 9 players (2 point guards, 2 shooting guards, 2 small forwards, 2 power forwards and 1 centre), whilst keeping under the $60,000 salary cap. Jump in the lobby today and give it a go!
Wednesday's contests include a Guaranteed $5,000 Wednesday Bank ($15 entry) as well as a Swish Special (Turbo) and a Lay-up Special for the late games (both $10 entry). They also have the usual H2H, Double-up and other competitions to satisfy your Daily Fantasy Sports appetite!
Picks for Wednesday 25th November 2015:
POINT GUARD:
Damien Lillard (POR) – $8,900
Lillard dropped 60.7 Fantasy Points in his last outing a couple of nights ago against the Lakers. He continues to impress on the offensive end, leading the Blazers in scoring with an impressive average of 25.5 points per game. He has a tough match-up here against the Bulls but will still score at will.
Isaiah Thomas (BOS) – $7,800
With Marcus Smart on the sidelines again with another injury, Thomas will be called upon to take on the starting PG role yet again and provide the majority of offense for the Celtics. He has been in stellar form of late, with 6 consecutive games of 30+ Fantasy Points.
Mario Chalmers (MEM) – $4,400
Chalmers has been sensational off the bench for the Grizzlies, putting up a 3-game Fantasy average of 23.5. He has a favourable match-up here against the Dallas backcourt so look for his hot form to continue, especially if the Grizzlies get on top early.
SHOOTING GUARD:
Kobe Bryant (LAL) – $7,100
This is a risky pick as it is not like we are talking about the Kobe of old, but have a think about it – the Lakers are playing the undefeated Warriors and their star guard Steph Curry. Bryant considers himself one of the best players of all time and he will be trying his hardest to bring the Warriors undefeated run to an end and show that he still has it.
CJ McCollum (POR) – $6,200
Consistency has been McCollum's strength this season, as he is yet to fall under 20 Fantasy Points in a game for the season. He is having a great break-out season, with the only downside being his price is starting to creep up to match his production. Get on now before he becomes too much more expensive.
Avery Bradley (BOS) – $5,400
Bradley is enjoying a nice little run at the moment, with his 3-game average sitting at 33.9 FPPG. He has been providing a real spark off the bench but in his last game he returned to the starting line-up. With Marcus Smart out Bradley will be given plenty of opportunities to keep his recent run of good form alive.
SMALL FORWARD:
Paul George (IND) – $9,600
For the season to date George has been listed as a PF in Moneyball so it will come as good news to Moneyball players that George can now be selected at the SF position. George is having a great season, averaging 42.3 FPPG and contributing across the board. George is a great pick on a nightly basis.
Harrison Barnes (GSW) – $5,300
Barnes is enjoying a good run of form at the moment, putting up two of his best four scores for the season in his past two games. Barnes has a great match-up here against the struggling Lakers so expect Barnes to have another solid game. Great value at his price.
Jeff Green (MEM) – $4,600
Green has been thrust in to the Grizzlies starting line-up and is putting up some starting quality numbers, scoring 20+ Fantasy Points in four of his past five games. Green has a great match-up here against the Mavericks so he should be a great value play at a cost of only $4,600.
Click here to sign up to Moneyball.
POWER FORWARD:
Blake Griffin (LAC) – $10,400
With practically no frontcourt to speak of for the Nuggets Blake Griffin should go absolutely nuts in this contest. Only issue is the game becoming a huge blow-out and Griffin speding a significant portion of the game on the pine. Griffin's colours were lowered in his last outing, against the Raptors, scoring only 20.2 Fantasy Points so look for him to bounce back in a big way here.
Pau Gasol (CHI) – $8,500
Gasol has a great match up in this game against the always-changing Trailblazers forward line-up.  There is an amount of uncertainty as to who Gasol will match up against but there is definitely no uncertainly as to how productive Gasol will be. With a season average of 33.1 FPPG look for Gasol to score at least that plus more.
JJ Hickson (DEN) – $3,900
With Faried unlikely to take to the floor to add to the Nuggests injury woes, Hickson wil again be asked to step up and take on a bigger role in this game against the Clippers. Hickson doesn't put up huge numbers but at only $3,900 anything around 20+ Fantasy Points is good value.
CENTRE:
DeAndre Jordan (LAC) – $7,800
Another player who should benefit in a big way against an undermanned Nuggets frontcourt is DeAndre Jordan. He is coming off his second-biggest score of the season (43.5 Fantasy Points) against the Raptors so his form is good going in to this game. Look for him to easily eclipse his season average of 32.7 FPPG.
Marcin Gortat (WAS) – $6,200
Gortat has had a relatively slow start to the year, with season averages so far of only 11.2 points and 7.8 rebounds per game. He will be facing an under-sized Pacers line-up so look for him to use his size and strength to get easy points and boards around the basket and increase his season average of 23.3 FPPG.
Nikola Jokic (DEN) – $3,500
Jokic is listed at a bargain basement price of $3,500 so any significant return is great value. When you take into account that he is averaging 31.3 FPPG in his past three contests and that possibly three of the Nuggets best frontcourt players will be sitting out this game against the Clippers, Jokic becomes a must-play.
There you have it, my picks for Wednesday 25th November 2015. Let me know your thoughts via Twitter – @pearcey47
Click here to head to the Moneyball lobby to find all of the NBA contests.
And as always, remember to gamble responsibly.