AFL Draft 2015 and Fantasy
The draft happened tonight and we have some fresh meat to look at! Discuss your thoughts in the comments.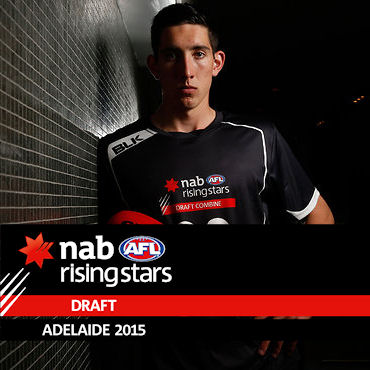 The AFL Draft happened tonight in Adelaide and with it, we have a bit of an idea what we might be paying for some of the gun fantasy relevant draftees.
Last year Paddy McCartin went at number one and started at $303,000 followed by Christian Petracca ($297,000), Angus Brayshaw ($294,000), Jarrod Pickett ($290,000) and Jordan de Goey ($285,000). It took until pick 33 until we found out first draftee under $200K and then to Harry Dear at pick 58 at the 'basement' price of $142,000.
We're not sure how it all looks for next year with pricing, but the further the ball-magnets drop, the cheaper they will be for us in the salary cap games.
The highest priced rookie will be Jacob Weitering who went to Carlton. We're not going to expect too much from him from a fantasy perspective (averaged just 42 at the U18 Championships), but the defender is a good chance to get games early. Josh Schache went to the Lions at two. As a forward, he was the best fantasy performer for Vic Metro averaging 76 points – boosted by a 119 in the second week.
The lad we love, being from Tassie, is Kieren Lovell. Maybe his heritage isn't the only thing we love… his ball-winning ability is the major interest for our fantasy hearts. Averaging 104 at the U18 Champs, the most of any player, thanks to collecting an average of 22.7 kicks, 12.3 handballs and 8 marks, means he has a game we want in a player. Landing at the Hawks was probably the worst thing for us as fantasy coaches – and it would have been nicer if he did slide a bit more… but with his game, he still might be worth a look at his inflated price. Let's hope the jet gets a chance.
Lovell is a ball-magnet. Natural successor to Sam Mitchell. #AFLDraft #2016AFLProspectus

— Fantasy Freako (@FantasyFreako) November 24, 2015
Those going early are probably the most likely to play – especially if they end up at clubs where there is a chance they might make an immediate impact. The issues is that we don't really want to be paying over $200K for a first year player especially when job security is obviously a bigger factor than scoring ability.
TOP AFL FANTASY AVERAGES FROM U18 CHAMPIONSHIPS 2015 (DRAFTEES)
Kieren Lovell MID – (HAW – pick 22) – 104 points
Jacob Hopper MID – (GWS – pick 7) – 91 points
Jade Gresham MID – (STK – pick 18) – 86 points
Ben Keays MID – (BL – pick 24) – 85 points
Luke Partington MID – (WC – pick 28) – 76 points
Josh Schache FWD (BL – pick 2) – 76 points
Eric Hipwood DEF (BL – pick 14) – 71 points
Mitch Hibberd DEF/MID (NM – pick 33) – 69 points
Darcy Parish MID (ESS – pick 5) – 65 points
Harley Balic MID (FRE – pick 38) – 64 points
Click here for link to Under 18 fantasy scores from Footy Prophet.
Remember, U18 numbers aren't the be-all-and-end-all of players. We will be keeping an eye on the players who have slid in the draft. Rhys Mathison ended up at Brisbane with pick 39 which should make him cheap. The midfielder averaged 61 at the champs. Tassie defender/midfielder Mitchell Hibberd (69 ave) will be worth looking at if indeed he ends up with DEF status.
Like in 2015, next year we will have plenty of players with experience coming in at under $200K (stay tuned as we look at them over the pre-season). Also, there are a few mature-aged draftees that will be worth considering as well. Mitch Brown for the Bombers? He was good as a 'replacement' in the NAB Challenge.
Let us know your thoughts on the draftees. Which players do you think will make an immediate impact and be a chance for our fantasy teams in 2016?
NOTE: We will have a new podcast coming very soon discussing the draft and the fantasy news out of it… as well as other pre-season stuff.
The official 2015 @NAB #AFLDraft selfie! pic.twitter.com/f4yOt2e9vz

— NAB AFL Draft (@AFLDraft) November 24, 2015
Kieran Lovell and Jade Gresham were the only two draftees to avg. 100+ #SuperCoach and #AFLFantasy pts at both TAC Cup & U/18 Champs level.

— Fantasy Freako (@FantasyFreako) November 25, 2015
Sam Menegola racked up 30+ disposals in 5 games in the WAFL. Also booted 21.18. #2016AFLProspectus #AFLFantasy #SuperCoach

— Fantasy Freako (@FantasyFreako) November 24, 2015
Brayden Fiorini avg. 127 #AFLFantasy points in the TAC Cup, most of any draftee. #2016AFLProspectus

— Fantasy Freako (@FantasyFreako) November 25, 2015