Moneyball NBA picks – Tuesday 24th November 2015
Throw your hat in the ring to win a share in the $4000 Moneyball NBA contest for Tuesday.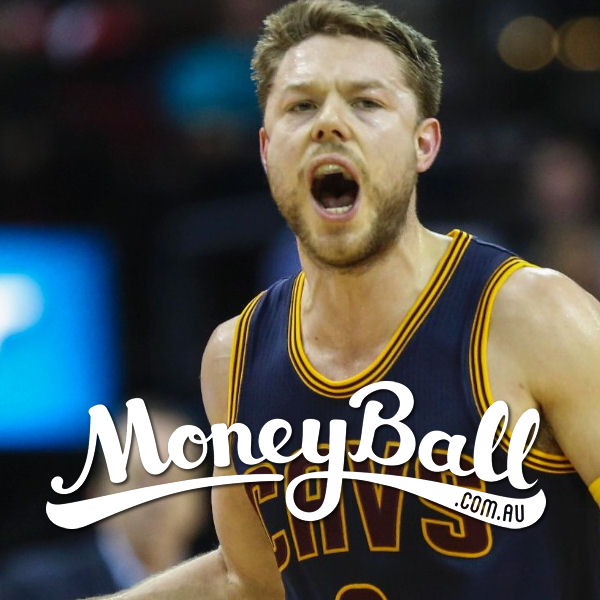 Daily Fantasy Sports has been bought to Australia in 2015 by the guys at Moneyball.com.au – the leading DFS platform in the country. They have a large array of games available in the lobby, ranging from an outlay as little as $2 up to $200 and beyond! Sign up today and join the Daily Fantasy Sports revolution!
Moneyball contests for NBA are easy to be involved in – simply select 9 players (2 point guards, 2 shooting guards, 2 small forwards, 2 power forwards and 1 centre), whilst keeping under the $60,000 salary cap. Jump in the lobby today and give it a go!
Tuesday's contests include a Guaranteed $4,000 Tuesday Bank ($15 entry) as well as a Tuesday Tomahawks Special (Turbo) and a Tuesday Charge Special for the late games (both $10 entry). They also have the usual H2H, Double-up and other competitions to satisfy your Daily Fantasy Sports appetite!
Picks for Tuesday 24th November 2015:
POINT GUARD:
Rajon Rondo (SAC) – $8,000
Rondo continues to play like a man possessed, putting up spectacular numbers across the board, especially in the Assists column. Rondo has not dropped below 30 Fantasy Points in his past 9 games and in that same timespan he has put up 4 games of 50+ Fantasy Points. His price continues to increase but his production is worth the dollars.
Ricky Rubio (MIN) – $7,300
Rubio isnt quite playing at the same level as he was before he was forced to have a week on the sidelines due to injury, but this game against the 76ers will be the perfect opportunity for him to return to that early season form. He did have 39.4 Fantasy Points two games ago against the Magic so look for him to eclipse the 40 Fantasy Point mark here.
Matthew Dellavedova (CLE) – $4,200
The likelihood that Mo Williams will be sitting this one out due to injury is high so Delly should see the start again and with that comes some big minutes, which equals increased opportunities.  He has scored 24.9 and 20.7 Fantasy Points repectively since the Williams injury so expect him to log 20+ again.
SHOOTING GUARD:
Giannis Antetokounmpo (MIL) – $6,700
Although his form has been a bit patchy over the past few games, Giannis is a solid play here against the Pistons.  He is averaging 31.2 FPPG over the season and 31.5 FPPG over the past three games, which included a 46.0 Fantsay Point explosion two games ago against the Cavs. He is always a threat to post a high scoring game with his all-around abilities.
Arron Afflalo (NYK) – $4,700
Afflalo has now played five games in his return from injury and seems to be improving each time he takes the court. In his last outing, against the Rockets, he scored a season high 26.7 Fantasy Points, his third 20+ Fantasy Point game of the season. At only $4,700 if he scores above 25 Fantasy Points heis great value.
Marco Belinelli (SAS) – $4,100
Belinelli has been busy off the bench for the Kings this season, with six of his fourteen games resulting in 20+ Fantasy Points. He had a season high 23 points two games ago against the Heat but his failure to contribute in any other category means if his shot is off he is a risky play. Hopefully Marco can get it going against the Hornets.
SMALL FORWARD:
Kawhi Leonard (SAS) – $8,600
Leonard just continues to put up great numbers game after game for the Spurs. He is yet to drop under 30 Fantasy Points this season, making him one of the most consistent players at the SF position. In what should be a high-paced match against the Suns we should see Kawhi fill the stats-sheet and put up another big game.
Andrew Wiggins (MIN) – $7,500
Wiggins has been in some decent form over the past three games with an average of 34.4 over that span, an increase on his 28.6 FPPG season average. He is matched up here against the struggling 76ers so expect a huge score from Wiggins in this game.
PJ Tucker (PHO) – $4,400
After only cracking the 20+ Fantasy Point barrier twice in his first 9 games, Tucker has dropped 20+ in three of his past four. His starting position at SF was starting to come under pressure from TJ Warren and Tucker has responded well, with a 25.6 Fantasy Point outing in his last game and 28.4 three games ago. At only $4,400 Tucker is great value when he is putting up those sorts of numbers.
Click here to sing up to Moneyball.
POWER FORWARD:
DeMarcus Cousins (SAC) – $11,200
With a price tag of $11,200 you would obviously want a player that scores big points. Look no further than Cousins. He has dropped 57+ Fantasy Points in three of his past 4 games with a season high 60.4 Fantasy Points in his last match-up, against the Magic. He will be playing here against the Hornets so another big score is a given.
Chris Bosh (MIA) – $8,200
Bosh has scored 35+ Fantasy Points in five of his past seven games and he should continue that sort of form against the Knicks. He is the main offensive option in the Heat line-up now that Dwyane Wade has taken a backseat, so look for his team mates to get the ball in Bosh's hands often on the offensive end.
Marvin Williams (CHA) – $5,100
Williams has been one of the best value picks this season, putting up a season average of 24.8 FPPG with a price that hovers around the $5,000 mark. His current price is $5,100 but with returns of 30.8 and 26.8 Fantasy Points in his past two games he still represents outstanding value.
CENTRE:
Rudy Gobert (UTA) – $7.900
Gobert has only put up less than 26 Fantasy Points once this season, which was two games ago against the Raptors. In that same game Gobert was posterised in a very brutal way by DeMar DeRozan. What do these two things have in common? They both happen very rarely. Watch for Gobert to continue his consistent form (and not get posterized) in this game against the Thunder.
Karl-Anthony Towns (MIN) – $6,700
Another week, another price rise for the number 1 draft pick. The price rises are due to his exceptional form, with a huge average of 38.4 FPPG over his past three games. Matched up against another rookie in Jahlil Okafor in this game, look for KAT to show everyone who is the dux of the current rookie class.
Jahlil Okafor (PHI) – $6,500
Its too much of a mouth-watering match-up not to write about both parties. Two of the top three draft picks from the current rookie class going head to head. Okafor has been slightly down lately but bounced back in his last outing with 33.7 points gainst the Heat. Look for him to try and impose himself against his fellow draft-mate.
There you have it, my picks for Tuesday 24th November 2015. Let me know your thoughts via Twitter – @pearcey47
Click here to find all of the Daily Fantasy NBA contests in the Moneyball Lobby.
And as always, remember to gamble responsibly.