Moneyball NBA picks – Sunday 22nd November 2015
Good morning! We have a few Moneyball contests to enter for this Sunday. Here are Pearcey's hot tips!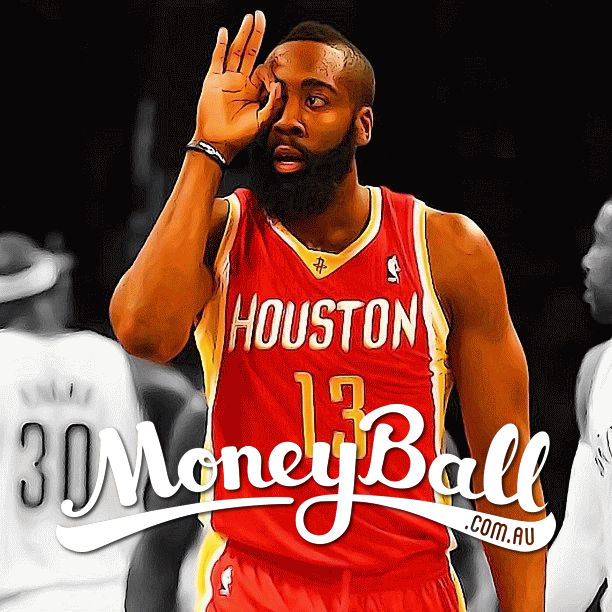 Daily Fantasy Sports has been bought to Australia in 2015 by the guys at Moneyball.com.au – the leading DFS platform in the country. They have a large array of games available in the lobby, ranging from an outlay as little as $2 up to $200 and beyond! Sign up today and join the Daily Fantasy Sports revolution!
Moneyball contests for NBA are easy to be involved in – simply select 9 players (2 point guards, 2 shooting guards, 2 small forwards, 2 power forwards and 1 centre), whilst keeping under the $60,000 salary cap. Jump in the lobby today and give it a go!
Sunday's contests include a Guaranteed $4,000 Sunday Bank ($15 entry) as well as a Rebound Special (all games) and a Lay-up Special for the late games (both $10 entry). They also have the usual H2H, Double-up and other competitions to satisfy your Daily Fantasy Sports appetite!
Picks for Sunday 22nd November 2015:
POINT GUARD:
Rajon Rondo (SAC) – $7,700
Nobody can stop Rondo in the kind of form he is in at the moment. He has had 3 triple-doubles in his past 5 games and in his last game, against the Heat, he fell just one rebound short of making it four from five.  He has topped 50+ Fantasy Points in 4 of his past 7 contents and should be up for another big night against the Magic.
Mike Conley (MEM) – $6,900
Conley is currently enjoying a purple patch of form. In his first 11 games he didn't crack the 40 Fantasy Point barrier at all but in his past two games he has had scores of 44.3 and 41.1 respectively. Hopefully his run of good form can continue here against Tony Parker and the Spurs.
Matthew Dellavedova (CLE) – $4,200
Delly will get the start vs the Hawks as Mo Williams has already been ruled out with a leg injury. Delly also started the Cavs last game and put up a career-high 13 dimes as well as 7 points. He also logged 39 minutes in that game so watch for him to have a similar output again.
SHOOTING GUARD:
James Harden (HOU) – $10,700
Harden's form this season ,has been up and down like a yo-yo. Three games ago against the Celtics he had a very un-impressive game of just 17.7 Fantasy Points. Two games ago he had a monster, returning 78.1 Fantasy Points against the Blazers. In his last game he had an average game with 38.7 Fantasy Points. This game is against the Knicks – which James Harden is going to turn up?
Evan Fournier (ORL) – $5,900
Fournier's form continues to impress this season, even with the more well-known players for the Magic returning from injury. In his last game, against the Timberwolves, Fournier had 26 points, including the winning 3-pointer, to finish with 38.3 Fantasy Points, his third 30+ game in a row. He will be hoping to extend that streak to four against the Kings.
Ben McLemore (SAC) – $3,700
McLemore isn't putting up massive numbers this season but he is coming off a season high 17 points in his last outing. McLemore has been starting over the past few games alongside Rajon Rondo, and if he can get hot he can score in bunches. At only $3,700 he is a good value play.
SMALL FORWARD:
Carmelo Anthony (NYK) – $9,900
Carmelo has returned to the player of old this season, leading the Knicks to a surprisingly good start to the year. He has only dropped under 30 Fantasy Points twice in his 11 games and has five games over 40+. Expect this game against the Rockets to be a high scoring affair, the type of contest Anthony loves.
Otto Porter (WAS) – $6,000
Porter has been much improved this season after being thrust into the starting line-up. He has stepped up over the past few games with Bradley Beal on the sidelines, with an average of 30.8 Fantasy Points over the past three games. Beal is expected to play in this game against DET but hopefully it wont affect Porter's current form.
Omri Casspi (SAC) – $4,300
Casspi has been great for the Kings this season, providing great support off the bench for the team. He is averaging 10.7 points and 5.8 rebounds per game through 13 games. He has also returned 20+ Fantasy Points in 6 games this season, showing he can provide great value for only $4,300.
POWER FORWARD:
LaMarcus Aldridge (SAS) – $8,200
Aldridge is slowly settling in to his new home in San Antonio, taking a little time to adjust to Greg Popovich's system. Aldridge has been accustomed to being the number 1 player on his team so he has not been putting up the sort of numbers we are used to but he still has a handy average of 30.4 FPPG. The Spurs play MEM here, a game that Aldridge will have to play well in if they are to get the win.
Tristan Thompson (CLE) – $5,700
With Timofey Mozgov on the sidelines for the next week or two with a shoulder injury, TT should move in to the starting line-up and see increased playing time. Even in limited minutes Thompson has scored 20+ Fantasy Points in six of his twelves games. Watch for Thompson to put up season high numbers here against the Hawks.
Jerami Grant (PHI) – $4,400
With Nerlens Noel being moved to the bench, Grant has got the starting gig at PF in Philly for the time being. He has scored 23.3 and 22.5 Fantasy Points in his past two games, proving great value for his starting price of only $4,400. Gant should be good for another 20+ against the Heat.
CENTRE:
Hassan Whiteside (MIA) – $9,200
Whiteside put up a triple-double two games ago against rookie Karl-Anthony Towns of Minnesota. In this game he is matched up against another rookie, Jahlil Okafor of the 76ers. If he can stay out of foul trouble Whiteside could be another chance of a monster game.
Marc Gasol (MEM) – $7,900
Gasol is fresh off a massive game against HOU, scoring a triple-double with 16 points, 11 boards, and 11 assists for his biggest Fantasy Point return of the season (51.7). Gasol has scored at least 30 Fantasy Points in 6 of his past 7 games and should continue his hot form against the Spurs.
Clint Capela (HOU) – $4,400
Capela could be a chance for the start in this game as Dwight Howard has been sitting out the second game of back-to-backs in his return from injury. Capela's fantasy value is much improved with Howard on the bench, but he is still putting up a solid 19 FPPG average regardless, which is good value at a price of only $4,400.
Click here to find all of the Daily Fantasy NBA contests in the Moneyball Lobby.
And as always, remember to gamble responsibly.