Moneyball NBA picks – Monday 23rd November 2015
Plenty of Moneyball contests to satisfy your NBA fantasy need on Monday. Get's Pearcey's tips to help you pick an all-star team.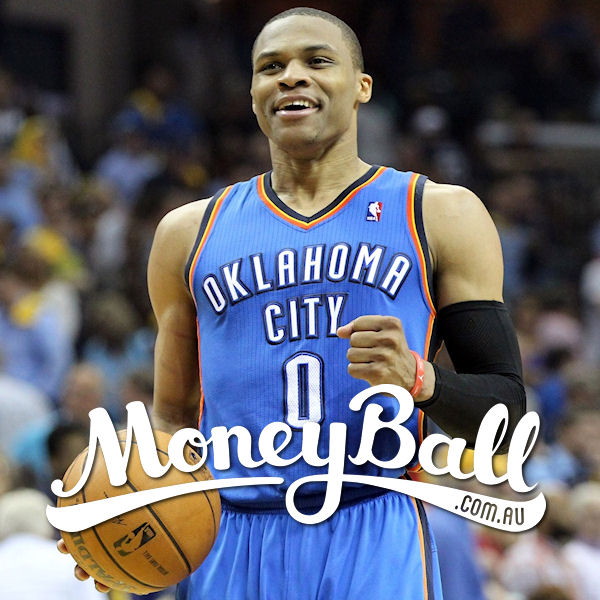 Daily Fantasy Sports has been bought to Australia in 2015 by the guys at Moneyball.com.au – the leading DFS platform in the country. They have a large array of games available in the lobby, ranging from an outlay as little as $2 up to $200 and beyond! Sign up today and join the Daily Fantasy Sports revolution!
Moneyball contests for NBA are easy to be involved in – simply select 9 players (2 point guards, 2 shooting guards, 2 small forwards, 2 power forwards and 1 centre), whilst keeping under the $60,000 salary cap. Jump in the lobby today and give it a go!
Monday's contests include a Guaranteed $3,000 Monday Bank ($15 entry) as well as a Baller Special (all games) and a Slam Special for the late games (both $10 entry). They also have the usual H2H, Double-up and other competitions to satisfy your Daily Fantasy Sports appetite!
Picks for Monday 23rd November 2015:
POINT GUARD:
Russell Westbrook (OKC) – $12,100
Hard to choose between Westbrook and Curry here – both great options – but the nod goes to Westbrook because of his exceptional form in the past few games. He has a 3-game average of 63.2 FPPG, crazy to think as only a small handful of players have even scored 60+ Fantasy Points in a game this season. His form may slow down when Kevin Durant returns but for now he is a great play.
Damien Lillard (POR) – $9,100
Lillard has a very favourable match-up here against the Lakers and their young backcourt. In 14 games so far this season Lillard has failed to score 20 points in a game only once, which has helped him to a season Fantasy Point average of 39.2 FPPG. He has scored 40+ Fantasy Points in 7 of his past 11 games and he should add to that tally in this game.
D'Angelo Russell (LAL) – $5,200
The number 2 draft pick is not getting the kind of praise that his number 1 counterpart in Karl-Anthony Towns is getting, but he is quietly putting together a solid rookie season. In his 11 games to date he is averaging 10.2 points, 4.1 rebounds and 2.7 assists per game. Since his first game he has only scored under 17 Fantasy Points once and for his price he should be a solid Fantasy play here against the Blazers.
SHOOTING GUARD:
Eric Bledsoe (PHO) – $8,900
Bledsoe and his running mate Brandon Knight have led the Suns to a surprisingly good start to the season. In 12 games Bledsoe is averaging 37.8 FPPG and has scored 40+ in 4 of his last 6. In what should be a high scoring affair against the Pelicans Bledsoe should once again top the 40 Fantasy Point mark.
Will Barton (DEN) – $5,700
Barton has been on fire lately, scoring at least 25 Fantasy Points in each of his past 5 contests. He is providing the Nuggets some great play off the bench, contributing in all categories. He will be matched up in this game against the Warriors so he will have to put in a big game if the Nuggets are to be competitive.
Avery Bradley (BOS) – $5,100
In his last 4 games since returning from a calf injury, Bradley has been providing some solid play off the bench, averaging 18.5 points and 28.5 Fantasy Points in that time. Coach Brad Stevens mentioned he is impressed with the instant offense Bradley is providing in his 6th man role so look for him to continue being the main offensive player for the Celtics 2nd unit in this game against the Nets.
SMALL FORWARD:
Al-Farouq Aminu (POR) – $5,900
Aminu continues to get it done for the Blazers on a nightly basis, playing consistent minutes and providing a solid output. After a couple of quiet games his past two have netted scores of 35.0 and 33.9 Fantasy Points. He has a great match-up here against the Lakers so his good little run of form should continue.
Jae Crowder (BOS) – $5,400
Crowder has only dropped under 20 Fantasy Points twice this season, which makes him a consistently good play for his low price. In his last outing, against the Nets, he scored a season high 19 points, which contributed to 33.0 Fantasy Points. He plays the Nets again here so hopefully he can have a similar output.
Rondae Hollis-Jefferson (BRO) – $3,600
The young rookie is starting for the Nets and has been contributing on a game-by-game basis. Since the start of the season he has had double figures in points, rebounds and assists, a fair effort for a player who is yet to play 15 games in the league. He seems to have a good all-around game and will provide good value against the Celtics.
Click here to sing up to Moneyball.
POWER FORWARD:
Draymond Green (GSW) – $8,800
Green's all-around abilites have been a big talking point in media circles this season, with his stellar play being a big reason for the Warriors hot start. He is currently averaging 12.3 points, 7.9 rebounds and 6.9 assists per contest and is a triple-double threat on any given night. In this game against the Nuggets he could be in for his 2nd one for the season.
Ryan Anderson (NOP) – $6,100
Anderson is currently enjoying a hot shooting streak, scoring 24 or more points in three straight games. Whether it be in the starting line-up or off the bench it doesn't seem to bother Anderson, who can score from anywhere on the floor. In what should be a high scoring affair against the Suns watch for Anderson to continue his scoring form.
Mirza Teletovic (PHO) – $3,500
Teletovic hasn't seen a real lot of game time this season, but over the past 4 games he is enjoying a nice little run, returning 20+ Fantasy Points in three of his past 4 contests. He is coming off a season high 11 points in 29 minutes in his last game and if he can get a healthy dose of minutes against the Pelicans he will be a good value play.
CENTRE:
Brook Lopez (BRO) – $8,600
Lopez is coming off a poor game but in the five games before that he had 35+ Fantasy Points in each contest. His last game was against the Celtics, who he is matched-up again in this game, so he will be looking to make amends for his poor outing by having a big game here.
Roy Hibbert (LAL) – $5,600
This match-up should be favourable for Hibbert, against the revolving door that is the Blazers frontcourt. Hibbert's season to date has been solid if not spectacular, with season averages of 9.3 points and 6.8 rebounds per game.  He has dropped 23+ Fantasy Points in each of his last 4 games so he is in reasonable form leading in to this game.
Bismack Biyombo (TOR) – $3,700
Toronto's starting centre, Jonas Valanciunas, has just been diagnosed with a broken hand so that should spell good news for Biyombo's Fantasy output in the short term. He is averaging 4.4 points and 5.8 rebounds in only 16.9 minutes per game so with more minutes Biyombo should outperform his season averages and provide a good value play.
There you have it, my picks for Monday 23rd November 2015. Let me know your thoughts via Twitter – @pearcey47
Click here to find all of the Daily Fantasy NBA contests in the Moneyball Lobby.
And as always, remember to gamble responsibly.