Moneyball NBA picks – Saturday 21st November 2015
Fresh off a nice collect on Friday, Pearcey has his tips for a big Saturday of NBA Moneyball action.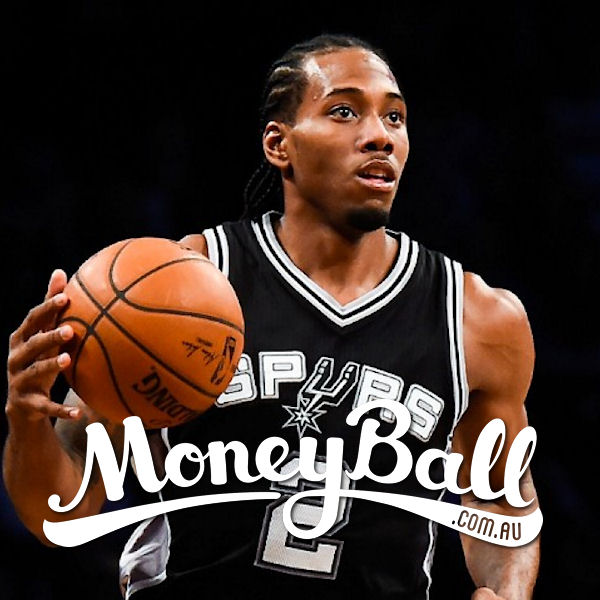 Daily Fantasy Sports has been bought to Australia in 2015 by the guys at Moneyball.com.au – the leading DFS platform in the country. They have a large array of games available in the lobby, ranging from an outlay as little as $2 up to $200 and beyond! Sign up today and join the Daily Fantasy Sports revolution!
Moneyball contests for NBA are easy to be involved in – simply select 9 players (2 point guards, 2 shooting guards, 2 small forwards, 2 power forwards and 1 centre), whilst keeping under the $60,000 salary cap. Jump in the lobby today and give it a go!
Saturday's contests include a Guaranteed $5,000 Saturday Bank ($15 entry) as well as number of Turbo games ($10 entry) throughout the day. They also have the usual H2H, Double-up and other competitions to satisfy your Daily Fantasy Sports appetite!
Picks for Saturday 21st November 2015:
POINT GUARD:
Russell Westbrook (OKC) – $12,100
In the latest price changes Westbrook has ticked over to now be priced at $12,100, the highest anyone has been priced this season. If you want the best you have to pay for the best, and Westbrook is currently in some crazy form. With Durant ruled out yet again for this game against the Knicks, Westbrook could be the first player to ever score 100 Fantasy Points. And I am not even kidding.
Brandon Knight (PHO) – $7,600
Knight has been in some sensational form over the past few games, dropping his first career triple-double two games ago against the Lakers. He seems to let himself down with the odd stinker but I cannot see that happening against the inexperienced PG Mudiay of the Nuggets. Watch for Knight to eclipse his season average of 33.5 FPPG.
Mario Chalmers (MEM) – $4,200
Chalmers has been on a tear since being traded from MIA to MEM earlier this season. In his past 4 games he hasn't dropped under 21 Fantasy Points and in his last game he had a season high 33.9. Watch for that sort of form to continue against the Rockets.
SHOOTING GUARD:
DeMar DeRozan (TOR) – $8,400
DeRozan and the Raptors have a very favourable match-up here against the struggling Lakers. In six of his past 8 games DeRozan has scored between 37 and 43 Fantasy Points. How is that for consistency? Look for DeRozan to score at the top end of that range in this game.
Jimmy Butler (CHI) – $8,000
With Derrick Rose questionable in this game against the Warriors with a sore ankle, Butler will have to take on the lion's share of the offensive duties if Rose doesn't get up. In his last outing, against the Suns, Butler lit it up with 32 points on his way to a season high 43.2 Fantasy Points. Butler will have to be at the top of his game in this match-up vs the Warriors.
Will Barton (DEN) – $5,700
Barton has been in a hot streak of form lately for the Nuggets. Coming off the bench he seems to be playing a Mr Fix-It type role, doing anything that is needed to help the team succeed. In his past 4 games he has had three scores over 33 Fantasy Points. In a high paced game against the Nuggets Barton should once again contribute in all categories.
SMALL FORWARD:
Kawhi Leonard (SAS) – $8,700
If you want consistency in your line-up Leonard is your guy. In ten games so far this season Leonard has a minimum return of 31.5 Fantasy Points and a maximum of 48.6. He doesn't have a terribly high ceiling but you can rely on him to pump out a score around his average of 38.3 FPPG night in and night out.
Nicolas Batum (CHA) – $7,200
Batum really disappointed last time he was mentioned, putting in an absolute shocker of 10.2 Fantasy Points. In the other three of his past 4 games he has scores of 42.6, 46.0 and 39.2 Fantasy Points. He has a great match-up here against the winless 76ers so fingers crossed he doesn't disappoint again.
Corey Brewer (HOU) – $3,500
Brewer will only cost you the minimum spend of $3,500 but in his last two games he has put up scores of 21.6 and 19.8 Fantasy Points respectively. If he can put up a similar score in this game against the Grizzlies then he will be a great value play.
POWER FORWARD:
Derrick Favors (UTA) – $8.300
Favors has been playing some pretty good basketball of late, with only one score of his past six dropping under 34 Fantasy Points. He had an absolute monster of 61.4 Fantasy Points against the Heat a few games ago but that was without Rudy Gobert in the line-up. We cant expect another 60 point game but against a weak Mavs frontcourt watch for Favors to drop 40+.
Kristaps Porzingis (NYK) – $5,700
When Porzingis was drafted he was booed by Knicks fans because they thought he was going to be the next European flop. How wrong they were. In his last outing Porzingis dropped 29 points and grabbed 11 boards in the best game of his career. He has a tough match-up here against the Thunder but at his price he is good value.
Dante Cunningham (NOP) – $3,600
Cunningham has been given some extra burn with Anthony Davis on the sidelines with his shoulder injury and he hasn't disappointed, returning scores of 26.0 and 23.2 Fantasy Points in his past two games. If Davis has another game off then Cunningham should provide great value at a price of only $3,600.
CENTRE:
Andre Drummond (DET) – $11,100
Drummond is an absolute beast and he is matched-up against the rookie Towns of Minnesota in this game. Hassan Whiteside managed to drop a triple double (22 points, 14 rebounds, 10 blocks) on Towns earlier in the week so just imagine what sort of line Drummond is going to put up. 25 points and 25 boards is not out of the question.
Tim Duncan (SAS) – $7,300
Tim Duncan is one of the best basketballers to ever play the game and even at 39 years of age he continues to put up consistent numbers.  He is putting up an average of 29.4 FPPG and is yet to drop under 20 Fantasy Points this season.In his last game he put up his best game for the season with 46.2 Fantasy Points just to prove he still has it. Up against the Pelicans he could be in for another big one.
Nikola Jokic (DEN) – $3,500
With Joffrey Lauvergne and Jusuf Nukic still on the sidelines with injury and JJ Hickson not performing, Jokic was awarded with 32 minute of play in the Nuggets last game, against the Spurs, resulting in 23 points, 12 rebounds and 47.4 Fantasy Points. If Jokic gets some major minutes he could put up another big game in what should be a high scoring affair against the Suns.
There you have it, my picks for Saturday 21st November 2015. Let me know your thoughts via Twitter – @pearcey47
Click here to find all of the Daily Fantasy NBA contests in the Moneyball Lobby.
And as always, remember to gamble responsibly.