Moneyball NBA picks – Friday 20th November 2015
Pick yourself a team of 9 NBA players to help you win some Moneyball cash!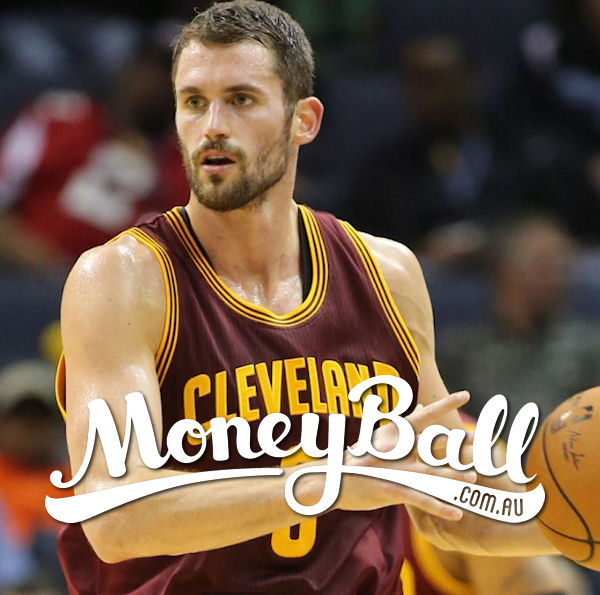 Daily Fantasy Sports has been bought to Australia in 2015 by the guys at Moneyball.com.au – the leading DFS platform in the country. They have a large array of games available in the lobby, ranging from an outlay as little as $2 up to $200 and beyond! Sign up today and join the Daily Fantasy Sports revolution!
Moneyball contests for NBA are easy to be involved in – simply select 9 players (2 point guards, 2 shooting guards, 2 small forwards, 2 power forwards and 1 centre), whilst keeping under the $60,000 salary cap. Jump in the lobby today and give it a go!
Friday's contests include a Guaranteed $4,000 Friday Bank ($15 entry) as well as the usual H2H, Double-up and other competitions to satisfy your Daily Fantasy Sports appetite!
Picks for Friday 20th November 2015:
POINT GUARD:
Stephen Curry (GSW) – $11,800
Curry is the most expensive player on the slate tonight and is worth every cent. He is currently averaging 50.3 FPPG and has scored no less than 44 Fantasy Points in his past 4 outings. He scored 45 in his last game against the Clippers earlier in the season and will be looking to eclipse that here.
Rajon Rondo (SAC) – $7,700
Rondo has had three triple-doubles in his past four games. Just think about that for a minute. Most players go their whole career and never have one. There has been ten triple doubles in the NBA this season and Rondo has four of them. Watch for him to post some great stats across the board again in this match-up with MIA.
SHOOTING GUARD:
Jamal Crawford (LAC) – $5,000
Crawford is averaging 19.4 FPPG but in this game he will be starting with JJ Redick and Chris Paul both sitting out injured. In Crawford's last game, which he started against the Pistons, he dropped 37 points, 8 assists and 6 rebounds, and totalled 55.2 Fantasy Points. We can't expect that sort of return every game but anything over 30 Fantasy Points will be good value for his price.
JR Smith (CLE) – $4,700
Smith has had back to back games of 26.8 and 22.2 Fantasy Points, 2 of his 3 best games for the season. He is not known for much more than scoring points but if he can get his shot going he is a threat to score big numbers.
SMALL FORWARD:
LeBron James (CLE) – $11,200
With only 3 games on the roster it is hard to go past LeBron as a SF option. He is averaging 46.0 FPPG and has four 50+ Fantasy Point games in his past eight. The Cavs have lost their past 2 games so LeBron will look within to have a big game to pull them out of their slump.
Andre Iguodala (GSW) – $5,000
Iguodala has been a model of consistency so far this season. He has come off the bench and produced night in and night out, helping the Warriors to their league leading 12-0 record. He has scored at least 18 Fantasy Points in every game this season bar his first so look for him to continue his consistent ways in this important game against the Clippers.
POWER FORWARD:
Blake Griffin (LAC) – $10,500
Griffin is averaging 44.8 FPPG this season and in his last match-up against the Warriors a couple of weeks ago he scored pretty much on average with 44.0 Fantasy Points. In his last game, against DET, he returned a season high 61.1 Fantasy Points so look for him to continue his hot form.
Kevin Love (CLE) – $8,300
Love has arguably the best perm in the NBA which seems to be doing good things for his Fantasy play this season. He is averaging 35.5 FPPG with a high of 51.8 Fantasy Points earlier in the season against the Pacers. He is matched up here against Milwaukee and he will look to assert his dominance against the young Bucks.
CENTRE:
DeAndre Jordan (LAC) – $7,900
Jordan has been well down on his great play of last season but has still been performing on a nightly basis, scoring 30+ Fantasy Points in 6 of his 10 games so far. He has been much maligned this season after backflipping on his signing with the Mavs so he has a lot to prove to his haters. Hopefully he can prove his worth in this important game against the Warriors.
Festus Ezeli (GSW) – $4,300
Ezeli has been moved back to the bench to make way for Andrew Bogut but will still play 20+ minutes as they seem to be sharing the load. Ezeli has been playing inspired ball this season, with a Fantasy Point average of 20.6, mostly made up of points, rebounds and blocks. Bogut should stick to his epic celebrations and let Ezeli get the job done on the court.
There you have it, my picks for Friday 20th November 2015. Let me know your thoughts via Twitter – @pearcey47
Click here to find all of the Daily Fantasy NBA contests in the Moneyball Lobby.
And as always, remember to gamble responsibly.