Moneyball NBA picks – Thursday 19th November 2015
The biggest NBA Moneyball contest yet is up for Thursday with $8K in the kitty. Pearcey gives us his hot tips.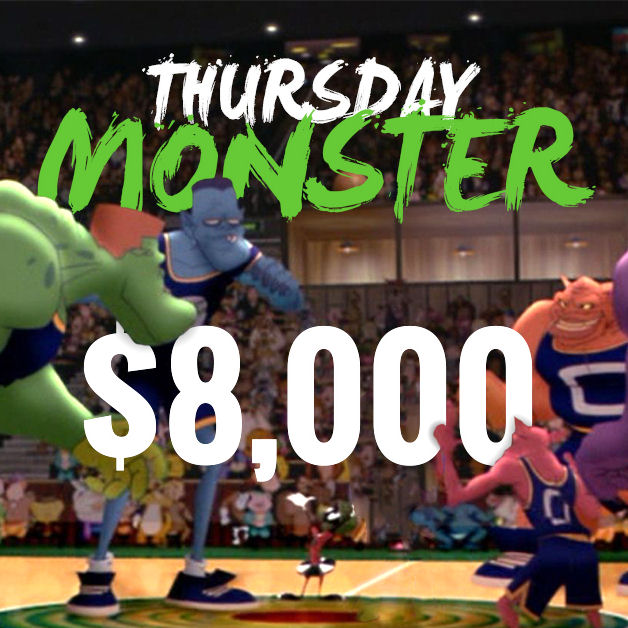 Daily Fantasy Sports has been bought to Australia in 2015 by the guys at Moneyball.com.au – the leading DFS platform in the country. They have a large array of games available in the lobby, ranging from an outlay as little as $2 up to $200 and beyond! Sign up today and join the Daily Fantasy Sports revolution!
Moneyball contests for NBA are easy to be involved in – simply select 9 players (2 point guards, 2 shooting guards, 2 small forwards, 2 power forwards and 1 centre), whilst keeping under the $60,000 salary cap. Jump in the lobby today and give it a go!
Thursday's contests include a BIGGER THAN EVER Guaranteed $8,000 Thursday Monster ($15 entry) as well as number of Turbo games ($10 entry) throughout the day. They also have the usual H2H, Double-up and other competitions to satisfy your Daily Fantasy Sports appetite!
Picks for Thursday 19th November 2015:
POINT GUARD:
Russell Westbrook (OKC) – $11,800
Is there anything that this guy can't do? Coming off a massive score of 63.8 (his second highest for the season) and with Kevin Durant being absent again, Westbrook should dominate yet again, this time against an undermanned Pelicans line-up.
Isaiah Thomas (BOS) – $7,600
Thomas seems to play better when he has other good players around him. With Marcus Smart and Avery Bradley back in the Celtics line-up, Thomas will most likely resume his 6th man role as an offensive spark off the bench. Averaging 33.4 FPPG over the first 10 games you could do worse than select Thomas against the Mavs and their elder statesmen at the PG position.
TJ McConnell (PHI) – $4,800
McConnell continues to surprise with his stellar play for the 76ers this season. Coming out of nowhere he was quick to establish himself as the starting PG in Philly and has taken well to his increased opportunity. He is averaging 23.7 FPPG and at only $4,800 he is a great value play.
SHOOTING GUARD:
Jimmy Butler (CHI) – $8,100
With Derrick Rose likely to sit this one out against the Suns due to an ankle injury, Butler will have to step it up on both ends of the court. Butler had a hot start to the season with two of his first three games amounting to 40+ Fantasy Points but he hasn't been able to hit that mark again in the seven games since. He should be a real chance to return to the 40+ club in Phoenix.
Eric Gordon (NOP) – $6,100
Another player who should benefit due to a team-mate's injury is Eric Gordon. After Anthony Davis went down with a shoulder injury early in the first quarter, Gordon again had to take on the bulk of the offensive duties which resulted in 19 points (on an equal team-high 17 Field Goal attempts) and 32.2 Fantasy Points. Great value when Davis is on the sidelines.
Manu Ginoboli (SAS) – $4,700
Ginoboli is currently 38 and has been in the NBA since 1999 but he just keeps on keeping on. He is coming off his second highest score of the season (28.3 Fantasy Points vs POR) and he is averaging 22.9 FPPG this season from just over 20 minutes of game time. At $4,700 he is providing great value.
SMALL FORWARD:
Kawhi Leonard (SAS) – $8,600
After years of Tim Duncan domination, Kawhi Leonard has taken the role of San Antonio's marquee player this season and he is supplying the Spurs fans with a whole new wave of excitement. He is averaging 38.3 FPPG and is contributing in practically every category possible. When a player is as diverse as Leonard, it is almost impossible for them not to post a large score on a nightly basis.
Danilo Gallinari (DEN) – $7,100
Gallinari is coming off a season high 50.6 Fantasy Point game after dropping 32 points against the Pelicans. He is the main offensive focus on the Nuggets squad and has so far delivered with over 18 points per game. He has a tough match-up against the Spurs but he is also in season-best form.
TJ Warren (PHO) – $4,000
Warren is playing inspired basketball off the bench for the Suns this season, averaging 11.7 points and 3.7 rebounds per game. He is fresh off his best performance of the season, where he dropped 27.8 Fantasy Points against the Lakers. At $4,000 his numbers would suggest he is good value.
POWER FORWARD:
DeMarcus Cousins (SAC) – $10,900
Cousins is arguably in career-best form and is displaying his sensational play on a nightly basis. He has only scored under 41 Fantasy Points once this season and is coming off Fantasy scores of 58.1 and 57.5. He is matched-up here against the Hawks but when you are playing as well as Cousins is it doesn't really matter who your opponent is. Lock and load.
Paul George (IND) – $9,500
George could be a great play here as he has a favourable match-up against the winless 76ers. George has had at least 35 Fantasy Points in every game bar one this season and also has two games of 50+. Against the hapless 76ers George could easily make it a third 50+ game for the year.
Taj Gibson (CHI) – $4,300
Gibson always seems good for somewhere between 10-25 Fantasy Points on a nightly basis. But in his last game, against the Pacers, he had one out of the box, smashing out a season high Fantasy score of 36.7. If Taj has another game like that against the Suns he will be a great pick.
CENTRE:
Brook Lopez (BRO) – $8,400
After a pretty slow start to the season Lopez has found some form, with 6 of his last 7 games resulting in 35+ Fantasy Points. He is fresh off a 44.5 Fantasy Point game against the Hawks and with a favourable match-up against an average Hornets outfit he could be in for a second consecutive big game.
Jahlil Okafor (PHI) – $6,500
One of the bright spots for the struggling 76ers this season has been the impressive play of the rookie Okafor. Establishing himself as the main offensive focus, Okafor is putting up an average of 30.7 Fantasy Points and has failed to score at least 25 Fantasy Points only twice in ten games. Against a weak IND front court Okafor should easily surpass the 25 Fantasy Point mark once again.
Karl-Anthony Towns (PHI) – $6,200
For pure value it is very hard to go past Towns practically every time he takes the court. The big rookie is averaging a double-double which contributes to his 32.6 FPPG. He will be matched up against another young big in Nikola Vucevic of the Magic, a player he will no doubt have some great battles with over the next 10+ years.
There you have it, my picks for Thursday 19th November 2015. Let me know your thoughts via Twitter – @pearcey47
Click here to find all of the Daily Fantasy NBA contests in the Moneyball Lobby.
And as always, remember to gamble responsibly.