Moneyball NBA picks – Wednesday 18th November 2015
$4K is guaranteed in the Wednesday Bank contest. Follow Pearcey's tips for your best chance to win!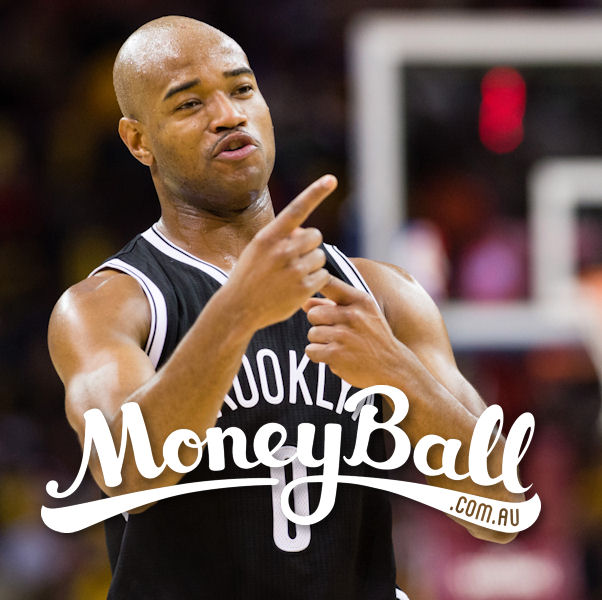 Daily Fantasy Sports has been bought to Australia in 2015 by the guys at Moneyball.com.au – the leading DFS platform in the country. They have a large array of games available in the lobby, ranging from an outlay as little as $2 up to $200 and beyond! Sign up today and join the Daily Fantasy Sports revolution!
Moneyball contests for NBA are easy to be involved in – simply select 9 players (2 point guards, 2 shooting guards, 2 small forwards, 2 power forwards and 1 centre), whilst keeping under the $60,000 salary cap. Jump in the lobby today and give it a go!
Wednesday's contests include a Guaranteed $4,000 Wednesday Bank ($15 entry). They also have the usual H2H, Double-up and other competitions to satisfy your Daily Fantasy Sports appetite!
Picks for Wednesday 18th November 2015:
POINT GUARD:
Kyle Lowry (TOR) – $8,300
It would have been easy to put Stephen Curry in here but Lowry seems to be a better play in this game. He is on a tear this season, averaging 19.6 points, 6.5 assists, 4.7 rebounds and 38.1 Fantasy Points per game. Lowry will be motivated to show everyone that he can match it with the likes of Curry so should be in for a big game.
Jarrett Jack (BRO) – $5,800
Jack is playing inspired basketball so far this season, contributing points and assists at will. He has very little assistance in Brooklyn (apologies to Lopez and Young) so has had the ball in his hands a heap which is contributing to his Fantasy average of 30.1. At only $5,800 he is a great option.
Dennis Schroder (ATL) – $4,800
Jeff Teague has already been ruled out of this match-up against the lowly Nets so Schroder will get the start and play a bucket load of minutes. Even coming off the bench Schroder is averaging 21.2 FPPG in 23.9 minutes per game, and with the increase in minutes we should see an increase in productivity. 30+ Fantasy Points isn't out of the question.
SHOOTING GUARD:
Dwyane Wade (MIA) – $7,100
Wade missed the Heat's last game due to one of his children being in hospital. His son is now out and is on the improve so I expect Wade to suit up in this game against the Timberwolves. Wade has been averaging 29.2 FPPG in only 28.8 minutes, so coming off a few days rest he could play a few more minutes and in turn outscore his average.
Langston Galloway (NYK) – $5,200
Galloway has been a revelation off the Knicks bench this season, averaging 11.3 points and 4.4 rebounds. He seems to have taken to the 6th man role well as a sparkplug off the bench, putting up 20.9 FPPG.  He should see plenty of opportunities against the Hornets.
Arron Afflalo (NYK) – $4,700
Afflalo has played just 3 games this season after missing the first few due to injury. In his 3 games back he has averaged 10 points and 4 boards in 28 minutes. He is a scoring threat every time he takes the court and if he gets going he will easily eclipse his 10 point average. At only $4,700 he is a low risk option for his potential output.
SMALL FORWARD:
LeBron James (CLE) – $11,100
There isn't much to say here – LeBron is just quietly going about his business. The guy is just a machine, pouring in averages of 27.0 points, 6.8 rebounds and 6.4 assists per game. He just always seems to have a point to prove and should score around his 46.9 FPPG average yet again against the Pistons.
Nicolas Batum (CHA) – $7,000
Batum is so hot right now. He is fresh off being named the Eastern Conference Player of the Week and has season averages of 17.7 points, 6.5 rebounds and 3.8 dimes. In his past two games he has returned 42.6 and 46.0 Fantasy Points. He has a favourable match-up against the Knicks so lock him in.
Thabo Sefolosha (ATL) – $4,100
Kent Bazemore has been ruled out for this game against the Nets so Sefolosha should get the start and see increased minutes.  He is currently averaging 17.7 FPPG in 20.6 minutes so much like his team mate Dennis Schroder he should see a spike in his numbers with the extra game time.
POWER FORWARD:
Anthony Davis (NOP) – $11,400
In his first game back after sitting on the sidelines with a leg injury Davis poured in 36 points on his way to a massive 56.7 Fantasy Points. The scary thing is that this was not even his best return for the season, with him scoring an absolutely huge 72.5 Fantasy Points a couple of weeks ago against the Hawks. Best to pay his hefty price and watch him go to work.
Thaddeus Young (BRO) – $6,400
Young has been very solid this season, contributing in all categories with averages of 14.6 points, 7.8 rebound, 1.7 assists and 1.2 steals per game. All of this amounts to a Fantasy average of 28.4 FPPG. At only $6,400 he is one of the best value picks in the game.
JJ Hickson (DEN) – $4,300
As long as Joffrey Lauvergne is on the sidelines Hickson is going to be a value play. He has been averaging 9.0 points and 5.1 rebounds in only 19.8 minutes per game, so with him playing a few extra minutes he should improve on his 18.2 FPPG season average.
CENTRE:
Hassan Whiteside (MIA) – $8,900
Whiteside is just a monster, especially on the defensive end. He is averaging a massive 4.0 blocks per game, a full 1.2 blocks more than the next most prolific (Anthony Davis with 2.8). Pair that with 14.6 points and 11.7 rebounds, and a match-up against rookie Karl-Anthony Towns, and Whiteside will be in for a huge night.
Al Jefferson (CHA) – $7,400
Jefferson is a bit down on his usual averages this season but he is fresh off his second best game of the year where he returned 41.5 Fantasy Points against the Trailblazers. He has a decent match-up against the Knicks and could be in line for his second big game in a row.
Festus Ezeli (GSW) – $4,300
Ezeli is currently in a time-share situation with Andrew Bogut but is still putting up handy numbers, with season averages of 8.7 points, 5.7 boards and 1.5 blocks per game. At only $4,300 his return of 20.2 FPPG is a great value play.
There you have it, my picks for Wednesday 18th November 2015. Let me know your thoughts via Twitter – @pearcey47
Click here to find all of the Daily Fantasy NBA contests in the Moneyball Lobby.
And as always, remember to gamble responsibly.