Moneyball NBA picks – Tuesday 17th November 2015
Join in the action for Tuesday's NBA contests including the $5K Bank! Pearcey has his hot tips for us.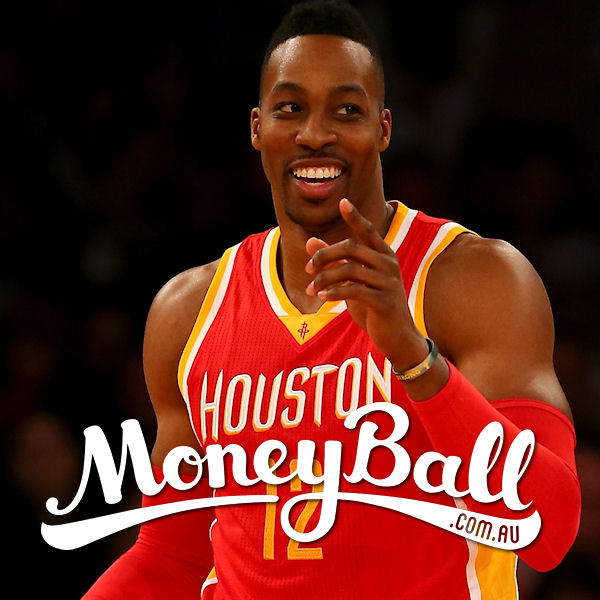 Daily Fantasy Sports has been bought to Australia in 2015 by the guys at Moneyball.com.au – the leading DFS platform in the country. They have a large array of games available in the lobby, ranging from an outlay as little as $2 up to $200 and beyond! Sign up today and join the Daily Fantasy Sports revolution!
Moneyball contests for NBA are easy to be involved in – simply select 9 players (2 point guards, 2 shooting guards, 2 small forwards, 2 power forwards and 1 centre), whilst keeping under the $60,000 salary cap. Jump in the lobby today and give it a go!
Tuesday's contests include a Guaranteed $5,000 Tuesday Bank ($10 entry) as well as a number of Turbo games throughout the day. They also have the usual H2H, Double-up and other competitions to satisfy your Daily Fantasy Sports appetite!
Picks for Tuesday 17th November 2015:
POINT GUARD:
Russell Westbrook (OKC) – $11,800
This is the third time in three games that Westbrook has been on the list but he is just too good to go past without his running mate Kevin Durant. Westbrook is coming off a 'down' game against the Celtics, only scoring 45.3 Fantasy Points. Look for him to get back to his best against MEM.
Derrick Rose (CHI) – $6,900
It would take a brave person to start Rose in his current form but it feels as if he is not far away from really taking over a game. He had a 43.5 Fantasy Point game only 4 games ago and it feels as if things are starting to click for Rose. Proceed with caution.
Marcus Smart (BOS) – $4,700
Smart is coming off arguably his best game for the season, with a 43.1 Fantasy Point game against the Thunder. Smart is coming back from injury but it looks as if he is fit and firing if his last game is anything to go by. A great value play at only $4,700.
SHOOTING GUARD:
Eric Bledsoe (PHO) – $8,800
Bledsoe just continues to deliver so he is hard to go past as a top pick. He has added some real consistency to his game, scoring at least 44 Fantasy Points in 4 of his past 5 contests. Against a struggling LAL team Bledsoe should be able to do as he pleases. Don't be surprised if he drops 50+ Fantasy Points.
Jimmy Butler (CHI) – $8,100
Butler has been slightly down over the past couple of games which has resulted in his Moneyball price dropping by $200. After back to back games of 24.6 and 20.7 Fantasy Points, he returned to his old self against the Hornets, dropping 39.0 Fantasy Points.  He should play a starring role against the Pacers. 
Allen Crabbe (POR) – $3,700
Allen Crabbe is coming off a season-high 17 point game against the Hornets which resulted in a return of 22.4 Fantasy Points. In 5 of his past 6 games he has posted 15+ Fantasy Points and seems a good value option.
SMALL FORWARD:
Kawhi Leonard (SAS) – $8,600
Leonard missed the Spurs last game due to an upper respiratory infection but should be OK to take the court aginst the Blazers. He hasn't scored less than 30 Fantasy Points in any game this season and it is unlikely he will fall below that mark in this game.
CJ Miles (IND) – $4,800
When he is fit and healthy, Miles can be a real scoreboard threat. Its just that he is not fit and healthy all that often. There are a lot of mouths to feed at the Pacers and Miles may take a backseat to his more fancied teammates but he has had 3 games of 22+ Fantasy Points in his 7 games this season so he is a nice value play at only $4,800.
Jeff Green (MEM) – $4,000
Green has started to hit some form in the past couple of games with scores of 28.3 and 27.0 Fantasy Points in his past 2 outings.  In what should be a fast paced game against the Thunder, Green should be in that 20-30 range once again and at only $4,000 you just cant go wrong.
POWER FORWARD:
Paul George (IND) – $9,500
George is the most expensive PF on the slate but if you don't select him you run the risk of missing out on some major Fantasy Points. He has only scored under 35 Fantasy Points once this season. Pay the $9,500 (a drop of $100) and don't look back.
Terrence Jones (HOU) – $5,900
Jones suffered an eye injury in the early part of the season that saw him having to sit out a few games. He has returned with a bang, with scores of 37.7 and 37.4 Fantasy Points over his past 2 contests. At only $5,900 that is ridiculous value, and against the Celtics we should see another decent return.
Noah Vonleh (POR) – $3,500
Vonleh got the start in the Blazers last game against the Hornets and managed to put up a respectable 15.7 Fantasy Points. The frontcourt in Portland is a revolving door at the moment so keep an eye on the line-up reports but if Vonleh is starting then he should put up solid numbers for his price.
CENTRE:
Dwight Howard (HOU) – $9,100
Howard is currently on a maintenance program that sees him sitting out at least one contest in a back-to-back set. As a result he missed the Rockets last game against the Mavs but is expected to suit up in this game vs the Celtics. He has looked like the Dwight of old this season, with 4 of his 6 games resulting in 35+ Fantasy Points.
Mason Plumlee (POR) – $5,700
Plumlee seems to be the only constant in a revolving POR frontcourt but that may be due to his consistent play so far this season. He is currently averaging 25 FPPG which includes 9.5 points and 7.8 rebounds. Has a tough contest against the Spurs but should still be able to maintain his average.
Joakim Noah (CHI) – $5,200
Noah is currently coming off the bench in CHI and as a result his numbers have been well down on what we are used to. In the past couple of games he has got it together, with scores of 27.7 and 37.6 Fantasy Points. At only $5,200 and up against a thin Pacers frontcourt you could do worse than to run with Noah in this game.
There you have it, my picks for Tuesday 17th November 2015. Let me know your thoughts via Twitter – @pearcey47
Click here to find all of the Daily Fantasy NBA contests in the Moneyball Lobby.
And as always, remember to gamble responsibly.