Moneyball NBA picks – Monday 16th November 2015
Heaps of games on Monday (starting at 4am)… and heaps of different lockouts to make sure you get a team in! Here's Pearcey's tips.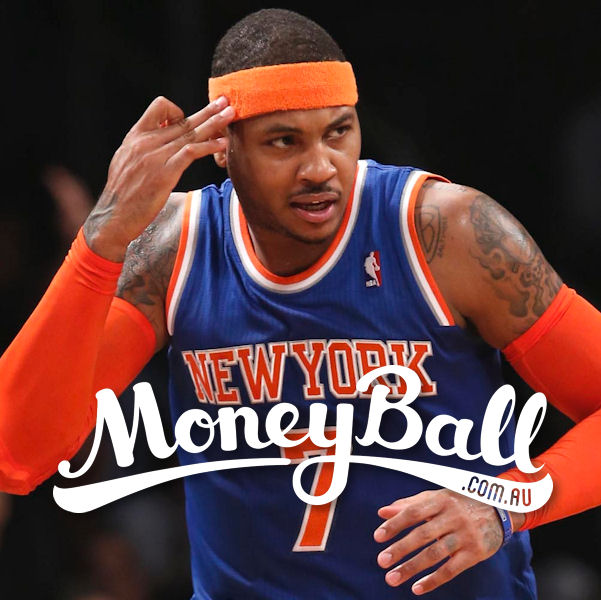 Daily Fantasy Sports has been bought to Australia in 2015 by the guys at Moneyball.com.au – the leading DFS platform in the country. They have a large array of games available in the lobby, ranging from an outlay as little as $2 up to $200 and beyond! Sign up today and join the Daily Fantasy Sports revolution!
Moneyball contests for NBA fantasy are easy to be involved in – simply select 9 players (2 point guards, 2 shooting guards, 2 small forwards, 2 power forwards and 1 centre), whilst keeping under the $60,000 salary cap. Jump in the lobby today and give it a go!
Monday's contests include a Guaranteed $2,500 Monday Bank ($15 entry) as well as a Monday Baller Special for the early games and a Monday Windmill Special for the late games (both $10 entry). They also have the usual H2H, Double-up and other competitions to satisfy your Daily Fantasy Sports appetite!
Picks for Monday 16th November 2015:
POINT GUARD:
Russell Westbrook (OKC) – $11,700
This is what was written a couple of days ago about Westbrook:
"Do not even think about this. Do not toy with the idea of picking someone different. Make Westbrook the priority. Kevin Durant won't be playing for the next week or two due to a hamstring strain and when Durant doesn't play Westbrook turns into even more of a beast than he usually is. In 40 games last season with Durant on the sidelines Westbrook aveaged 30.7 points, 9.1 assists and 7.7 rebounds. That alone is a return of in excess of 50 Fantasy Points. Just lock him in."
Ditto for this game.
Kyle Lowry (TOR) – $7,900
Lowry is in the best shape of his career and it is showing on the court, with his current season averages sitting at 19.4 points, 5.0 rebounds and 6.6 assists per game. There is 33.3 Fantasy Points just based on those numbers, and Lowry should be better than average against the Kings.
Cory Joseph (TOR) – $4,300
Joseph has been getting a bit more burn of late with the injury to Terrence Ross. This has led to a rise in his production off the bench. He had a 32.2 Fantasy Point game only 2 games ago against the Knicks and with the increase in minutes we can expect similar numbers.
SHOOTING GUARD:
CJ McCollum (POR) – $6,100
McCollum is truly having a breakout year, lighting up the Portland backcourt with Damian Lillard. McCollum is currently averaging 21.4 points, 4 rebounds and 2.9 assists per game and in his last outing he put up 32.2 Fantasy Points – which was badly reduced on his output due to 8 turnovers. If he can look after the ball he could be in for a big game against the Hornets.
Eric Gordon (NOP) – $5,800
Gordon continues to take care of the offense for the Pelicans in the absence of Anthony Davis, putting up another 30 points in the Pelicans latest loss. As long as Davis is on the sideline Gordon will continue to throw up the rock (he had 8 more Field Goal Attempts than any of his teammates in his latest game) which can only mean good things for his fantasy score.
Dion Waiters (OKC) – $5,100
Waiters has been the main offensive focus off the bench for the Thunder in the past couple of games.  In his first 6 games he failed to hit 20 Fantasy Points but in his last three games he has had scores of 30.0, 26.9 and 20.6. Jump on whilst he is hot.
SMALL FORWARD:
Carmelo Anthony (NYK) – $10,000
After an early finish to last season due to injury, Anthony has bounced back surprisingly well and is currently playing some good basketball. With a Fantasy average of 37.1 FPPG his price tag is probably a tad high but if he gets it going he is a chance to go big.
Nicolas Batum (CHA) – $6,900
After being traded from the Trailblazers to the Hornets in the off-season, Batum has slotted into the SF position well on the Hornets starting 5. Coming off a 42.6 Fantasy Point game against CHI, Batum will be keen to back that up and do his fellow Frenchmen proud after the shocking acts in his home contry over the past couple of days.
Jae Crowder (BOS) – $5,100
Crowder has been a great value play this season, only dropping under 20 Fantasy Points once so far. He is coming off his second best score for the season (34.1 Fantasy Points) and at only $5,100 he is a staple for your line up.
POWER FORWARD:
DeMarcus Cousins (SAC) – $10,800
DeMarcus Cousins is currently in a stoush with head coach George Karl. Only a few days ago Cousins tried to call a players-only meeting, possibly trying to turn his teammates on the coach. Karl found out, saying he thought Cousins should have been suspended for his actions. Since that happened Cousins has played 2 games and dropped 43.3 and 58.1 Fantasy Points respectively. Boogie has a point to prove – pay the $10,800 and enjoy the results.
Serge Ibaka (OKC) – $7,400
Ibaka is another player that ended his season early last year and has rebounded in superb fashion. With a season average of 30.3 Fantasy Points, and the absence of Kevin Durant, Ibaka should get it going against a fairly week Celtics frontcourt.
Ed Davis (POR) – $4,900
Ed Davis is benefiting lately from the shoulder injury to Meyers Leonard. He has scores of 27.7 and 23.1 Fantasy Points since Leonard's injury, an improvement on his season average of 19.0. Davis is a solid play at his starting price of only $4,900.
CENTRE:
Andre Drummond (DET) – $10,900
Drummond is staking his claim as the premier big man in the competition with his stellar play so far this season. He is currently averaging 18.8 points and 19.3 rebounds per game, which results in an average of 47.1 FPPG. He is coming off an 'average' game of 18 points and 19 rebounds vs the Clippers but should have an above average game against the thin Lakers frontcourt.
Marc Gasol (MEM) – $7,900
Gasol has had a reasonably slow start to the season but has exploded in the past 2 games with scores of 40.9 and 43.3 Fantasy Points. This is a huge increase on his season average of 28.5 FPPG so jump on the big Spaniard whilst he is enjoying his current run of form.
Chris Kaman (POR) – $4,100
This pick could go either way as Kaman is coming off his first game for the season against the Grizzlies, scoring 14.3 Fantasy Points. He did start the game and logged 23 minutes so if he gets the start again he could be a good value pick.
There you have it, my picks for Monday 16th November 2015. Let me know your thoughts via Twitter – @pearcey47
Click here to find all of the Daily Fantasy NBA contests in the Moneyball Lobby.
And as always, remember to gamble responsibly.