Moneyball NBA picks – Sunday 15th November 2015
Plenty of NBA action to take in on Sunday. Pick a Moneyball team or two for some extra fun.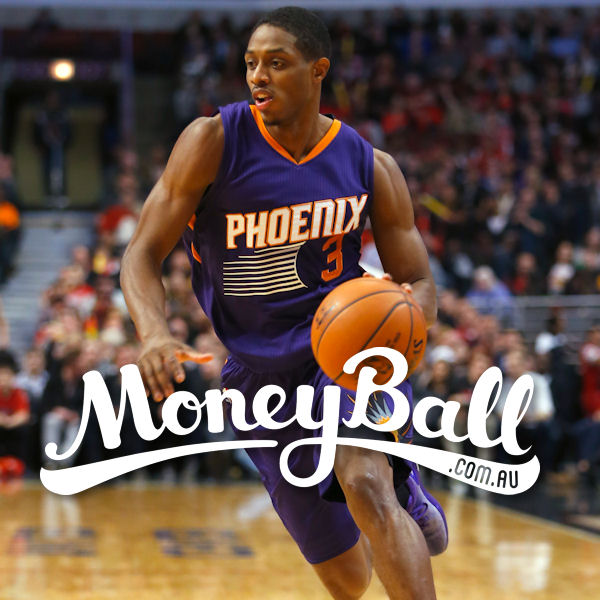 Daily Fantasy Sports has been bought to Australia in 2015 by the guys at Moneyball.com.au – the leading DFS platform in the country. They have a large array of games available in the lobby, ranging from an outlay as little as $2 up to $200 and beyond! Sign up today and join the Daily Fantasy Sports revolution!
Moneyball contests for NBA fantasy are easy to be involved in – simply select 9 players (2 point guards, 2 shooting guards, 2 small forwards, 2 power forwards and 1 centre), whilst keeping under the $60,000 salary cap. Jump in the lobby today and give it a go!
Sunday's contests include a Guaranteed $4,000 Sunday Bank ($15 entry) as well as a Sunday Monster Special (all games) and a Sunday Rebound Special for the late games (both $10 entry). They also have the usual H2H, Double-up and other competitions to satisfy your Daily Fantasy Sports appetite!
Picks for Sunday 15th November 2015:
POINT GUARD:
Stephen Curry (GWS) – $11,500
Curry is such an obvious pick it feels like a waste to actually do a write-up on him but if you don't pick Curry you run a real risk of throwing your money away. Curry has been absolutely on fire in the early season, putting up an average of 50.9 FPPG. In 4 of his 10 games he has scored over 59 Fantasy Points so you just can't afford to risk missing out on that sort of return.
Brandon Knight (PHO) – $7,000
Knight had his best game for the season in the Suns last game, leading them to an unlikely victory over the Clippers. Knight amassed 44.4 Fantasy Points, taking his season average to 32.2 FPPG in his 8 games. Against an inexperienced DEN line-up Knight could be up for another big game.
Jarrett Jack (BRO) – $5,700
With no budget options available, Jack could be just the sort of low-priced option for your team. He is currently averaging 27.8 FPPG and is coming off the back of a 41.2 Fantasy Point game in BRO's last encounter. The points should be flowing freely for Jack in a high-scoring contest against the Warriors.
SHOOTING GUARD:
Eric Bledsoe (PHO) – $8,400
Bledsoe is coming off his second-highest fantasy game of the season, putting up a huge 47.5 Fantasy Points in his last outing. Bledsoe can put up stats in all of the major categories with averages this season of 22.4 points, 6.5 rebounds and 4.1 assists per game. Watch for him to have another big game against the Nuggets.
Evan Fournier (ORL) – $5,200
The Magic have been hit with the injury bug so far this season with short-term injuries to Vucevic and now Oladipo. Fournier has been the major beneficiary so far this season, putting up over 25 Fantasy Points in 6 of his 9 games. At his current price he is a must-play in every game.
Nik Stauskas (PHI) – $4,500
'Sauce Castillo' was traded from the Kings to the 76ers in the off-season and after returning from injury he is quietly putting together a consistently solid season. He is averaging 22.3 FPPG this season and has put up a low of 19.0 Fantasy Points in his past 6 games. A good value option at SG.
SMALL FORWARD:
Danilo Gallinari (DEN) – $7,300
As the main focus of the Nuggets offense this season Gallinari is starting to find his groove. He has put up back-to-back 30+ Fantasy Point games and in a game which should be a high scoring affair against PHO, expect him to go for 30+ for the third straight game.
Otto Porter (WAS) – $5,800
With the defection of Paul Pierce to LA in the off-season, the starting SF position on the Wizards roster has gone to Porter, and he is stepping up as required. Averaging a healthy 24 FPPG and has scored 25+ in 4 out of his 7 contests. With a question mark over the status of Bradley Beal, Porter may just be in for a big game against the Magic.
Harrison Barnes (GSW) – $5,300
As the starting SF on a Warriors team that is truly dominating, Barnes is always going to get the opportunity to put up decent numbers. He has failed to score 20+ Fantasy Points only twice this season so at $5,300 he is a solid play.
POWER FORWARD:
Kevin Love (CLE) – $8,100
After having a pretty ordinary season by his standards last year, Love has started the season in much better form. He is currently averaging 16.4 points and 11.9 rebounds per game. Maybe it's due to his perm? Whatever the reason is, Love should put up decent numbers against the Bucks.
Thaddeus Young (BRO) – $6,300
After 2 pretty ordinary games to start the season, Young has hit his straps and is putting up some good fantasy numbers. In his past 7 games he has dipped below 25 Fantasy Points only once and has put up three 30+ Fantasy Point games in the same time span. Definitely a strong option in what should be a fast paced game against the Warriors.
Dwight Powell (DAL) – $4,600
Powell was suggested yesterday and he didn't disappoint, rewarding those that selected him with a return of 29.4 Fantasy Points. In a game where his namesake Dwight Howard is expected to miss, expect this Dwight to put up solid numbers yet again.
CENTRE:
Brook Lopez (BRO) – $8,500
With the fate of the Nets success landing squarely on Brook's shoulders this season, the big man has played as good as can be expected on a struggling squad. He has put up 35+ Fantasy Points in 5 of his 9 games and with a season average of 34.2 FPPG it can be expected he will put up around that mark against the Warriors.
Zaza Pachlia (DAL) – $5,700
In a last-ditch effort to secure a serviceable Centre when DeAndre Jordan backflipped on his decision to sign with the Mavs, DAL looked to the big man formerly of Atlanta to help them out. Zaza certainly hasn't let the Mavs down with some solid basketball so far this season. With an average of 26.5 FPPG and four 30+ Fantasy Point games from nine played, you could do worse than to pick the big Georgian.
Clint Capela (HOU) – $4,700
Dwight Howard played against the Nuggets in the first game of their back-to-back so it's assumed after coach Kevin McHale's comments during the week that he will rest against the Mavs. If so then Capela will have extra minutes, which results in extra opportunity, which should result in a bump in his Fantasy Points.
There you have it, my picks for Sunday 15th November 2015. Let me know your thoughts via Twitter – @pearcey47
Click here to find all of the Daily Fantasy NBA contests in the Moneyball Lobby.
And as always, remember to gamble responsibly.