Moneyball NBA picks – Saturday 14th November 2015
Who makes your Moneyball team for Saturday? Pearcey is here to help.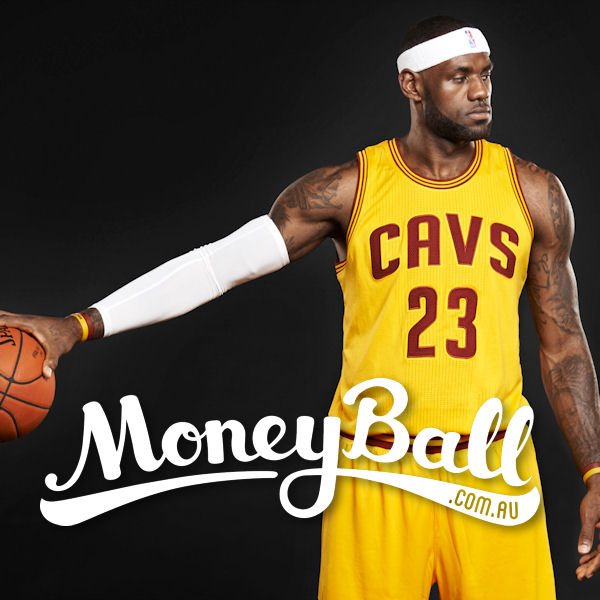 Daily Fantasy Sports has been bought to Australia in 2015 by the guys at Moneyball.com.au – the leading DFS platform in the country. They have a large array of games available in the lobby, ranging from an outlay as little as $2 up to $200 and beyond! Sign up today and join the Daily Fantasy Sports revolution!
Moneyball contests for NBA are easy to be involved in – simply select 9 players (2 point guards, 2 shooting guards, 2 small forwards, 2 power forwards and 1 centre), whilst keeping under the $60,000 salary cap. Jump in the lobby today and give it a go!
Saturday's contests include a Guaranteed $5,000 Saturday Bank ($15 entry) as well as a number of Turbo games throughout the day. They also have the usual H2H, Double-up and other competitions to satisfy your Daily Fantasy Sports appetite!
Picks for Saturday 14th November 2015:
POINT GUARD:
Russell Westbrook (OKC) – $11,700
Do not even think about this. Do not toy with the idea of picking someone different. Make Westbrook the priority. Kevin Durant won't be playing for the next week or two due to a hamstring strain and when Durant doesn't play Westbrook turns into even more of a beast than he usually is. In 40 games last season with Durant on the sidelines Westbrook aveaged 30.7 points, 9.1 assists and 7.7 rebounds. That alone is a return of in excess of 50 Fantasy Points. Just lock him in.
Rajon Rondo (SAC) – $6,300
Rondo has had two triple-doubles in the past week, equal to the number the rest of the league has had for the entire season! With those two triple-doubles has come two 50+ Fantasy Point games, and with Darren Collison expected to miss again watch Rondo post big minutes and big numbers against the Nets.
Ish Smith (NOP) – $4,400
Smith has been huge so far this season due to the minutes restrction on Jrue Holiday. Whether it be off the bench or in the starting line-up, Smith has a season average of 28.7 FPPG and his past two games has netted him 38.0 and 40.6 Fantasy Points respectively. As long as Holiday is restricted Smith is a great value play.
SHOOTING GUARD:
DeMar DeRozan (TOR) – $8,300
De-De has had 3 40+ Fantasy Point games and one 39 Fantasy Point game in his 8 outings so far this season. Throw in the fact that due to injuries to Terrence Ross and DeMarre Carroll he has to take on an extra workload and is playing against a suspect Pelicans defense (possibly without Anthony Davis) De-De could be in for a big scoring night.
Eric Gordon (NOP) – $5,800
Gordon has had to pick up the offensive slack over the past couple of games caused by the leg injury to Anthony Davis and the continued monitoring of Jrue Holiday's minutes. Gordon hasn't disappointed though, averaging 32.3 FPPG over the past 3 games. Good value especially if Davis sits out another game.
Jeremy Lamb (CHA) – $4,300
Lamb has been a major spark off the bench for the Hornets, hitting at least 20 Fantasy Point in 4 of his last 5 contests.  If Lamb can get his shot going he should be good for 20+ once again, which would be a nice return for only $4,300.
SMALL FORWARD:
LeBron James (CLE) – $11,300
LeBron is one of the highest priced players for the night and for good reason. He has had only one score less than 39.0 Fantasy Points so far this season, with the majority of his scores being in the 40's and 50's. A big outlay but one that will surely be worth it, especially on the big stage against the Knicks at Madison Square Garden.
Al-Farouq Aminu (POR) – $5,900
Aminu's rise to fantasy prominence this season has been due to his starting role on the Blazers roster. With Meyers Leonard dislocating his shoulder in the Blazers last game, Aminu will see bigger minutes and his output should reflect the extra responsibility.
Nemanja Bjelica (MIN) – $4,100
It's not great practice to repeat oneself but in Bjelica's case it is warranted. The big man put up another 25.3 Fantasy Points in his latest game against the Warriors, providing a spark off the bench. He seems to be able to contribute in all categories and at his low price he is a must-play.
Click here to play daily fantasy NBA.
POWER FORWARD:
Paul George (IND) – $9,600
After a slow start to the season George has started to find his groove. He has had to deal with the return from a broken leg, a new playing position and a bunch of new team-mates so his slow start can be excused. Over the past 5 games he has averaged 29.4 points and 9.4 boards and he will be a solid play against a young T-Wolves team playing their second game in as many nights.
Dirk Nowitzki (DAL) – $6,800
The big German has turned back the clock with his stellar play so far this season. The 37 year old is only averaging 27.6 minutes per game but is putting up handy averages of 18.9 points and 7.5 rebounds, which has resulted in an average of 31.0 FPPG. Against an ordinary LAL team Dirk should continue his hot form.
Dwight Powell (DAL) – $4,600
You could do worse than going a Dallas double and pairing the old head Nowitzki with the 2nd year player in Powell. Powell has been surprisingly good so far this season, with an average of 23.0 FPPG. Off the bench against a weak LAL frontcourt Powell should hit his average and then some.
CENTRE:
Al Horford (ATL) – $8,000
Horford is one of those guys that just goes about his business without too much fanfare.  He is quietly putting together a solid season with averages of 17.6 points, 8.0 rebounds and 1.8 blocks per game. In a favourable match-up against the Celtics, expect Horford to be solid once again.
Enes Kanter (OKC) – $6,900
Kanter has had a reserve role this season playing 21.6 minutes per game off the bench. With the hamstring injury to Kevin Durant, OKC coach Billy Donovan has come out and said that he wants to try and involve Kanter a bit more and in this game against the 76ers Kanter could get VERY involved.
Clint Capela (HOU) – $4,700
Houston have back-to-back games against DEN and DAL over the next two nights and Houston coach Kevin McHale has announced that Dwight Howard is going to have a rest in one of those games. At this stage it is unknown which one but in the game he has a rest Capela will be a great value play.
There you have it, my picks for Saturday 14th November 2015. Let me know your thoughts via Twitter – @pearcey47
Click here to find all of the Daily Fantasy NBA contests in the Moneyball Lobby.
And as always, remember to gamble responsibly.