Moneyball NBA picks – Friday 13th November 2015
Pearcey is back with his tips for Moneyball's Friday NBA contests.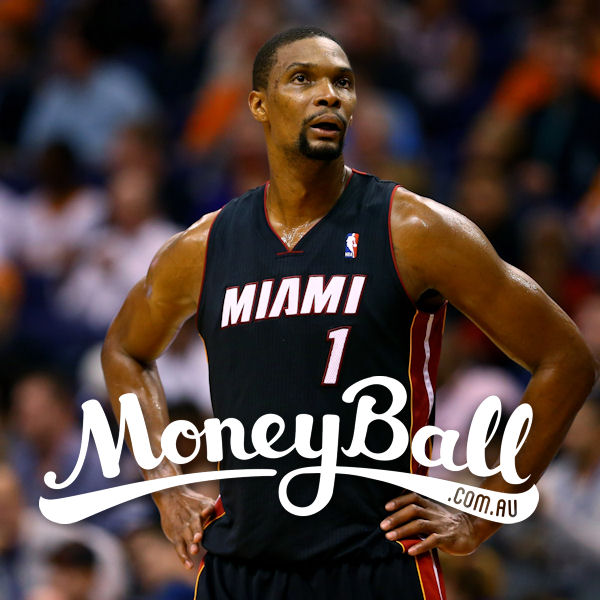 Daily Fantasy Sports has been bought to Australia in 2015 by the guys at Moneyball.com.au – the leading DFS platform in the country. They have a large array of games available in the lobby, ranging from an outlay as little as $2 up to $200 and beyond! Sign up today and join the Daily Fantasy Sports revolution!
Moneyball contests for NBA are easy to be involved in – simply select 9 players (2 point guards, 2 shooting guards, 2 small forwards, 2 power forwards and 1 centre), whilst keeping under the $60,000 salary cap. Jump in the lobby today and give it a go!
With only 3 games on the slate for Friday the contests include the Guaranteed $3,000 Friday Bank ($15 entry) as well as the usual H2H, Double-up and other competitions to satisfy your Daily Fantasy Sports appetite!
Picks for Friday 13th November 2015:
POINT GUARD:
Chris Paul (LAC) – $9,700
Chris Paul has been struggling this season with his numbers well down across the board. It looked as if he was going to return to the Chris Paul of old today with 8 assists in the first quarter but he only added a further 3 for the rest of the game. After a bad loss to the Mavericks watch Paul bounce back against the up-tempo Suns.
Tyler Johnson (MIA) – $3,500
Although not contributing huge numbers, the rookie PG has been consistent off the bench putting up an average of 17.2 FPPG in his 6 games so far. With only a small amount of games to choose from Johnson may be a good value option for your squad.
Click here to start picking your team now.
SHOOTING GUARD:
Eric Bledsoe (PHO) – $8,400
Here is a guy that can light up the scoreboard very quickly at any given time. He has 3 scores over 44 Fantasy Points in his past 5 games and as the main contributor for the Suns expect him to outscore his average (37.9 FPPG) again.
Zach LaVine (MIN) – $5,400
This pick is ultimately based on Ricky Rubio's ability to play against the Warriors but if he doesn't (currently questionable) LaVine could be a good value play. He has back-to-back Fantasy scores of 34.0 in his last game against the Hornets (Rubio out injured) and 30.6 the game before vs ATL (Rubio played). If he can put up similar numbers he will be well worth his price tag.
SMALL FORWARD:
Andrew Wiggins (MIN) – $7,500
After a slow start to the season Wiggins has lit it up over the past 2 games he has played, scoring 38.6 and 44.0 Fantasy Points respectively. He sat out Minnesota's last contest with a sore knee but is expected to play Friday against the Warriors.
Nemanja Bjelica (MIN) – $4,100
One of the most under-priced players this season, Bjelica has surprised with his stellar play and also with the amount of minutes he has been awarded by the Timberwolves coaching staff. He has averaged 28.7 minutes per game so far this season and in his past 3 games he has average 29.7 FPPG. Lock him in, even against an undefeated Warriors team.
POWER FORWARD:
Chris Bosh (MIA) – $8,300
After sitting out for a fair chunk of last season due to health issues, Bosh has returned to the consistent player we all know and love. In his last 5 outings his worst return has been 34.4 Fantasy Points. This game against UTA will be a battle of the frontcourts and Bosh will more than hold his own.
Derrick Favors (UTA) – $7,700
Favors has had a very solid start to the new season so far, averaging 15 points and 9 rebounds per game. He has scored 30 Fantasy Points in every game bar one this season (which was illness-affected) and we can expect him to post his regular 30+ again against the Heat.
CENTRE:
Hassan Whiteside (MIA) – $8,700
Whiteside came from relative obscurity last season and is now one of the elite Centres in the Eastern Conference. He is currently averaging 15.3 points, 11.4 boards and a huge 3.9 blocks per game. He has a tough opponent in the Stifle Tower Rudy Gobert but Whiteside should still put up decent numbers.
Karl-Anthony Towns (MIN) – $5,900
For value you just can not go past the number 1 pick in this years draft. KAT has been insane so far this season, putting up a massive average of 35.3 FPPG. When you are paying less than $6,000 you just can't go wrong with a player capable of putting up those sorts of numbers on a nightly basis.
There you have it, my picks for Friday 13th November 2015. Let me know your thoughts via Twitter – @pearcey47
Click here to find all of the Daily Fantasy NBA contests in the Moneyball Lobby.
And as always, remember to gamble responsibly.