Moneyball NBA picks – Thursday 12th November 2015
One of the best Fantasy minds in Australia, Pearcey, has penned the first of his Daily NBA Fantasy articles to help you win cash with Moneyball.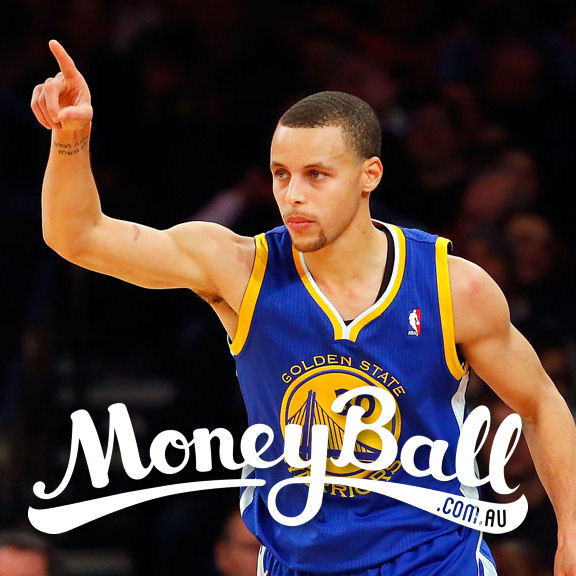 Daily Fantasy Sports has been bought to Australia in 2015 by the guys at Moneyball.com.au – the leading DFS platform in the country. They have a large array of games available in the lobby, ranging from an outlay as little as $2 up to $200 and beyond! Sign up today and join the Daily Fantasy Sports revolution!
Moneyball contests for NBA are easy to be involved in – simply select 9 players (2 point guards, 2 shooting guards, 2 small forwards, 2 power forwards and 1 centre), whilst keeping under the $60,000 salary cap. Jump in the lobby today and give it a go!
Thursday's contests include THE BIGGEST EVER Guaranteed $7,000 Thursday Bank ($15 entry) as well as the $1,000 Thursday Fadeaway ($10 entry) for the late games. They also have the usual H2H, Double-up and other competitions to satisfy your Daily Fantasy Sports appetite!
Picks for Thursday 12th November 2015:
POINT GUARD:
Damien Lillard (POR) – $9,000
Lillard is averaging a huge 41.3 Fantasy Points Per Game with a low of 37.7 over his past 6 games. Even though POR are up against the San Antonio Spurs Lillard should be too much for Tony Parker's aging legs to keep up with.
Kemba Walker (CHA) – $7,400
Walker seems to always be good for somewhere between 25-35 FPPG and against a less than average Knicks PG combo of the old head Jose Calderon and the rookie Jerian Grant we should see Walker post an above average score.
TJ McConnell (PHI) – $4,400
The undrafted rookie out of Arizona has had a surprisingly good beginning to his NBA career which has landed him the starting job in Philly. In the past 5 games he has cracked 30 Fantasy Point 3 times with his all around game and at his current price he is hard to go past.
SHOOTING GUARD:
James Harden (HOU) – $11,200
After a below average start to the season the Beard has got it going over the past couple of games with 3 of his past 4 games netting a score of at least 48 fantasy points. Against a struggling Brooklyn team Harden is worth every dollar of his high price tag.
Giannis Antetokounmpo (MIL) – $6,700
After a couple of poor performances since Jabari Parker's return to the line-up, a big game against DEN is on the agenda for this young phenom as he looks to re-discover his early season form.
Evan Fournier (ORL) – $5,200
Fournier has been a weapon on offense for the Magic this season, putting up a career high 18.1 points per game over the first 7 games. He had back-to-back 25+ games only last week so if he catches fire he could be a good value play.
SMALL FORWARD:
Kawhi Leonard (SAS) – $8,500
The baton has well and truly been passed by Tim Duncan in San Antonio and Kawhi has grabbed it and ran! He is averaging a very healthy 38.1 FPPG this season and against an inexperienced POR outfit he should be good for 40+.
Marcus Morris (DET) – $6,300
After being traded away from his twin brother in PHO in the off-season, Marcus has flourished under the coaching of Stan Van Gundy in Detroit. He is averaging 28.8 FPPG and we should see numbers around that mark again against SAC.
Andre Iguodala (GSW) – $4,900
The reigning Finals MVP has started off how he left off last season by providing a valuable spark off the bench for the Warriors. Iguodala has only failed to reach 20 Fantasy Points in his past 7 games so he is good value for only $4,900.
POWER FORWARD:
Blake Griffin (LAC) – $11,100
Griffin has been on an absolute tear to start the 2015-2016 season and doesn't look to be slowing down any time soon. With an average of 46.8 FPPG and a low of 39 fantasy points for the season so far his high price is justified.
Kristaps Porzingis (NYK) – $5,600
The big European had a down game on Wednesday against a strong Raptors outfit but hopefully he can bounce back against the Hornets. He is a double-double threat every night and is a good value pick for his price.
JJ Hickson (DEN) – $3,900
With Nurkic and Lauvergne ruled out of the game against the Bucks, and Jokic and Faried both questionable, expect Hickson to play some big minutes and hit the boards hard for the Nuggets.
CENTRE:
Greg Monroe (MIL) – $8,800
Monroe has really found his groove as the leading scoring threat for the Bucks. He is filling up the stats sheet and has scored around 40 Fantasy Points in 4 of his last 5 outings, a number he should hit with ease against a very thin Nuggets frontcourt.
Jahlil Okafor (PHI) – $6,300
With Nerlens Noel on the sideline on Monday against the Bulls, Okafor had a day out scoring 43.5 Fantasy Points.  With a question mark on Noel again for the game against the Raptors Okafor could be amongst the fantasy points yet again.
Roy Hibbert (LAL) – $5,500
Hibbert is an enigma. Standing at 7'2" and weighing 120+kgs you would expect him to dominate night in and night out. Not the case with Roy. Here is a guy who can score 12 Fantasy points one game and 35+ the next. At his price he is a high-risk, high-reward option, but may be worth considering against the Magic, especially if Vucevic is ruled out again.
There you have it, my picks for Thursday 12th November 2015. Let me know your thoughts via Twitter – @pearcey47
Click here to find all of the Daily Fantasy NBA contests in the Moneyball Lobby.
And as always, remember to gamble responsibly.