My Journey to be the 2015 NAB AFL Schools Champion
Mack Blazely shares his story on his way to becoming the AFL Fantasy schools champion for 2015.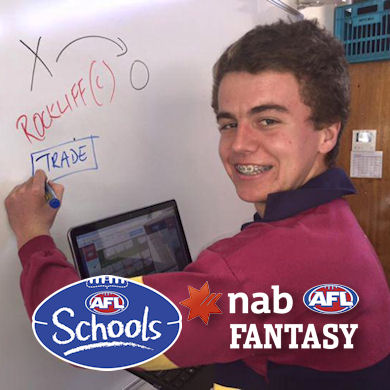 It all started with a lunch fantasy meeting with the Warne Dawg himself A.K.A (Mr Warne Dawg). With myself and my mates coming together to show off our teams which we all thought were going to dominate the year.
Rookies would play a big part in fantasy 2015 and I struggle finding the right ones at the start of the season. At the start of my season I was really focused on having rookies and premiums in my team but with Daniel Rich priced at $265k predicted to average 85 points for the year he was a midfielder I had to lock in. I came to the conclusion that my team structure would aim to have all MIDs in the midfield, all MID/FWDs in the forward line and all DEF/MIDs in the back line. With the exception of Heath Shaw in the back line as just a pure defender.
As we came into round 1 I was confident with my team but it took me till round 3 to crack the 2000 points mark. Round 4 was a terrible week for fantasy scores all-round but I managed to pull out a score of 2,065, where I cracked the thousand mark in overall ranking and shot from 1,864 to 474. Round 6 was great for all coaches with the first lot of DPPs additions. With some midfielder gaining defender status such a Mundy and Picken, and midfielders gaining forward status such as Dahlhaus and Zaharakis. I picked up Mundy and Dahlhaus heading into the next round. Round 7 and with only 8 players scoring over 100 I plummeted to my second lowest score for the season of 1,854 and shooting my overall ranking from 292-413.
I came into round 11, 12 and 13 not looking forward to the bye rounds. I managed to come through unharmed posting mid 1600's in rounds 11 and 13 and mid 1300 in round 12. At the end of round 13 I managed to get to the top of the Tasmanian schools league ladder and getting to 4th on the National Schools league ladder. As I progressed through the season I got to third in the nationals schools comp and still holding my spot on top of the Tassie ladder. We got to the end of round 23 and really happy with my finish. From round 14 till round 23 I didn't score under 2000 and cemented my spot in the 2015 NAB AFL national schools league finals. With a close in counter in my qualifying final winning by 40 points snatching a spot in the preliminary finals and earning the week off.  For me to win or not I knew the captain would pay off in the prelim. I couldn't go past Calvin's captains and with Tom Rockliff as number 1 I had to lock him in. With Calvin's picks being successful again, Rockliff scoring a huge 159 points and my opponent having Swan as captain scoring a disappointing 63. Storming through to the grand final with a 300 point victory. Grand Final week came along and I was in trouble and so was my opponent Surgeons Dreamteam from W.A. With us both having key outs the bench was going to win us or lose us the grand final. At the end of the games on Saturday night I was quietly confident I had the win. Coming to the end of Sunday games and the end of the rostered season I managed to get the win by over 100 points. Great way to end the season!
Rookies
As I mentioned rookies were going to play a vital role in the 2015 season and for most coaches it was the difference between having a successful year and or a rather forgetful year.
My successful rookies were;
| | | | | |
| --- | --- | --- | --- | --- |
| Player name | Rounds played | Average | Profit | Total points |
| Adam Oxley (def) | 17 | 72.2 | $223k | 1,227 |
| Adam Saad (def, mid) | 16 | 64 | $192k | 1,024 |
| Cam Ellis-Yolmen (mid) | 11 | 68 | $209k | 748 |
| Patrick Cripps (mid) | 20 | 86.2 | $298k | 1,723 |
| Aaron Vandenberg (mid,fwd) | 14 | 73.9 | $253K | 1,053 |
| Kamdyn Mcintosh (def,mid) | 22 | 64.4 | $218k | 1,416 |
You might be thinking to yourself why Adam Saad was a success rookie with only averaging 64. I find that money is so important and with players that have a very low breakeven and score solid 60's each week there going to make you money fast, which then leads to either down grading for salary cap or upgrading to a premium.
My top 5 Mr Consistent
| | | | |
| --- | --- | --- | --- |
| Player name | Rounds played | Average | Total points |
| Scott Pendlebury | 22 | 111.1 | 2,443 |
| Josh P Kennedy | 22 | 107.5 | 2,365 |
| Dane Swan | 21 | 110.1 | 2,312 |
| Dustin Martin | 22 | 103.6 | 2,278 |
| Matt Priddis | 22 | 103 | 2,265 |
My top 5 Mr Consistents, well the numbers speak for themselves. Pendlebury, Swan and Martin all were is my team from round 1 right through till round 23. I knew I could rely on them to perform in and out every week. I picked up Kennedy after the bye rounds and wasn't he a great pick up. Average 118.5 from round 13 when I picked him up till rounds 23 and only scoring under 100 once. That was 95 against west coast in round 17. Priddis traded him in at round 14 and average 103.6 through to the end of the season, with a whopping 142 in round 17.
My Top 5 Disappointments
| | | | | |
| --- | --- | --- | --- | --- |
| Player Name | Rounds Played | Average | Price Dropped | Total points |
| Heritier Lumumba | 19 | 57 | -$164k | 1,082 |
| Luke Parker | 19 | 96.3 | -$107k | 1,830 |
| Joel Selwood | 20 | 97.8 | -$80k | 1,956 |
| Michael Barlow | 22 | 93 | -$160k | 2,046 |
| Matt Suckling | 21 | 80.2 | -$28k | 1,684 |
My top 5 disappointments, I start with Lumumba expected to be a high range defender and average around 80 we can safely say moving to Melbourne and changing his name didn't help his cause in becoming a better football player. I persevered with him but persevering with him was worse for me as I lost even more money. Parker, Selwood and Barlow they averaged a respectable mid 90's but as they were picked as premium midfielder I expected more. I also lost a high amount of salary from them. Lastly Suckling talked up at the start of the season really looking to score off the half back line. He just didn't seem to be able to put a solid game together and couldn't bring out a score of over 105.
That's my Journey to Becoming the NAB AFL National Fantasy schools champion. Coming away with an iPad air (valued at $500), Trent Cotchin signed footy, AFL online merchandise voucher (valued at $500) and an AFL9s kit for my school. I also managed to finish 143rd in the overall ranking. Much of a successful season for myself. Also a Big congratulations to the overall fantasy winner Kym Hillman. Bring on AFL Fantasy 2016.
Mack Blazely
Click here for story on AFL Community site.