Swans, Eagles, Roos, Crows, Dockers, Hawks 2015 Review
Part three of our 2015 Report Cards and look towards next season.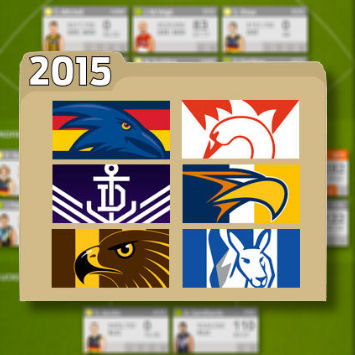 On the podcast this week we took a look at six clubs as end of season report cards naming up the Fantasy MVP, handing out a Coaches Award, giving a Rookie of the Year prize and naming up blokes who are, for various reasons, on our 2016 Watch List.
Click here for the first six reviews.
Click here for the second six reviews.
Report by Calvin.
Fantasy MVP
After plenty of arguing with Roy, Daniel Hannebery gets the MVP this year for the Swans. He averaged 111 for the year, 14pts better than his 2014 season. He played all 22 games for the Swans and easily had his best Fantasy season in his career. Well done Hannels.
Coaches Award
Ok Roy, here is your Tom Mitchell.
Mitchell had an outstanding year from his 17 games and boosted his average from 87 to 107. As a FWD/MID, he rose $147,000 in value and ended the year with scores of 163, 142 and 138, and is currently paying $2.40 on CalBet to become the third pig in the pen.
Rookie of the Year
Isaac Heeney went up $109k this year and averaged 67 from his 12 games. Limited options, but he did have a good year in limited games.
2016 Watch-List
Luke Parker should be considered next year after we all jumped on him at the start of the year after a killer pre-season. He lost his forward status and was priced at an average of 103 and it still didn't stop us. Next year, you'll be able to pick him up, priced at his 2015 average of 96…. a bargain.
He's averaged 102 in the past and averaged 95 in his first year at Sydney… this year Buddy Franklin only averaged 82 which means he will be very much 'unders' next year. Many players over the pre-season will lose their DPP status, meaning we'll have limited options in the forward line making Buddy a prime pick.
Tom Mitchell averaged 107 this year, but did so with two vests that cost him scores of 41 and 48. Without these vest effected scores, Mitchell would have averaged 115 which would have made him the BEST averaging player in the game! He'll be one that loses his DPP status but that won't stop me from making him my first picked player.
Priced at an average of 80, Kurt Tippett (RUC/FWD) is another to watch. He averaged 107 in his last 6 games and loved playing the majority of his footy in the centre of the ground with the #1 ruck duties. A great ruck option to start with if he maintains this #1 role at the club.

Click here to subscribe on iTunes.
Report by Roy.
Fantasy MVP:
We have seen the potential for years, and this season Andrew Gaff consistently delivered what we have been waiting for with a career high 104.6 average. He basically had this award wrapped up after a hot streak between rounds 8 and 19 where he dropped under 100 on just 1 occasion with 96 and had 7 scores over 110 in that time including a massive 152.
Coaches Award
Dom Sheed certainly didn't suffer a case of the second year blues, embracing his increased opportunity and responsibility eventually averaging 70.3 for the season. He wore 4 vests over the course of the season which increases his prospects of selection next season, especially given he scored over 85 on seven occasions.
Rookie of the Year
Fraser McInnes did enough to earn Rookie of the Year Honors after making coaches a handy $142,000 over his 7 games for an average of 53.4. His season highlights game on back to back weeks where he scored 90 and 79 respectively in rounds 7 and 8.
2016 Watch-List
After injury kept him out of the 2015 season, Eric Mackenzie will be heavily under priced, making him a stepping stone selection at the start of the season. Nic Naitanui continued to grow throughout the season and will be one to watch while it is hard to ignore the prospects of Andrew Gaff and youngsters Jamie Cripps and Dom Sheed.
Report by Warnie.
Fantasy MVP
Without a doubt, Todd Goldstein grabs the honours of being the MVP for North Melbourne in 2015.
Averaging 113.8 made him the second best player in the competition by average, missing out on being the highest scoring player for the season due to being rested in the final round. Goldy added $126K this season thanks to improving his average from 87.57 that he posted in 2014.
Coaches Award
Putting his hand up as the recruit of the year in real terms, Shaun Higgins had a sensational year improving his output by 10 points per game. Most people have had him on the never again list due to durability, and apart from missing round 23 due to the mass resting by Brad Scott. Anyway, he added $31K to his value and over the season pumped out seven tons.
Rookie of the Year
Ugh… tough one here, but Robbie Tarrant gets it. He added $192,000 over this 20 games and early on (after missing the first two matches), he quickly increased his price. The fact that he played every game from round 3 onwards was the reason he gets the award – even though there were no real other players worth considering from North. Cherry on top for the Rookie of the Year was his 120 in the Fantasy preliminary final which could have been very handy!
2016 Watch-List
We have to throw out Sam Gibson as an option for next year. He lost $222,000 in value and priced at 69.5, that's well below the 97 he pumped out last season. It all depends on role. Lose the tagging job!
You could find an argument for Jamie MacMillan that he is on the up, but that would be a Calvin special and I wouldn't touch him. Throw in Trent Dumont who will get a discount on his 45.5 average. He wore five vests in his eight games. No vest next year and he will have the opportunity to smash out those big Fantasy numbers that he did in the VFL over the last couple of years.
Report by Calvin.
Fantasy MVP
Patrick Dangerfield has his best Fantasy season to date with an average of 106, 13pts better than 2014. He clocked up 14×100+ scores and was outstanding all year.
Coaches Award
Any defender averaging 88 is a gem and Rory Laird this year was certainly that. He averaged 97 in his last 7 games and rose $146k from his starting price. Many people thought he was a one hit wonder early, but he definitely proved them wrong.
Rookie of the Year
Cam Ellis-Yolem only played 11 games this year, but played them when it mattered.
Many coaches started CEY on the ground to start with and they were instantly rewarded when he scored 90+ in 4 of his first 7 games. By round 9 he was worth $379,000 (was $120k) and certainly did enough early for many Fantasy coaches.
2016 Watch-List
Brad Crouch is the stand out on my list after not playing a game this year. Because he should receive a 30% discount on his price making him a LOCK in 2016. He has only played two seasons averaged 92 and 93 meaning that he'll be priced at a new average of 64.4. Everyone will have this guy locked in, let's hope he has a successful pre-season because this kid can find the ball.
Finally, Rory Sloane had a season to forget this year after coping an endless run of bad luck and injuries. He will be priced at an average of 95 thanks to 3 vests. If we ignore those vest effected games, he would have averaged 102, just shy of the 105 he averaged last year. Rory is a 105+ player and therefore is a cheap option next year.
Report by Roy.
Fantasy MVP:
Despite a brilliant season by Nat Fyfe, it was David Mundy bringing home the Docker bacon after averaging a team high 105.6 for the season. Despite only pipping Fyfe by .5 in average, this was an easy decision given Mundy's ability to play down back the majority of the season after gaining controversial DPP status.
Coaches Award
We said it all pre season and it happened!
Lachie Neale took his game to the next level in astonishing fashion, which obviously caught the coach's eye. He was hard to miss in fact, playing all 22 games for an average of 101.6 with 11 scores over 100. His ability to go really big was also impressive with scores of 147, 151 and 162.
Rookie of the Year
Big Jonathon Griffen was rookie priced at the start of the year before gracing Fantasy coaches with his presence in round 16. He managed to play out the season for 7 games and averaged 56.4 in that time, increasing by $122,000.
2016 Watch-List
Given Neale's high ceiling, and the fact oppositions that tag have no choice but to go to Fyfe, he has to be on the radar in 2016. His average has jumped significantly from year to year in all four season following his debut and I don't expect that trend to change. His price will also be down slightly after playing ill against the Swans where he scored just 36.
Report by Warnie.
Fantasy MVP
Even though he played just 17 games, Luke Hodge was the general in the backline from the start and made it very hard for you to win the games that mattered without him. 12 out of 17 games he went over 100 with a great patch between round 14-20 going 120, 148, 133, 140, 104, 96 and 109.
Coaches Award
Sam Mitchell delivered his best Fantasy season since 2011 adding almost 11 points on his average from last season with 103.7. Only 6% of coaches enjoyed having the former Hawthorn captain in their team.
Rookie of the Year
Pass.
But if I really have to, starting at $236K Billy Hartung went up $45K in value. He copped 8 vests out of his 18 games.
2016 Watch-List
Apart from the guys likely to be sub $200K like Alex Woodward (if fit) and take 2 on Jed Anderson along with quite a few others that could come through, the early Hawks selections are few and far between for 2016.
I think Isaac Smith has a bit of a Fantasy game that may see him slightly underpriced at 96.5. He went 118, 151, 125, 123, 106 and 116 from round 3 to 9. This coincided with me trading him in Elite. Ouch.
Is Taylor Duryea slightly underpriced? He will be coming in at 78.8 and with three vests to his name to go with six score 98 and above, he could be a backline winner for us. Add Daniel Howe down back as someone on your watchlist if he can break into the side. With only 4 games including 2 vests, there was some promise in his last match where he pumped out a 98.