Finals Match Day – Week 3 Preview
Brady is back with his Match Day preview for the preliminary finals.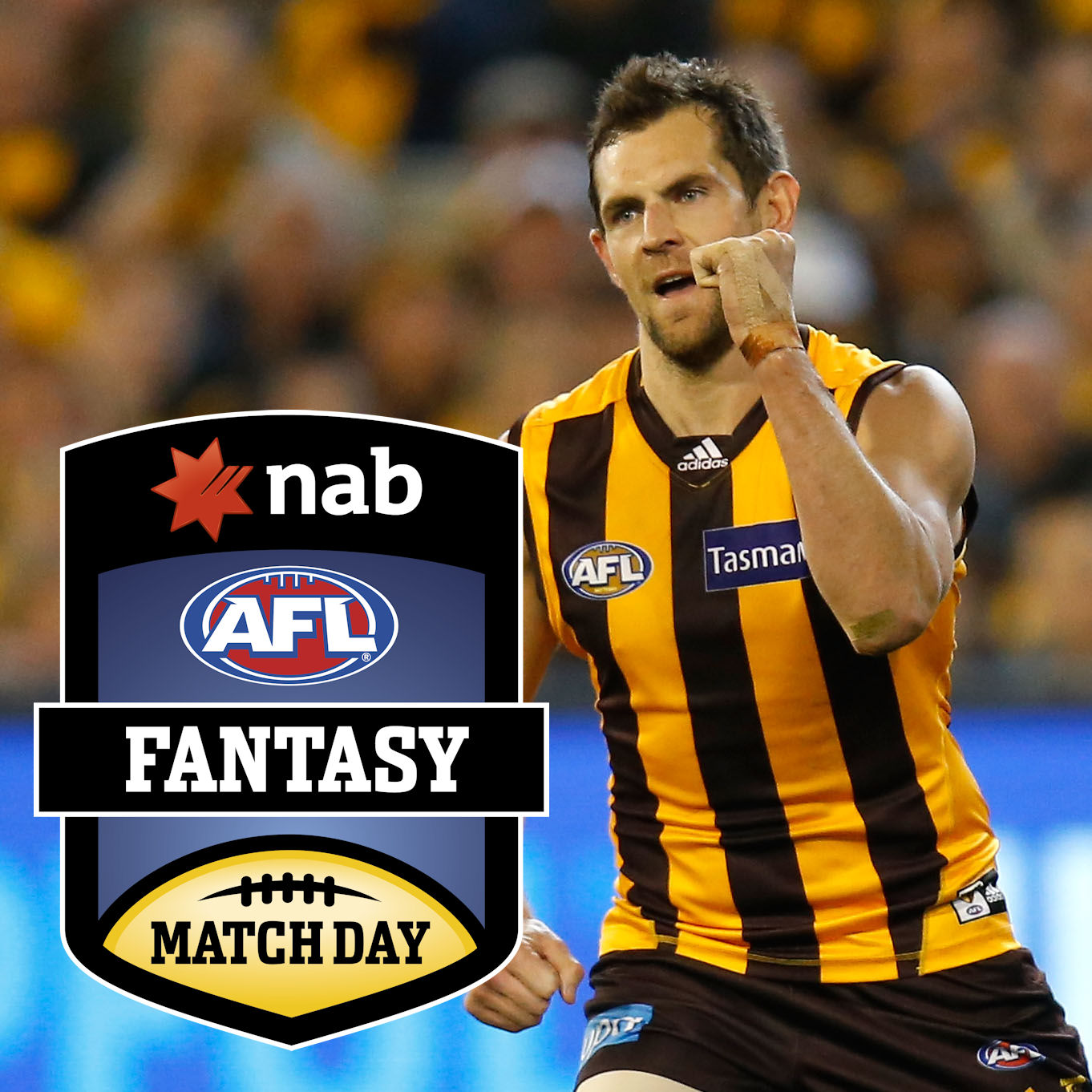 Game 1: Fremantle Dockers vs Hawthorn
Friday 7:50 AEST, Domain Stadium
The Hawks have had a bit of a bumpy finals series with an uncharacteristic loss to the Eagles in the Qualifying Final. But they came out last week with a point to prove and smashed the Crows and had Fantasy points flying everywhere. Luke Breust top scored for the Hawks last week with a huge 136 and kicked 6 goals. 4 more hundreds were also scored for the Hawks from Jordan Lewis (107), Luke Hodge (107), Sam Mitchell (106) and Liam Shiels (100). The Dockers on the other hand have only played 1 game in the last 2 weeks after beating the Swans in their Qualifying Final by points. That may have been a hard fought win but not many Fantasy points came out of that game. No Docker player scored a 100 more in that win over Sydney but Nat Fyfe top scored with 99 ad Aaron Sandilands scored 98. Expect a few more 100's this week.
Last time they met:
Luke Hodge- 148
Sam Mitchell- 142
Grant Birchall- 116
Luke Breust- 113
Matt Suckling- 112
Liam Shiels- 112
Paul Puopolo- 111
Ben McEvoy- 111
Michael Barlow 110
Brian Lake- 109
These were the top 10 Fantasy scores from last time these teams met and yes they all scored 100, but it doesn't end there. 9 of the top 10 were Hawthorn players but they still had 2 more 100's from Jordan Lewis (108) and Josh Gibson (102) in what was one of the biggest team scores for the 2015 season from the Hawks. On the other Michael Barlow with 110 was the only Dockers player to score over 100. Expect more from the Dockers this week but I can safely say that at least 2 of those top 10 will make their way into my team and one of them will be my captain.
Fremantle v Hawthorn at Domain Stadium, 6.20pm AWST
Fremantle
In: J.Griffin, M.Taberner
Out: C.Pearce, Z.Clarke
Hawthorn
No change
Who should be my captain?
Luke Hodge: Yes, once again Luke 'Hodgey' Hodge has made his way into my top captain choices this week. Just looking at the top 10 list above, you can see that he scored a huge 148 last time he played the Dockers and that was just a small part of why he was the highest averaging and highest priced Hawks player this year. His 2015 season average was 111.1 and was the highest at the club despite missing 4 games throughout the year. This is why he is a great captain choice this week and why he will be my captain.
Sam Mitchell: 13 times this year he had over 30 disposals and almost all of them games he scored over 100 for the Hawks. He scored over 100 12 times during 2015 with a high score of 142. He scored that 142 against the Dockers and scored one of very few 100's in the qualifying final against the Eagles. He also averaged 112 at Domain Stadium this season scoring 117 and 107 there. He has had a career best season this year and it will continue this week and will be a good pick for captain.
Nat Fyfe: Fremantle's best player this season and is the heavily backed favourite for the Brownlow Medal this year and his Fantasy stats agree. He missed his last 2 games of the home and away season but he came back in the qualifying final and top scored for Fremantle with 99. He will be huge this week in front of his home crowd in a big final and will score big this week. Back him in for 120 and will be a great pick for captain this week.

Click here to subscribe on iTunes.
Game 2: West Coast Eagles vs North Melbourne
Saturday 7:45 AEST, Domain Stadium
Well both the Eagles and the Kangaroos have cemented their spot in the final 4 teams and will play each other in the second preliminary final on Saturday night. It was a tough task for the Kanga's to go up to Sydney last Saturday night and beat the home side. But the second half proved costly for Sydney as North Melbourne ran away with the 26 point win. They may have won that game but from a Fantasy point of view, there wasn't much that came out of the game. Only 1 Roo was able to crack the 100 milestone with Jack Ziebell scoring 107. The next best to him was Ben Cunnington who came up with a 97 so not much came out of the Kangaroos last week. The Eagles on the other hand had the week off and obviously had no Fantasy data last week. But in their last game against the Hawks there wasn't much scoring coming from the Eagles. Only 2 players from the Eagles scored 100 plus, these were Mark Lecras with 110 and Shannon Hurn with 100. Not sure if these players will be able to do that again this week.
Last time they met:
Andrew Gaff- 125
Shaun Higgins- 119
Matt Priddis- 113
Jack Ziebell- 106
Todd Golstein- 106
Luke Shuey- 97
Nic Naitnui- 97
Ben Cunnington- 92
Drew Petrie- 87
Ben Brown- 86
Not a whole lot to run off here but 5 of the top did score 100's and they're all players that could very possibly do it again this week. This game was played down in Hobart with wet and very windy conditions which was hard on the players. But this week they'll be playing on a warm Saturday night in Perth and a lot more players could pump out hundreds. Andrew Gaff who top scored last time with 125 will be definitely sitting in my midfield this week and I will be taking a punt by putting the big C on him.
West Coast v North Melbourne at Domain Stadium, 5.45pm AWST
West Coast
In: M.Priddis, C.Masten
Out: S.Selwood, P.McGinnity
North Melbourne
In: R.Tarrant
Out: L.McDonald
Who should be my captain?
Andrew Gaff: He may have only scored 76 in his match but not too many people scores big in that game. He was highest priced at the end of the 2015 season and probably their most improved Fantasy player. He averaged 1.6 more than any other Eagle this season with a season average of 104.6, first ahead of Matt Priddis with 103. He also loves playing at home as well averaging 109.9 at Domain Stadium. This proves he can play well and score heavily and why I advise you to pick him as captain this week.
Todd Goldstein: Arguably the best ruckman of 2015 along with probably Stefan Martin. He dominated for the Kangaroos this year and his stats prove it. He averages more than any other Kanga this season by more than 20. His average was the highest at the club with 113.8 ahead of Jack Ziebell who came second with 90.5. He had the season's second highest individual score with 175 against the Bombers along with a couple of 150's. This proves just what he is capable of and is why he is a great pick for captain this week.
Matt Priddis: Along with Andrew Gaff he was once again, arguably the best player for the Eagles this season. He had the second highest average at the club with 103 just behind Andrew Gaff. He was the third highest scorer with 113 last time they met down in Hobart and this time it is at his home ground in Perth. He loves playing at home averaging 109.7 there in 2015 and is a very good pick for captain this weekend.