Power, Magpies, Tigers, Demons, Suns, Bulldogs 2015 Review
Part two of our 2015 Report Cards and look towards next season.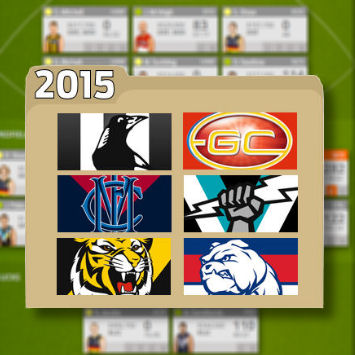 On the podcast this week we took a look at six clubs as end of season report cards naming up the Fantasy MVP, handing out a Coaches Award, giving a Rookie of the Year prize and naming up blokes who are, for various reasons, on our 2016 Watch List.
Click here for the first six reviews.
Look out for the last six next week.
Report by Calvin.
Fantasy MVP
After three years of averaging 99, Brad Ebert finally cracked the ton and averaged 102, the highest from any Port players. He played all the 22 games this year and certainly deserves his first ever MVP trophy.
Coaches Award
Robbie Gray averaged 97 this year and as a forward, that's pretty good to me. He only missed one game and was that 'set and forget' option that we just loved.
Rookie of the Year
Nathan Krakouer played every game from round 3 to 9 and averaged 60 for the year. He rose $159,000 in value and did enough early when it counts.
2016 Watch-List
Brendon Ah Chee ended the season with an average of 57, his new starting price in 2016. Now, he wore the vests six times this year and in his 'vestless' games (5) he averaged 91. Ok, so he won't do that, but if he can average 80+ then that makes him 23pts under value.
Sam Colquhoun will be discounted on his average of 64 and can score on his day. His pre-season is vital and if he can crack the Power's best 22, look out.
Finally, check out this one. Sam Gray finished the year averaging 117 in his last three games in what was an obvious role change. He'll be priced at and an average of 77 and if he keeps this new role and his position as a FWD, then he's one to pencil in.

Click here to subscribe on iTunes.
Report by Roy.
Fantasy MVP:
In a nail biter with the ever reliable Scott Pendlebury who averaged 111.1 for the season, it was the Pig Dane Swan with his forward eligibility, taking home the MVP with an average of 110.1.
After injury limited his output in 2014, many doubters questioned his ability to produce this season and didn't he shut them up while the rest of us laughed all the way to the Piggy Bank.
Coaches Award
Taylor Adams was the run away winner of the coaches award after a sensational season. He ended the year as one of the top forwards after averaging 101.2 for the season and pumped out some huge scores along the way with six scores over 120. He finished the season with four straight hundreds including 135, followed by 127 in the prelim and GF to increase his price by $144,000.
Rookie of the Year
Jordan de Goey played 16 games for the season in a variety of roles and his fair share of vest effected roles. He showed his potential to be a Fantasy star in the last month with two very impressive outing of 102 and 115 giving us a glimpse of the future.
2016 Watch-List
Adams and de Goey are both under-priced due to sub effected scores and will be will worth considering next year. Levi Greenwood will be one to watch if he can bounce back from an injury interrupted start to his career as a Pie. He dropped a total of $121,000 during the season so will be under-priced based on his potential and he will receive a price discount due to only playing a handful of games for the year.
Report by Warnie.
Fantasy MVP
A boring pick, but Dustin Martin enjoyed his best season to date playing all 22 games at an average of 103.5. A perfect set and forget player. Next year will be interesting though as he may not have the same FWD/MID status.
Coaches Award
I selected Brandon Ellis in my Elite side.
He was a rock playing all 22 games for an average of 102.7. He pumped out some big scores – six were over 116 – but just continued to rack up over the season. Ellis improved his average by almost 7 points per game on last year.
Rookie of the Year
The simple answer for the best rookie for the Tigers is Kamdyn McIntosh. After debuting with 101 and following up with 96, coaches thought they were onto something. The DEF added +$218K and went on to play every game of the season. At the bye, he was at $348,000 and has definitely done his job as a money maker!
A special mention must go to Kane Lambert for his efforts post round 16. The FWD/MID added $246K in value come the end of the season and importantly, he offered great cover in the run home when we were facing injuries, suspensions and late withdrawals.
2016 Watch-List
Hmmm… this is a tough one. Reece Conca only played 2 games at 63 and should get a decent discount. The midfielder averaged 77 in 2014 so there will be at least 20 points upside in him.
You can argue that Trent Cotchin priced at 91 and Brett Deledio at 94 are value. Both averaged less points than they did in the previous year.
Report by Calvin.
Fantasy MVP
Bernie Vince will get the chocolates here… but maybe no one should. Vince averaged 93 (down from 95 last year) and was the best averaging player for the Dees for the year.
Coaches Award
If he'd played more than 13 games, Max Gawn would have sat a few lines higher.
Big Max averaged 92 to be one of the best ruck options going around.
Rookie of the Year
Aaron Vandenberg might just be one of the best rookies for 2015. He played the first 10 game (when it matters the most) and rose his price from $120k to $387k over this time and averaged 74 for the year. Well played sir.
2016 Watch-List
He's on the 'never again list' again… but can you ignore Lumumba who will be rookie priced after averaging just 57? Yes that's rubbish, but if you refocus for a new season ahead, he can't be over looked… but seriously should be ignored.
Jack Watts is very unlikely to be at Melbourne next year but either way he ended the season with scores of 87, 102 and 103… with an average of (insert drum roll) ….68. Juicy target for 2016, especially if he's with a new team.
Finally, let's not forget that Petacca didn't play a game this year. The 2015 top pick rookie will be back to bargain price next year and was listed as a FWD/MID. Brilliant option now that he is up and about and looking very sharp already.
Report by Roy.
Fantasy MVP:
After a slow start to the season with scores of 37, 66, 45 and 67, Kade Kolodjashnij turned it around, going on to be the clear cut winner of the B&F.
After that point, he left many rival defenders in his wake with a whopping 13 scores of 85 or more, including four handy 100's which left many coaches who traded him out asking why. He averaged over 90 for the last three rounds and increased by $62,000.
Coaches Award
Aaron Hall finished the year like a steam train, making him the clear cut winner of the coaches award. Over the last six weeks of the season he dropped under 100 on just one occasion with 95, while scoring over 110 on four occasions during that time. He averaged 108.6 in the all-important last five weeks of the season and increased in price by $179,000.
Rookie of the Year
Touk Miller had a sensational season, playing all 22 games for an average of 70.1 which well and truly justified paying the extra money at the start of the year. His dual position status was ha huge bonus covering gaps if he lasted the distance in Fantasy teams and he increased $149,000 on the season.
2016 Watch-List
After never averaging less than 70 in a season, Trent McKenzie has a disappointing a career low 16 games and 51.9 which caused a price drop of $137,000 which leaves him under-priced if he can regain his best form.
Personally I will be looking in the discounted bargain bin that contains Fantasy studs Gary Ablett (6 games), Dion Prestia (8 games), David Swallow (6 games) and Jaeger O'Meara (O games).
Report by Warnie.
Fantasy MVP
Nobody saw this coming. Liam Picken was arguably the most valuable defender this year after increasing +$100K in value. He gained MID status during the season to go with his increased midfield role which saw him average 101.1 points from 20 games. This was an increase from 73.2 last year. Huge!
Coaches Award
As an owner, Mitch Wallis was one of the few mid-pricers that worked. Priced at 58, the midfielder averaged 89.5 and increased +$160K across the season.
I started with him and his 83 and 96 points in his first two games was promising and then a back injury in round 3 for 10 points in Launceston saw the end of that. He came back with a 58 and then a 121 and 147 saw a heap of coaches get on board. With a price in the high $400Ks, he was able to be upgraded easily to a fallen premium in the lead up to finals.
A special mention has to go to Matthew Boyd who gained DPP… and should remain as a defender in 2016.
Rookie of the Year
It was hard to find a worthy player for this title, but Michael Talia added the most coin with +$182K for his 64 average. This took him to $343,000 with a few solid scores in there. He was out of the side from round 9 and if you rolled with the $161K defender, you would have enjoyed scores of 72, 90 and 101 over the first month.
2016 Watch-List
The most obvious player is Tom Liberatore who missed the whole season with a knee injury. Hopefully he participates in enough of the pre-season to make him a lock. A 98.7 average in 2014 will be discounted by 30%, putting him well under-priced (under $400K).
We have to consider Matthew Boyd as a DEF with limited options around. Jack Macrae will be priced highly after his 104.6 average, but he is a Fantasy pig in the making. Also think about Will Minson priced at 71. He dropped $101K and with the capacity to average around the 85-90 mark, he offers value. How about Nathan Hrovat after his 7 games at 54.4. If he can break into the side, he is much better than what he will be priced at (mid-$200K).
Lachie Hunter has to sit somewhere on our watchlist. As a forward, he increased $106K this season off the back of his run home. Four vests in his first five games for 2015 helped bring his average down until he pumped out 122, 127, 89, 85, 92, 124 and 67 in the final seven rounds for an average of 101. He will be priced at 78 next year.