The Friday Scramble: Round 23 – GRAND FINAL WEEK
We haven't had a GF week this tough ever I don't think. With two sides resting players and in that lot there are about 5 who a lot of teams have, and then we have the injuries on top of that! What A Mess! For the final time this year…. Let's Scramble!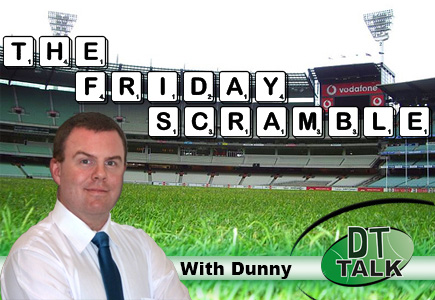 Here it is, the week we have all been waiting for, Grand Final week.  However, this year our Grand Final of AFL Fantasy and RDT is a bit like we have been waiting all year for Christmas, only for us to wake up on Dec 25 to find out that it was all a dream and there is no such thing as Christmas and it is just another work/school day.  And who do we have to thank for that?  Well Ross Lyon is at the very top of my list!  Trust me, he won't be getting a Christmas card from me!  When you add his antics in with the injuries we are facing, I am not sure that the old Bye Round – Best 18 would see some of us field a full team this week.  If there was ever a week we had to do it, this is the one…. So Let's Scramble!
Is anyone playing this week?
Well we already knew that Ross would do this to us. He is a serial rester of his players. He is basically the main reason that Supercoach brought their grand finals a week early this season. But, what we didn't count on was some of the injuries that we sustained this week with Swanny going down, Ryan Griffen being out with injury and Michael Hibberd also missing.  The final tally on our Dockers missing (Fantasy relevant ones only) is Mundy, Sandilands, Griffin, Johnson and Pearce. Now a couple of these will only be relevant in draft leagues of course.  And add to that the fact that we are already missing Fyfe. But be thankful that we still have Barlow and Neale.
Did we think that Brad Scott would do it to us as well?  Well he bloody has! He has left us with no Goldstein, Higgins, Dal Santo and Swallow.  The Dogs seem keen to rest a couple of guys too.  Matty Boyd and Bob Murphy are both missing. I must say I didn't think that Boyd would be missing again after he rested just two weeks ago. The Bulldogs website says that he is out with General Soreness. Harley Bennell is also out this week.
On the plus side though, a couple of coaches were nice to us by bringing us some players back! Trent Cotchin returns for the Tigers.  Trent Dumont is getting a run with the cut down Kangas side. Brett Goodes returns…. But I am guessing that if you still have him you have given up on this by now.  Jack Steele is back!!  And that could be just the bench lifeline we need!  Have you still got Oxley? Well if you have, he is back too.
Now Ross Lyon wasn't all bad to us, however, Alex Pearce is back in the side and in deep deep draft leagues you might have Jack Hannath.
So who should we bring in?
Well, in AF we know that we have the two trades, but in RDT if you still have some trades left then congratulations! The first thing that I would do here is when trading is clearly trying to get the best bang for your buck that you can. The way I will approach trading is to firstly check your bench cover first. Put your bench cover on the field in place of the guys who are out. This way you will know where your holes are.
Then to plug those holes, I would be looking firstly at the midfield. This is where we always get the most of our points from and hence you should be looking there. In terms of who I will be looking at it would be guys in teams that have a 'softer' game. The main one I would be looking at is Sydney. They are playing against Gold Coast, but more importantly they are playing at the SCG where they tend to have big Fantasy scores. The players I would look at from there would be Tom Mitchell and Dan Hannebery. Another team I will be considering getting players from is West Coast. They are back at Domain Stadium and are playing St Kilda. This is a game they should win (and need to win). So I am expecting some big scores from them. Players like Luke Shuey and Matt Priddis would be the main targets. The third team I will be considering players from is Hawthorn. They are playing Carlton and should have a big win. This should translate into some big Fantasy scoring. So here I would consider Sam Mitchell who had last week off sick as well as Jordan Lewis.
If you only have the one hole in the midfield and can use another trade elsewhere I would once again be looking at the best available player you can get. If it is up forward and you don't have him, it would be Tom Mitchell. As always if you can get a midfielder in a different position like forward or back then that is what you should be looking for.
Match Up Mania
Obviously in a grand final you should have a look at your opponent.  Check out who your opponent has and make an assessment of where they are at in terms of their outs and where you might be able to beat them.
If you look at their team and think you are a big underdog, then just go for it with maybe a bit of a risky unique that could get you over the line with a bit of a hail mary!
To really summarise this week, you don't need these guys for more than one week, so don't worry about too much more than what they will do this week. There is no tomorrows so simply go for it!
Things To Remember
No Guts, No Glory! If you have been lucky enough to make it to the Grand Final go for it!
Captain choice is critical in a GF, but also with a few of our regular guys like Swanny and Goldy out, it is even more important to read Calvin's Captains from earlier in the week.
Don't Give Up. No matter how hopeless it may look, you might just pull off a miracle.
I don't think I am alone in saying that this has been one of the most challenging seasons we have seen for a while (yes I know we say this every season). But with the volume of injuries, suspensions and now restings that we have seen it is bloody hard to get a consistent team on the park. One thing that we now know that will make life a touch easier next year is that we won't have the Subs rule.
Good luck in your Grand Finals this week, and if you aren't in the GF, then hopefully you can rise in the rankings over this last week.  Thanks all for reading my Friday ramblings throughout the season. I hope that I have managed to help some of you get a few wins across the season. I look forward to helping you all out again next year!