Lampe's Price Watch – Grand Final
For one last time, here's Lampe's Price Watch for the Grand Final.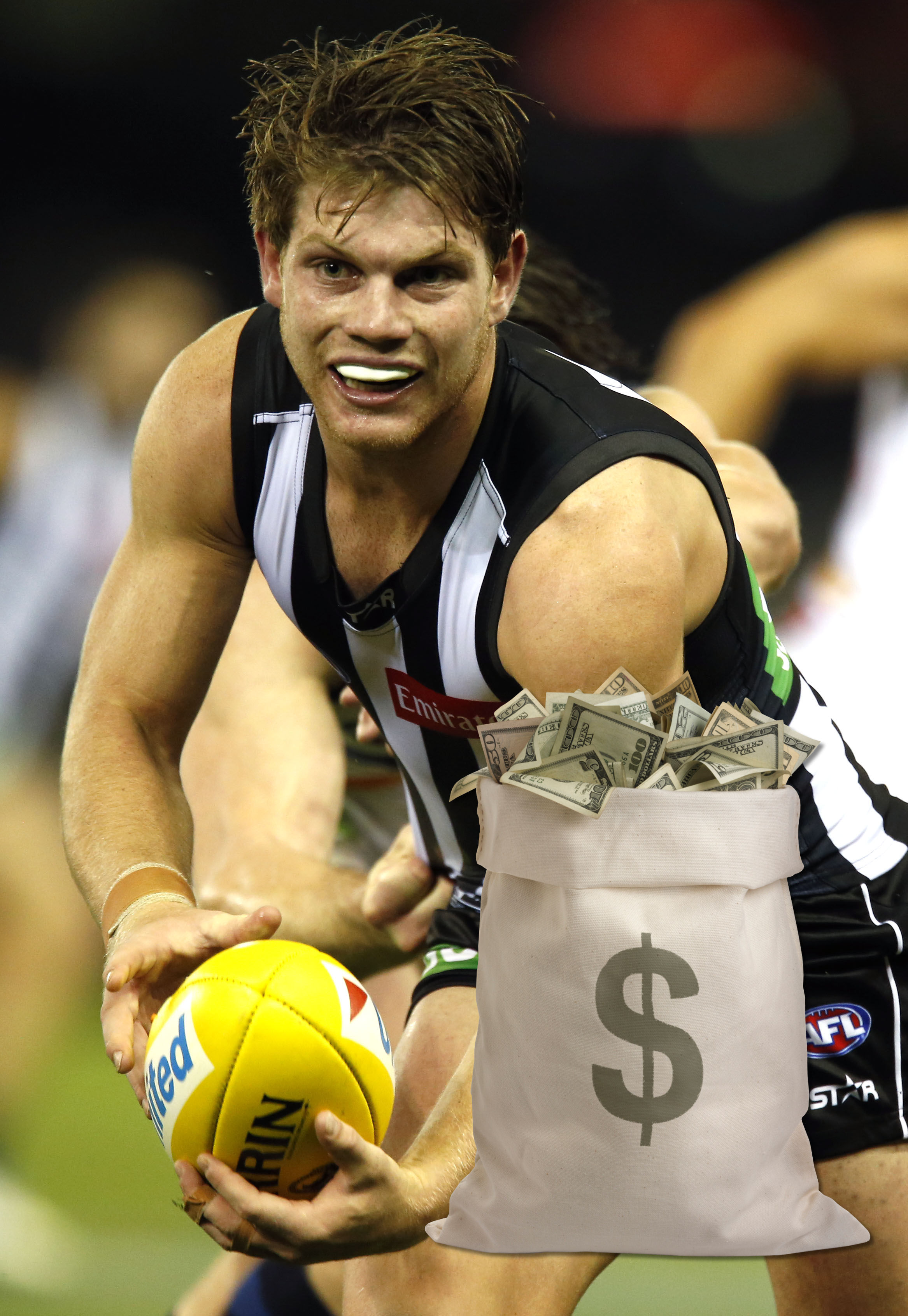 This week looks like bringing the most carnage of all year…in the most important round! Fantasy guns such as Swan, Hodge, Mundy, and Sandilands are already out, and we can expect a whole lot more to be rested before we actually get to this weeks matches.
Here is a look at some of the best replacements in each line of the ground.
Defenders:
Buy:
Matthew Boyd ($533,000): Boyd is my pick of the defenders this week. This is a much easier call to make considering Hodge and Mundy are out, while Picken has been slightly down of late, possibly due to his back complaint (I'm still expecting him to be good against the Lions though). Boyd has played in a new role across half back this season, but it has been much of the same in terms of dominant fantasy numbers. He has averaged 104.4 points per game and has topped the ton in 11 of 18 matches. He faces Brisbane this week, a team he had 91 on in his only encounter over the past two seasons, but I am predicting him to go 100+ this round.
Due to his consistency and ability to pump out a massive score, Boyd is my number one option from the defenders this week. He was rested only one match ago, so he should be able to get onto the park this weekend.
Jarrad McVeigh ($512,000): I've mentioned this guy quite a bite lately, but grand final week is no time to mess about. McVeigh has finished the year strongly, scoring three big hundreds in his last five matches, lifting his average to 105.2 over this period. He faces Gold Coast this week, and like many of his team mates dominated them earlier in the year, posting 131 himself. McVeigh also had 92 and 124 in his two encounters against the Suns prior to that, and he is one of the most backable defenders this week.
McVeigh is number two on my list of backmen to bring in this round. Lets hope he's a senior player that faces up on Saturday, because he should be very good if he does so.
50/50:
Daniel Cross ($414,000): Perhaps it's a bit sentimental, but Cross could be a good option given his price and opposition, in what will be his final AFL match. He has been the ultimate warrior over a 14 year and 249 game career, averaging over 90 for eight straight seasons between 2005 to 2012 (and at least 84 in the three since). Cross posted a season high 124 against Freo last week, and although his form had been suspect before that scoring only 63, 64, 64 and 75 in the previous month, he will certainly leave nothing on the park in his final appearance against the Giants.
I definitely wouldn't pick him ahead of the likes of Boyd, McVeigh or Shaw, but I have a gut feeling Cross will bow out in style. If you don't have the money for one of the big guns, than Cross could be a cheaper option that allows you to upgrade elsewhere.

Click here to subscribe on iTunes.
Midfielders:
Buy:
Jack Macrae ($541,000): Macrae is right near the top of all the candidtates to bring in this week. He had 116 last weekend, and although it was his first hundred for three weeks, he had an incredible run of form prior to that. He posted eight straight hundreds between rounds 10 to 18, including 120 against the Lions who he faces this week. I'm expecting something big from the young bulldog star, and I wouldn't be surprised if he went 120+.
In an added bonus, Bob Murphy came out during the week saying that he couldn't imagine too many changes to their side (implying they may buck the trend and not rest players), as such Macrae SHOULD avoid the carnage of this week.
Josh Kennedy ($587,000): Kennedy has been one of the top fantasy players in the second half of 2015. He has scored eight hundreds in his ten matches since the bye, incredibly half of which have been 120+. Added to this, he has three massive hundreds on the trot (120, 127 and 130) and faces the depleted Suns in a mouth watering grand final encounter. Do be aware however, that Kennedy has a surprisingly average history against what seems like a very friendly opponent. He only had 60 on them earlier this year, but did post 103 and 91 before that. Surely he will continue his good form and be better than those three scores.
Given his grand final opponent and his incredible run of form, Kennedy looks like a terrific option this week. I am tipping both him and Hannebery to go big (I'm actually very torn between which of the two I think will be better, but Kennedy is the slightly more consistent of the pair).
50/50:
Levi Greenwood ($460,000): It would be a massive risk in such an important week, but if you are strapped for cash Greenwood could be an under-priced player to consider. Levi has actually been in good form recently, scoring 107, 118, 30, 93 and 101 in his last five matches. His score of 30 was also sub affected, donning the red vest. Greenwood has history as a solid fantasy prospect, having averaged 101.7 last year, and was widely tipped to back that up again before injury curtailed his season. He faces the Bombers this weekend, having notched 133 and 109 in his last two meetings against them (albeit in a different guernsey and a somewhat different role).
I wouldn't do it unless you need to save money in order to upgrade elsewhere, but you could do a lot worse than bringing Greenwood into your side.
Rucks:
Here is who I believe will be the top three scorers in the rucks this week (I'd put Goldy at number two if he's named).
Buy:
1) Stefan Martin ($636,000): This guy has been one of the in form players of the competition, let alone just the rucks. He now has five consecutive hundreds (four of them 120+) and only one score under 90 for the year (in round one). Expect massive things if he plays against an under-sized Bulldogs ruck division this weekend, who he should absolutely monster.
2) Sam Jacobs ($504,000): Jacobs has had another fantastic year, averaging just a shade under 97 points per game. He had 108 on the Cats last year, and expect both him and Blicavs to win a lot of the pill around the ground.
3) Mark Blicavs ($516,000): The ex-steeplechaser has probably been the biggest sensation of the year. I must admit that I didn't think he was capable of producing what he has, but I am happily surprised. Blicavs has averaged 99 points per game and is above that in both his three (103.3) and five (100.4) round averages. Jacobs should beat him in the battle of the rucks, but both are sensational around the ground for their size.
50/50:
Brodie Grundy ($494,000): It's probably a bit harsh putting Grundy as a 50/50, and I am expecting him to score very well this week. He faces the Bombers whose lone ruckmen is now Shaun McKernan, and the Pies big man should give him a tuning up if he plays to his ability. Grundy has been in good form lately scoring 122, 95, 94 and 112 in his last four matches, and is another player having a break-out season. If you can't afford Martin and are looking for a slightly cheaper option for Sandilands, than Grundy could be your man.
I would personally take the previous three players before him, but Grundy should be good this weekend.
Forwards:
Buy:
Tom Mitchell ($529,000): Mitchell is my pick of the forwards this week and is the ultimate replacement for Swan. He has shown the full extent of his abilities since being given the chance and cost me my preliminary final, after I traded him the week before and failed in my attempts to get him back. He has finished the year in incredible form, scoring 142, 138, 89 and 132 in his last four matches, and should be another Swan who belts the Suns this weekend. Mitchell had 131 on them earlier this year and loves cutting loose against the poorer sides.
Mitchell could be a future pig, and I think he will be near the top of the fantasy tree next season. Given that he missed only two weeks ago, he should be one player that avoids the carnage of this week.
Taylor Adams ($535,000): The number two target in the forwards this week. Adams has had a break-out fantasy season averaging 99.7 points per game, over 29 points higher than last year. His second half of the season has been up there with any player in the comp, posting phenomenal numbers of 135, 102, 112, 41, 113, 139, 95, 126 and 146 since his bye. That one poor score of 41 was also the week he received the red vest. Adams faces Essendon this weekend, a team he had 127 on earlier this year (the only team he managed a hundred against in the first ten rounds) and should be fantastic once again.
With Swan out, Adams may spend even more time in the guts. I'd go with Pendlebury and pick the young Pie this weekend!
Around The Grounds:
Lampshades Lads scored 2233 in round 22, resulting in me gaining 10 places to 1818th overall. Unfortunately, not being able to bring Mitchell back into my team cost my dearly, and I went down in both of my leagues. In regards to my trades for this week, I am looking at trading Mundy to McVeigh and Swan to Mitchell.
Feel free to post any questions or queries in the comments below, and I will get back to you there. Alternatively you can catch me on Twitter @David_Lampe1
Good luck to those of you in Grand Finals this week, hopefully you can claim your league and bragging rights over your mates. To everyone else, it's about pride but try and finish the year strongly and reach the highest ranking you possibly can.