2015 and Beyond
Benjo will discuss the highs and lows of 2015, while he is also on the lookout for some bargains of 2016. Who is in the prime position to win AFL Fantasy and who is leading the DT Talk Open League? Benjo takes this all on in a jam-packed year review!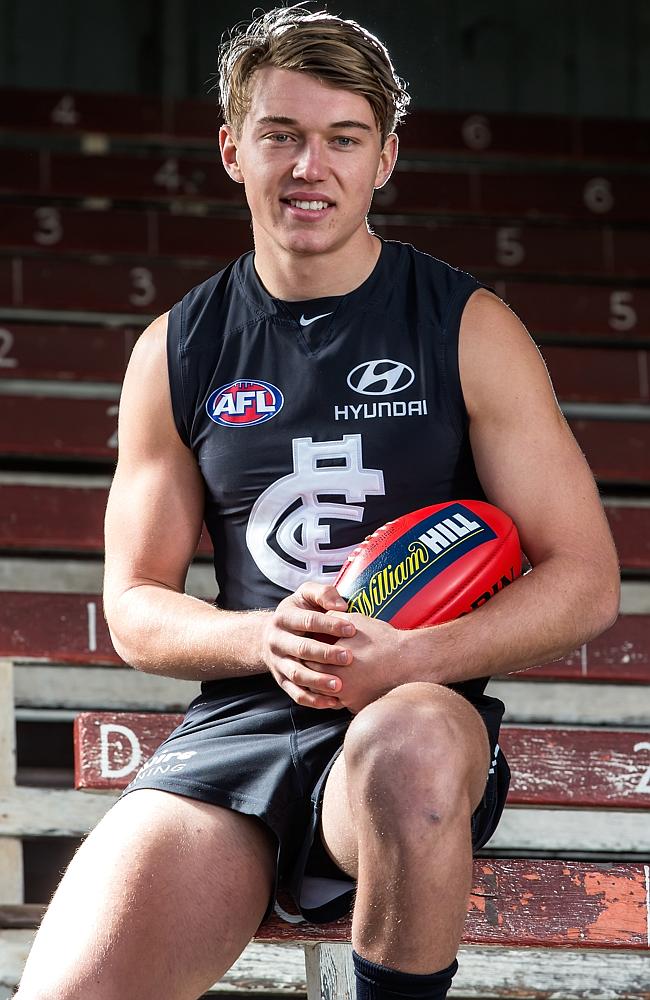 The 2015 fantasy season is almost over, with the AFL finals starting to heat up. You are probably still reading Dream Team articles, scanning over important stats, and itching to just click the 'trade' button, so make the most of it, because this it's the big grand-final week for us coaches!
It was a successful season for a minimal amount of coaches, with most coaches blowing out after the opening rounds, the carnage rounds…
Let's review the success stories of 2015, as well as the failures, and the potential bargains of next year.
Top 10 Rookie Performances
Below are the top 10 rookie performances of 2015. The rate-of-investment is the percentage of the price the player has went up in, divided by the starting price.
Aaron Vandenberg $373,000 (120,000) UP253,000 ROI+211%
It's fair to say that Vandenberg has been one of our best cash cows this year. He's averaged 74 this year, after a pre-season, full of hype, and for once this season, the hype was real. At a starting price of $120,000, he was locked away at M9, or for many of us, on our fields. He managed two 100+ scores, including a monstrous 128 against the Bulldogs. Unfortunately, he copped the red vest twice, due to injury, weighing his average down.
Kane Lambert $356,000 ($120,000) UP$236,000 ROI+197%
Lambert was thought to be a waste, sitting as M10/F8 in 20% of teams. Although in his last 6 weeks, Lambert has only dropped under 70 once! He's averaging 62, which isn't the best out of all the rookies this year.
Nick O'Brien $354,000 ($120,000) UP$234,000 ROI+195%
O'Brien is another late season bolter, and is currently rewarding the mere 3% of coaches who own him. He is averaging 71, and has collected 20+ disposals in 6 of his 9 games played with the Bombers.
Patrick Cripps $464,000 ($163,000) UP$301,000 ROI+185%
Cripps is averaging 86, and is likely to take out this year's NAB Rising Star Award. This is his first proper season of AFL, and hasn't failed to deliver. He looks like a future captain of the club.
Cripps' lowest score in 13 rounds of footy is 68. He should be the number one rookie this year, but he started at $163,000, consequently weighing his rate of investment percentage down.
Cameron Ellis Yolmen $329,000 ($120,000) UP$209,000 ROI+174%
Ellis Yolmen was a shining light in many of our starting line-ups. He averaged 68 in his 11 games played with the Crows this season, despite receiving the vest 3 times. He has a PPM (points per minute) rate of 0.86, which is extremely good for a 120k rookie.
Adam Oxley $387,000 ($142,000) UP$245,000 ROI+173%
Not having Oxley was a big problem. The Collingwood youngster recorded four 100+ scores, including a massive 136 and 126. Oxley had a massive ceiling, but was also prone to the red-vest.
Kamdyn McIntosh $325,000 ($120,000) UP$205,000 ROI+171%
He was the story of the first round. Coaches that had him on the field against Carlton were extremely lucky, while coaches who had him on the bench simply traded a playing rookie to a non-playing rookie, that's how much we needed McIntosh's score in round 1! Sadly, this was the only hundred he managed all season. He's played every game this season, and has recorded 8 scores above 70.
Adam Saad $312,000 ($120,000) UP$192,000 ROI+160%
Saad has been extremely consistent this year, despite only averaging 64. He has been a 'sight for sore eyes' in the Gold Coast team this year. He should come top 5 in the Rising Star Award.
Brendon Ah Chee $308,000 ($120,000) UP$188,000 ROI+157%
Ah Chee has been in brilliant form recently, averaging 99 in his last three games! He could be the breakout player of next year.
Harris Andrews $334,000 ($142,000) UP$192,000 ROI+135%
The 18-year old key defender has been a great addition to the Lions' side this year. Despite only averaging 52, he is going through a nice patch of form at the moment. He is significantly underrated, and could come in the top 5 for the Rising Star Award.
Under-Achievers of 2015
These players were among 2014's best, but stumbled this year. The circumstances surrounding the falls from grace of each of these players was mainly due to poor form, lack of game time, insufficient roles or injury-affected seasons.
Michael Barlow $446,000 ($627,000) DOWN $181,000
Despite averaging a respectable 91 this year, the old Barlow has been swiped from our memories. Barlow has still managed a ton in 48% of his games played this year. This however, is extremely low when compared to a player of his standard. This season has been his lowest season in scoring tons by almost 20%. He has also had some stinkers, scoring 55, 44 and 19. Can we be bold enough to select him next year?
Steve Johnson $485,000 ($613,000) DOWN $128,000
Wow. Johnson has only managed 3 tons this year. 3!
Johnson has been shifted forward this year, which has obviously affected his DT potential.
David Zaharakis $428,000 ($545,000) DOWN $127,000
Zaharakis averaged 96 last year, recording 7 scores over the 110 mark. This year however, he's only scored 1 ton, which came two weeks ago against Gold Coast.
Although Zaharakis wasn't a popular player in our starting squads this year, an average drop of just over 20 points per game is very disappointing.
Nick Malceski $360,000 ($521,000) DOWN $161,000
Malceski was a very popular SuperCoach option at the start of the year. Nick averaged 62 in his opening 4 games of the year, against Melbourne, St Kilda, Geelong and GWS, who are some of the easiest teams to score against. His average has dropped almost 30 points from last year's stellar season with the Swans.
Heritier Lumumba $238,000 ($402,000) DOWN $164,000
Lumumba was in almost everyone's starting squads.
He might've just been the biggest fail of 2015. He averaged 59 points, 59!
Under Achievers of Rounds 1-4
Kade Kolodjashnij
Kade takes out the biggest 'troll' of 2015 for me. He posted scores of 37, 66, 45 and 67 during rounds 1-4, also known as the 'carnage' rounds. People were itching to trade him out, but just couldn't do it due to the numerous amounts of forced trades. When people finally could trade KK (I traded KK ahead of round 5), he went on to average 91 from rounds 5-22*.
Worst of all, I traded him to Taylor Hunt, who decided to stop scoring.
Potential Bargains of 2016
These are some guys who are well worth keeping an eye out on during the preseason.
Tom Liberatore – $559,000
Libba is going to be cheap next year.
In case you have been living under a rock, Tom unfortunately missed the entire AFL season, by tearing his ACL in his left leg in a preseason match.
Before going down this season, he played all 22 games in 2014 and 2013, to net averages of 98.6 and 97.2 respectively.
Liberatore has so much fantasy potential, proving this when he went on a 'hot streak', recording an average of 120 during rounds 6-14 last year.
Jaeger O'Meara – $525,000
O'Meara has only played two seasons of footy, notching up an impressive average of 89.2 in his debut season with Gold Coast, and an average of 92.7 in his second year. O'Meara averaged 6.5 tackles last year, and is a force to be reckoned with.
Brad Crouch – $524,000
Crouch has only played 25 games of footy in his career, and yet 11 of those are above the hundred mark. Best of all, Crouch is only 21. Excluding Crouch's sub affected match in the first game of 2014, where he scored 50 in a quarter, he's only gone under 90 once in his past 20 matches.
Lachie Hunter – $463,000
Hunter has only played 34 games of footy. Hunter has a points per minute rate of 0.96.
In his 4 sub-affected games this year, based on PPM he would have effectively went on to average 119 if he played the whole match. His average this year sits at 74.8, but his non-vested average is 100.2, so he is at a heavily discounted price based on this in 2016.
Tom Rockliff – $623,000
Rockliff is only averaging 101.7 this year, yet has a 5 round average of 137.8! The Fantasy Pig will be very cheap next year, and should definitely be picked with confidence.
Luke Parker – $478,000
Parker was on track for a monster score in round 1, before getting stretchered off the ground. His price will be discounted, so when he gets back into form you've got to have him.
Michael Hibberd – $423,000
After averaging close to 90 last year, Hibberd hasn't backed it up with an average of 79.6. If the Bombers get back into form next year, he could be a very handy midpricer.
Kade Simpson – $426,000
Same scenario with Simpson. He averaged 92 last year with a couple of monster scores, but this year he has struggled with an average of 86. When Carlton look like they are going to improve, jump on Simpson.
In Review
Personally, I'm very happy to see the end of Dream Team for 2015. This was a season like no-other, with too much carnage to handle.
One-third of my trades have been forced this year. A year like no-other it was.
AFL Fantasy Winner…
It looks like Kym Hillman, team name of Kym's Klan, has taken out the title of best fantasy player in the world. He's a good 700 points in front of second place, and looks like he'll take 2 tickets to the AFL Grand Final this year. Well done mate!
DT TALK OPEN LEAGUE
Meanwhile, the DT Talk open league is certainly still alive, with the leading two coaches being within 20 points of each other. Congratulations to these two coaches.
Ethan LeBrocq
Francois Schmitt
How did your season go? Let me know your thoughts below, or hit me up on Twitter at @BenjoDT.