Roy's Trade Talk – Grand Finals
Forced trade anybody? Looks like we have a patchwork grand final on our hands, so make sure you get the most bang for your buck!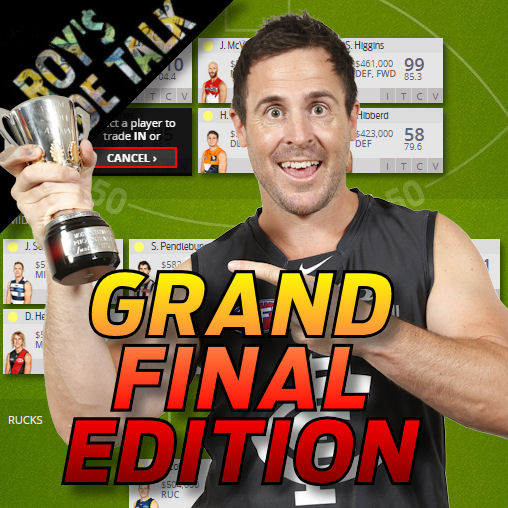 It's finally here and if you are reading this, you are likely in the Big Dance like me! Now my biggest issuse at the moment will be much like many of you, Swanny is Max Gawn this week and it is highly likely that David Mundy will be rested making two forced trades where correct selection could get you the win.
Top three Swanny Replacements (Assuming you have Rocky if you are in the GF)
Pardon the pun, but I am going like for like and Swapping Swan with a Swan based on form and fixture as Sydney face the Suns this week in what should be a Fantasy feast.
Dan Hannebery (MID, $580,000) is having a magnificent season with an average of 110 on the back of his round 22 score of 133. He now has a three round average of 112 and his recent history against the Suns is impressive with a score of 133 in their hit out earlier this season. The best this about Hanners is his high ceiling with 6 scores over 130 and the fact he is in the Brownlow mix guarantees he will have a dip.
Like Hanners, Josh Kennedy (MID, $587,000) is also in the Brownlow mix on the back of a sensational second half of the season where he has not dropped under 90 since round 10. Ironically, that game he scored just 60, which is his worst game of the season and it was against the Suns which is why he dropped down to option two. Having said that, he will be huge again this week, continuing his hot form where he has not dropped under 120 in the last three weeks for an average of 126 in that time.
Pig in waiting and Piglet Tom Mitchell (MID, $529,000) is your number one option if you are unable to trade Swan in the midfield. The young star is finally being given a consistent run at it from the coach with tagging duties and vest concerns seemingly lifted on the back of his outstanding form. Titch has a three game average of 123 with scores of 138 and 142 in his last two. In fact, he has three scores over 130 in his last four hit outs which basically makes him a must have, maybe even worthy of being handed the big C!

Click here to subscribe on iTunes.
The writing is on the wall that we will be playing the GF without reliable defender David Mundy who has played every game this season as he will likely be rested in what is a dead rubber for the selfish Dockers.
Despite not intentionally following the Swans theme, Jarrod McVeigh (DEF, $512,000) tops my list of replacements down back. He has been in sensational form with a three game average of 110 and within the last five weeks he has pumped out potential match winning scores of 112, 125 and 131. When they met earlier this year, McVeigh had a field day with 131 and should do that again without breaking a sweat.
Matthew Boyd (DEF/MID, $533,000) looked fresh on the weekend following his rest the week prior. He is an absolute gun and has a three game average of 109 on the back of his 110 against the Roos. When he met the Lions earlier this year, he pumped out 91 but I can't see him scoring less that a ton this week as he rolls the legs over and takes up to 10 uncontested marks.
Recent form may suggest that Rory Laid (DEF, $495,000) is the way to go as he is one of the form defenders of the competition with a three game average of 105 and he has not dropped under 92 in the last month. Although very impressive, especially given the Pies absolutely feasted on his upcoming opponent the Cats, I am backing in Liam Picken (DEF, $551,000). Despite only averaging 87 in his last three games and going a month without reaching triple figures, I think his score this week will reflect his impressive season average of 103. When he met the Lions earlier this year he had 104 and he should reach that mark again with ease
Twitter Time
Believe Goldstein is one who will come under consideration for a spell … Battered on Saturday … He's the key

— Mark Stevens (@Stevo7AFL) August 31, 2015
This would smash me! Easy replacement is obviously Martin.
@RoyDT not smug at all in beating @WarnieDT Dawg's in The Traders this week @CalvinDT mate you look good in green #AFLFantasy @DTTALK

— Dave (@dirksdt) August 31, 2015
Always humble mate.
@AFLFantasy @WarnieDT @RoyDT @CalvinDT JPK worth a look vs Suns? 120, 127 and 130 in last 3? Also Adams for Swan?

— Inactive (@JakePizzuto) August 31, 2015
Kennedy a great option, so is Adams… will go 120 min.
@RoyDT think its worth getting in Port players vs Freo b team? I'm potentially missing two Dockers, plus swanny already. #aflfantasy

— Rob Kearsley (@SparePartsGuru) August 31, 2015
I'm in trouble as well! But yes, Port should have a field day.
https://twitter.com/deanospilkin/status/638163414498410498
Macrae for me.
@RoyDT @WarnieDT @CalvinDT lambert2who? 503k In the mix gunston hall Boak wallis I.Smith bennel zieball bartel. Thinking a hawk v Carlton

— Tom Dimond (@tommy_eagle_87) August 31, 2015
I think Boak will be huge, Hall also very solid.
Cheers guys, with all these outs it's going to be a scramble to 18 this week!
Twitter: @RoyDT