The Weekend Wash-Up – Round 22
Did you make it into your Grand Final? No? Then you've come to the right place. Here's the final wash-up for the year.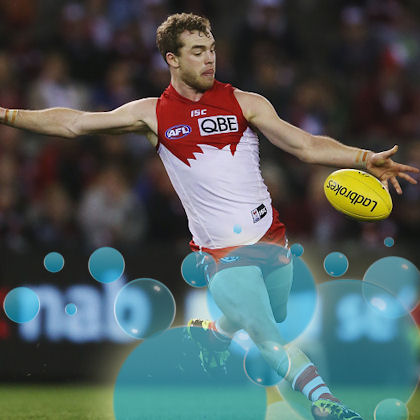 Welcome to the final wash-up for the season! 2015 has been an awesome ride. Well, not quite, but it's certainly been a ride! Did you make it into your Grand Final? No? Then you've come to the right place. For the final time in 2015, it's time for the weekend wash-up!
Legends
Menzel (93) – Whatever happened this weekend, nothing could beat what Menzel produced on Friday night. You couldn't help but smile… Legend.
Pendlebury (142) – Another lazy average of 112.3 for Pendles this year. Personally he attended the least amount of centre bounces all season this week, instead notching the triple double including 11 marks! No matter where he plays, he is fantasy gold.
Adams (135) – Adams was pumped up during pre-season, and he has delivered. Of course I had to sell him before he hit top form, but bringing him in this week was gold! Keep an eye on him next season even as a mid, I still reckon he's under priced.
Blicavs (127) – What a season he has had. If anyone picked Blicavs up even close to his $350k starting price tag, he'll be entering their personal Fantasy Hall of Fame. Legend!
Rockliff (159) – Talk about a legend! The Rock is back, and he looks as good as ever. Having hit rock bottom (I'll be here all week) mid-season, he has now produced a 5 round average of 138 if you don't mind!!! He better be owned by 100% of coaches next year…
Hunter (124) – How good! There's nothing more satisfying than taking a huge risk and seeing it pay off in spades. Since I pumped him up 4 weeks ago (Priced at $330k) he has averaged 100, and is now averaging 107 in his past 6 games. Huge. Set to be priced at an average of 80, he'll be one of my first picked in midfield next year.
Sloane (111) – As I alluded to last week, bottomed out premiums are gold. Sloane has averaged 121 in his past 3 and looks a fantastic differential heading into Grand Final week. His average of 95 is well under what he can produce. Another for the 2016 watchlist!
Mitchell (142) – Oh Tommy Mitchell. Since his debut I've had him in my team at every possible opportunity. Apart from this week. I dumped him thanks to that dodgy poke in the eye he received 2 weeks ago, and it ended up costing me a Preliminary Final. More on that later… What a jet! I'll be forking out the big bucks for him as a midfielder, he has pumped out 130+ in 3 of his last 4 games. An uber premium in the making.
Hannebery (133) – Hannebery just needs to ton up against the Suns to complete a full season averaging 110. He has gone past 130 on 6 occasions, that's huge! Incredibly, he still remains a 'differential'. Who said that 44 trades will ruin the game?!
Kennedy (130) – JPK just doesn't ease up. His storming second half of the season has continued, pumping out another lazy 130. I cannot fathom that neither him or Hannebery are owned by more than 10% of coaches. What are we all doing?!
Steven (122) – It's good to see Steven finishing on a high. Those who selected him at $500k at the start of the season have picked up one of the biggest bargains of all time. Durability, consistency and some piggish tendancies. What more could we ask for? He is still owned by just 11.6% of the comp, so much for everyone owning the same players huh? I'm getting sidetracked, Steven fits the legend bill in every sense of the word!
Losers
Swan (63) – *Sad face* If you captained him, feel free to take up refuge in my shed. As unlucky as it was, let's remember there's a new pig in the pen. Swanny will remain in our hearts, but will anyone be brave enough to pick him at an average of 110 in midfield? Let's hope we see some more oinking next season from the OG pig.
Selwood (57) – Christ almighty Joel, there's not much I can say other than what the f**k. This is a complete and utter train wreck. Forget his end of season form increase, this performance had me searching for the shotgun. It's going to take a lot to convince me to ever pick a Selwood again.
Bartel (69) – I feel as though I got caught up in the nostalgia when picking Bartel. His 41 disposal game had me weak at the knees, but his 3 round average under 80 has me weak in the stomach. This week will be our final goodbye Jimmy.
Griffen (44) – As if Griffen hasn't stunk it up enough, he inserted the final nail in the coffin by injuring himself during the penultimate Fantasy round. Now that I think about it he's probably the only player who will get blamed for getting injured. That's what comes with a bad rep! Bargain next season anyone?
Picken (79) – Taking into account that Shaw was my alternative as a Hodge replacement, I suppose this one can slide. Sometimes you only have certain quality to Picken choose from. Pick and choose from? No? I was honestly pretty chuffed with that one…
Bennell (62) – Harley clearly has his mind on an off-season trip to Colombia. No reason.
Yeo (33) – Yeo have got to me kidding me! My fine pun form put to one side, he will be a bargain next year if the Eagles can find 2 blokes above 190cm to remain fit! Just try to forget that the last 5 weeks ever happened…
Gaff (62) – Round 20 – "The next few weeks will be huge for Gaff owners. He could flop and average just over 100, or he could star and win you your league… What's it to be, Mr Gaff?" I think we have our answer.
Priddis (70) – Does anyone want to win the brownlow?! This wasn't pretty, luckily for Priddis owners he faces St Kilda next week, and Sydney's mids went to town! That's the good news. The bad news, if you were knocked out this week thanks to this score then… Well there is no good news.
*My 2 bae's*
It's nominations time! Here are your candidates, the big guns were on show…
Pendlebury – Pendles does it again, don't underestimate how good he is. He cost me my preliminary final this week! When you don't own him, you start to realise how vital he is. Get voting!
Mitchell – Forget last weeks training mishap, Mitchell has been sensational for those who backed him in after his tagging stint. 3 x 130+ scores in 4 weeks, huge!
JPK – He has had a 3 round average of 125.7, which happens to co-incide with Fantasy finals. Surely worth some votes from his owners!
Rockliff – So much yes. He must be tripping over his stubby's by now…
Hunter – Did anyone get on my Hunter tip? Seen here first! Finding these end of season nuggets is vital to your season, Hunter has been awesome. He gets my vote!
Who will get your vote?
This Game Sh*ts Me
Mitchell and Steven v Neale and 141 points (me). Surely I had wrapped up a Grand Final appearance in my main league, which considering my disastrous season would've been huge. I had to do it from 5th place, but it looked like the deed was done. What I forgot was this is 2015, this is the year I learned that sh*t happens. In this case, it was Tom Mitchell deciding to go beast mode all over my ass. This left me requiring 51 points from Neale in the last half. I'm sure you see where this is going… I guess the picture kind of gave it away, but let's continue the suspense anyway. His goal 3 minutes from time had me down by 1 point. Of course! All he does is bloody handball, but he couldn't find one in the final 5 minutes of play! Devastating…  This game sh*ts me guys.
The Other Bits and Pieces
It honestly was a perfect summary of my year. I ended up with 2,335 but I wasn't about to go and take another picture of our league scores. On a positive note, my rank continues to rise! I still haven't finished outside the top 2000, which is a record I'm proud of. The above rank was as close as I got to cracking the 1k mark, I may have ended up ranked around 1500 but let's not get bogged down in the minor details.
On a positive note, there are some cracking bargains which have me dying for 2016 to commence! Just get rid of the vest and we'll be laughing…
Thanks guys! As always let me know how you fared in the comments, I'll always read through your bad luck stories. They never fail to entertain! I hope my whinging has comforted you throughout the season, along with a few end of season nuggets. It's been fun… Good luck in your Grand Finals!
*When people try to congratulate me on a good season*