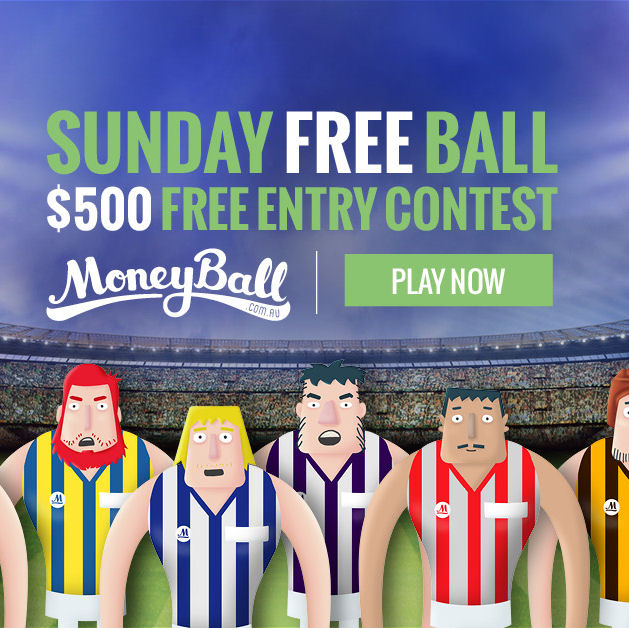 This week for round 22 the Sunday Free ball contest is back with $500 up for grabs. But the bonus is every member can get free entry in both the AFL and NRL free ball.
1. Signing-up to Moneyball will give new members a FREE entry.
2. Refer a friend to Moneyball Via the New 'Friends Centre' Once your friend completes Sign-up both the referring member & mate will get a Free entry.
3. Enter any Guaranteed AFL contest. 
To gain access to the AFL Sunday Free Ball members will need to enter any of the Guaranteed AFL contests. For every entry you put into a Guaranteed contest you will receive a FREE entry into the free ball. The button will be grey'd out and un-clickable unless you do this. This means once a Guaranteed contest has been entered this button will turn green and open up. Too easy!
Every entry in a guaranteed contest gets you an entry in the Sunday Free Ball.
For example – 1x Guaranteed entry will get you 1x Free Ball entry, 2x Guaranteed entry will get you 2x Free Ball entry, and so on.
Check to see if the Free Ball button is green… if it is, you can redeem your free entry – check it now.
BREAKING NEWS: EPL games are now available as contests for Moneyball users. These kicked off on the weekend and were well supported. Have a punt on some of these games by clicking here.
NEW FRIENDS FEATURE: Add both Calvin and Warnie as your friends when you click on 'Friends' at the top of the page.
The new
Friends
feature allows members to invite their
friends
to join their very own
Friends
list. This will make inviting your mates to contests super easy!
– You can invite your mates to your
friends
list just by searching their username and they will be sent a request for approval.
– Once they approve your request. You will directly be able to invite them to contests you have created or you want them to join.
– The
friends
list will also display on the line-up confirmation page so you can also invite your mates to take you on in larger contests.
Guaranteed  (all $10 Entry)
 AFL $1.5k Fantastic Friday
 AFL $2K Saturday Slam
AFL $1.5K Sunday Funday
Other Big Contests (all $20 Entry)
AFL $1K Friday Fever
AFL $750 Super Saturday
AFL $1K Sunday Lobster
POINT SCORING
Goal 6 pts
Behind 1 pt
Kick 3 pts
Handball 2 pts
Mark 4 pts
Tackle 4 pts
Clanger -3 pts
Free For 3 pts
Free Against -3 pts
Hitout 1 pt
PICKING YOUR TEAM
Prices are a little different to what we are used to in AFL Fantasy. In your salary cap of $60,000 you need to choose 9 players (2 forwards, 1 ruck, 4 midfielders, 2 defenders).  Be smart with picking your team as there are plenty of bargains to help you fill your squad at an average of $6,667.
Sign up and get all registered to take on us in some different games. Just search up DT Talk and you will find a couple of different options each week.
We will add more contests when others fill up.
* 18+ only and please gamble responsibly.