The Friday Scramble: Round 22
Prelim final week always throws up some issues, and yet again we have two stars out for this week and they are in a heap of teams. With must win games this weekend, we all need to be scrambling!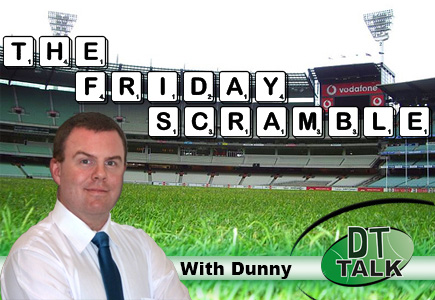 Prelim final week, what a great time of year we have. We have all gotten our teams to be full premium and we are sitting back enjoying the spoils of having a great team. Snap Out Of It! As if that ever happens. What a bloody rubbish week we have this week. It all started way back last Friday night when we saw Luke Hodge attempt to snap Wingard around the point post. Whether you think he should be rubbed out or not, I don't care, all I know is that he is out of your fantasy teams this and next week. Just when we thought that was terrible and we had started to plan around him we find out on Wednesday that Nat Fyfe will miss the remainder of the DT season.
Now, we all keep telling you guys during the year that in RDT and SC you need to save a few trades for the finals to deal with some sort of carnage.  This week is the perfect example of that. Hopefully you have at least two back or some really good cover.
Trading Strategies
Obviously in AFL Fantasy we have two trades to use this week, and you are highly likely to need both of them given the ownership percentages of Fyfe and Hodge. If you have more issues then I would be trading the two most expensive guys in the lines you don't have good cover so that you can get the best players you can afford.
However, the difficulty really comes to the fore in the limited trade forms of the game (RDT and SC). So there are a couple of boats you could be in here.  I am facing both of these scenarios, one in each of the two different limited trade forms of the game
Two Trades Left. Simple here, if you have two trades and you have these guys you trade… right? Well, this is going to be dependent on whether or not have good bench cover.  If you have someone that is really good that you can trust then you could risk it and only trade one of them out, particularly if you are the red hot favorite and are an absolute lock to win. In Supercoach if your cover plays on Friday night then you could try and loophole them on the bench to see how they go. However, if you don't have a strong bench (highly likely) and the two trades left I would be using them to bring in the two best you can. You need to win, so don't muck around.
One Trade Left. Firstly I hope that you have some bench cover, or it will be donut time if you have both these guys. But in this case you will need to trade. But which one? This will obviously be dependent on your cover is.  If you have cover on both or cover you can swing around, my advice would be to trade out the most expensive, so in RDT it is Hodge and in SC it is Fyfe.
In Supercoach with the rolling lockout I would stress that you should, where you can, hold your trade until the last chance you have over the weekend. Something may pop up in the late outs that could change everything for your matchup, whether it be your opponent losing someone they don't have cover for or it could be that the guy you want to bring in is a late out themselves. In that form of the game it can pay to wait.
Selection Table
Well we already had some carnage, so should we have been surprised by what we were dished up by the team sheets?  We should always be surprised, we never know what the hell will happen.  Thankfully this week it isn't too bad.
Firstly on a non DT related note it is great to see Daniel Menzel back for the Cats and I wish him all the best on his return.
Probably the only big names (apart from the two jokers we spoke about earlier here) that are out are Marc Murphy, Jack Redden and Trent Cotchin. Of these guys Cotchin is probably going to cause the most issues for your sides.  Guys that you shouldn't still have in your teams but may have would include Lumumba and Saad. If you still have them, then they are also missing and their prices are sufficiently low that you won't be able to bring too much in for them.
On the good side of the ledger we have the returns of Boyd, Picken, Amon, Armitage and potentially Franklin and Mitchell. These last two guys were added to the Swans squad with no one left out just yet, so keep an eye on that this afternoon.
Things To Remember
Don't Hold Back – No point saving your best til last…. This is Last! Don't win this week and your best may never be seen.
Try something new perhaps – What I mean here is, If your matchup looks tight and you are the underdog then maybe go with someone a little left field that will either make you or break you. At least you won't go down wondering. However, I stress, this is only to be used if you think you can't win with your current squad.
Captain Critical – If there was ever a week to nail your captain choice, this is it. As always log in and see what Calvin has had to say. Once again, you may want to be a little unique with your captain which could help get you over the line in your game.
Beware if you reverse trades – This is a no brainer all the time, but even more critical in a final. If you, for any reason, decide to reverse your trades prior to final lockout and then make a different trade, check, double check, triple check and then just bloody check again how your team looks before final lockout. The last thing you want is to get caught out here.
Well there you have it, about all I can give you this week. All the best of luck for the Prelim Finals (or Grand Finals if your league is doing that this week). Hopefully you are all back again next week looking for some thoughts heading into the final round of the season.  And remember, if you are knocked out this week, I would say, don't give up, keep going and finish the season off.
I also want to say a big thank you to all of you who are in the comments here each week helping each other out.  Given the time and day of the week it is published I can't always jump on (due to work commitments)  and reply to the comments, but when I check later on a Friday I am always really pleased to see that you have all been helping each other out.
I am sure I don't need to say it but will anyway, stay glued to twitter and facebook today for any late news of team changes and also or the final Sunday teams as it is critical that you have all the information you can get your hands on this week.  Catch you all on twitter and then back here next week.  @pkd73