Lampe's Price Watch – Prelimary Final's
Lampe takes a look at the best options to bring in for the last two rounds of the season in Price Watch.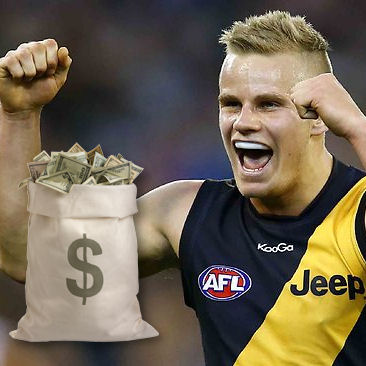 What carnage Round 21 hit us with. In one of the hardest hitting weeks of the year, popular fantasy guns such as Picken, Boyd, Mitchell, Parker, Armitage and Ziebell were all outs.
There's already been a few massive omissions this week and the teams haven't even landed yet! Hodge's suspension and Fyfe's injury having given a lot of coaches one, if not two forced trades, with the primary question being what to do with them?
Here is this weeks Price Watch, with a particular emphasis on recent form and players final two opponents.
Defenders:
Buy:
Bachar Houli ($498,000): I said to someone a few weeks ago that I wouldn't get Houli as I didn't have complete confidence in him heading into finals. I still don't have 100% trust but given Hodge's omission, injury concerns to the big guns and his exceptional form, Houli should be seriously looked at. Bachar scored a massive 121 last weekend, bringing his three and five round averages to 108.7 and 105.8 respectively. Very impressive numbers. A downgrade from Hodge will net you a cool 82k, especially handy at this time of year, and could really help in securing an elite-premium with your second trade. My major concern is that Houli only managed 64 and 56 against the Bombers and North earlier this year (his next two opponents) but he must be odds on to be markedly better than that second time around.
He is one of the in-form fantasy defenders of the competition and is still fairly unique, with just over 10% ownership. With a break-even of 64, he can easily be side-ways traded if things go disastrously awry (which they really shouldn't).
Rory Laird ($491,000): Another fantastic option to consider when trading Hodge, or simply completing your backline. Laird has been in good form posting two straight hundreds and has a five round average of 97.6. He has truly broken out in the second half of the season, scoring 7 hundreds in his last 11 matches, compared to none in his first 8. He faces West Coast and Geelong in the next two rounds, having already notched 107 in Adelaide's loss to West Coast earlier this year.
If you are looking to save cash or already have Boyd, Picken and Mundy, Laird is really worth considering. He is only in 4.41% of teams, so if he comes up with the goods it will pay off big time.
*Once again*- Jarrad McVeigh ($506,000) is an outstanding option. He has three big hundreds in his last four matches (125, 131, 112) and posted 129 and 131 in his last outings against the Saints and Suns.
50/50:
Matt Rosa ($346,000): If you desperately need to save cash, upgrade an underperforming rookie elsewhere on your field, or have limited funds at your disposal, Rosa could be a handy plug option. His year has been seriously interrupted through injury, playing only one game in three months throughout the middle of the season. This has significantly affected his output, averaging just 72 points per game, compared to four years in his career where he has averaged over 85 (including two which were 90+). Rosa has been in reasonable form scoring 78 and 91 in his last two, although he did wear green before that, scoring just 18 and resulting in his drastically diminished price. He scored 92 earlier in the season against the Crows and 109 in his 2014 encounter against the Saints.
Rosa is definitely not a first choice defender, but he has the ability to go 85+ if played in a fantasy friendly role.
Avoid/Trade Out:
Kade Simpson ($425,000): I'm going to put my hand up and say that I may have gotten this one wrong (At least I followed my own advice and traded him in as well). To be fair, he hasn't been dreadful but he has only had 74 and 65 in his last two matches and now has ten consecutive weeks without a hundred. Simpson still has the potential to bounce back against GWS this week, as long as he doesn't cop a tag, but a luxury upgrade may give you the necessary edge heading into a preliminary final.
Sorry if you followed my advice and got Simpson, and even though he hasn't been awful, it's not what's expected from a player of his calibre. Hopefully he can come home strong, or you decide to get rid of him at the right time.
*Hopefully* You didn't miss the boat and traded out Elliot Yeo ($376,000) last week (I know a lot of people wanted to but couldn't, due to injuries). After 31 points and dropping 41k, it is now harder to upgrade him to a top defender, but it is still worth the trade if you can manage it.
Midfielders:
Buy:
Andrew Gaff ($554,000): What a phenomenal break-out year Gaff is having. He has broken free of the hefty attention he receives most weeks and has averaged just under 106 fantasy points per game. Gaff has registered 14 hundreds from his 20 matches, including an incredible patch of 10 consecutive tons between rounds 8-17. He faces the Crows this week, a team he demolished for a season high 152 earlier this year, followed by the Saints whom he had 115 against in round 8.
If you're looking for a midfield option whose only a reasonably small upgrade from Fyfe (38k) and has gone 110+ on ten occasions this year (including on his next two opponents), then Gaff is your man.
Brandon Ellis ($531,000): Ellis is the kind of player that I love to have a couple of in my midfield. He doesn't always go huge, but much like Priddis, he is the consistent, bankable type during tough times. Ellis has only gone under 80 once this year (69 against the Crows) and is averaging just under 104 points per game. He faces the depleted Bombers this week and must be in line for another big score, having posted 108, 123, 104 and 143 in his last four against them. He encounters the Roos the following week, and with the Bastinac tag likely to go to Cotchin, Deledio or Martin, he should be left free to roam the wings once again.
If you're concerned about the output of other premiums over the final rounds, Ellis is a safer option to ponder.
Avoid/Trade Out:
Marc Murphy ($541,000) and Nat Fyfe ($516,000) are the two obvious ones that must be traded. It's a shame, as both could have been in line for strong finishes to the season. Brad Ebert ($486,000) is one that I still believe you can do better than. I'm probably a bit harsh on him due to the fact he's in my team and I haven't been happy with his recent returns, but two hundreds in his last nine matches is less then ideal (do be aware he plays Gold Coast this week and if he is ever going to come good it MAY be now).
Rucks:
Buy:
Here is my prediction of the top 3 scorers this week.
1) Todd Goldstein ($640,000)– He should absolutely belt Campbell (if the Bulldogs big man gets up from his cork) but should be very good regardless.
2) Stefan Martin ($629,000)- The in-form ruckmen of the comp, even accounting for how good Goldy has been. He plays Hawthorn this week, whose relative weakness is probably their rucks, and he should be good once again.
3) Aaron Sandilands- Sandi should smash Melbourne this week. Maxy Gawn had been keeping ruckmen to low scores before the last two matches, but it should be three straight hundreds against the Demon's Giant.
50/50:
Zac Smith ($370,000): With Nicholls out for the remainder of the season, Smith should be a solid option given his low price and the fact he is now the lone ruckmen. He is a player with massive upside but hasn't been able to capitalize on his prodigious talent in his first five years at senior level. He scored 97 in his first match back last week, having posted 76 and 110 before that, three of his highest four totals of the year.
You wouldn't get Smith unless you're strapped for dollars, but you could do a lot worse given he is now the lone ruckmen and will be looking to impress while he can. I'm backing him in to go 80+ in his last two.
Forwards:
Buy:
As I have mentioned the usual culprits at length this year (players such as Bartel, Mitchell, Dahlhaus, Riewoldt and Adams) and almost all good teams have Swan, Gray and Martin, here is a few 50/50's to ponder this week.
Aaron Hall ($465,000): Where has this guy come from!? Despite my reservations (which aren't completely gone) he can't be denied any longer. Hall has been in sublime touch, chalking up 121, 114, 112 and 111 in his last four matches. This has led to a five round average of 109.2, making him the fourth highest averaging forward since round 17. It's more of a gut feel, but I probably still wouldn't acquire Hall given what's at stake in the next two rounds. I am however, becoming more tempted with each passing day…
Hall may be finally starting to live up to his obvious talent and his fantasy results are showing this. I am personally too risk averse to trade him in, particularly during finals, but there must be many coaches who are strongly considering it.
Dayne Zorko ($506,000): Other than one poor score of 59 in round 18, it may come as a shock to see how good Dayne Zorko has actually been. Since round 13, he has posted scores of 97, 108, 125, 124, 82, 59, 119, 91 and 121. Supreme numbers. Zorko looked like a man on a mission last weekend, coming out with a fire in his belly after the rumours of tension between him and Rockliff. None of us really knows how true this is, but it did seem like he had a very obvious point to prove. Do be aware that he has a tough run home against the Hawks and Doggies, but as they generally don't use out and out taggers, his strong form should continue.
Zorko is a unique option, with just 6.85% ownership and has flown under the radar this season. The knock on his fantasy game has always been his consistency, but the odd stinker seems to be becoming more of a rare occurrence.
Avoid:
Jack Crisp ($470,000): Unfortunately the young Collingwood gun has plummeted back down to Earth, shortly after I pumped him up (Thanks for that Jack…). Crisp has now played five straight games without reaching the ton and his drop in form looks to be highly correlated with Collingwood's fortunes. I still rate his fantasy game but if you have the luxury of a mini-upgrade, it may be worthwhile trying to squeeze out every last point you can.
Crisp has a reasonable run home against the Cats and Dons, but his five round average of just under 79 is a clear indication of the rough patch he is in. I would upgrade him to one of the uber-premium forwards.
Around The Grounds:
Like many teams, Lampshade's Lads were hit hard by the injury chaos of last week. As such, I had to play a few rookies and scored 2205. Not terrible, but less than hoped for given how late it is in the season. Consequently, I dropped 213 places to 1828th overall. I'm looking at trading Hodge to either McVeigh, Houli, Laird or Enright (Sorry for the lack of specifics but I'm having a huge internal debate about what to do myself). With my second trade, I'm looking at upgrading Kane Lambert to Tom Mitchell (as long as he's named), finally completing my side.
If you have any comments, questions or queries I will be more than happy to respond to you in the section below, or on Twitter @David_Lampe1
Good luck to all those in Preliminary finals this weekend, hopefully you get through to the Granny and all coaches keep pushing for their highest ever season ending ranking.