Roy's Trade Talk – Preliminary Finals
Prelim Finals time and you know what they say… These games are often better than the big dance, so it is vital that you squeeze every possible point into your team this week.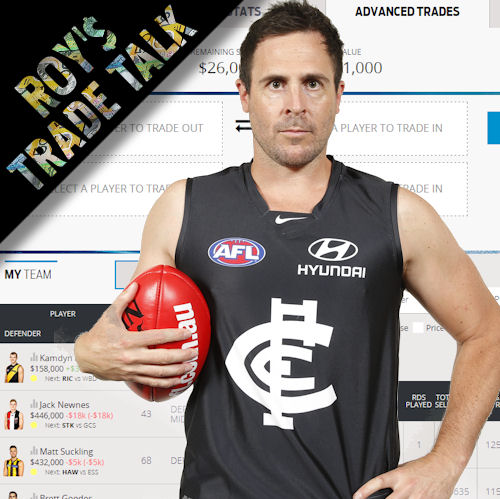 Prelim Finals time and you know what they say… These games are often better than the big dance, so it is vital that you squeeze every possible point into your team this week. Here are some blokes that I think are worthy of consideration to maximise your output and get you through to the GF.
Recent History vs Opp:
I love the look of Andrew Gaff (MID, $554,000) this week, especially due to fact he is under-priced after playing his only poor game for the year a couple of weeks ago against the Dockers. He bounced back on the weekend with 35 touches and 121 and looms a perfect inclusion this week. When the Eagles me the Crows earlier this year he absolutely smashed them 36 touches and three goals for 152. The Crows have been leaking plenty of points and Gaff has only dropped under 100 on two occasions in his last 13 games and one of those scores was 97.
Last time Patrick Dangerfield (MID, $582,000) played the Eagles he was outstanding with 36 possessions, six marks and eight tackles for 142 despite having a tooth knocked out earlier in the game. He is also carrying good form into the game with a five game average of 112 and he has scores 118 or over in three of his last five. He will be very good this week.
Wiley veteran Corey Enright (DEF, $478,000) has thrown himself into contention based on both his recent form, and more impressively his form against the Pies. Enright enters Preliminary Finals week with a three game average of 103 with scores of 94, 105 and 110. What I like the most is about his prospects was his compete domination of the Pies in round 6 where he had 29 touches, 12 marks and 11 tackles for 150. Combine this with the fact that Tigers defenders racked up big time vs the Pies last week eg. Houli 121, Hunt, 118 and Rance 105. Others form players to consider in this price range are Houli, McVeigh, Laird and Gilbert.
Update post Hodge suspension: Straight swap order of inclusion: Boyd, Mundy, Picken. The above guys are good if you need some cash.
Ruck Target
As much as I love Goldy (and he will be huge this week as well), if you are bringing in a ruck this week, it has to be Stefan Martin (RUC, $629,000). With the Matthew Leuenberger hand brake now gone, Martin is back to his dominant best, in fact, his career best form, even by his lofty standards. Over the last three weeks he is averaging 138 and has scores of 134, 138, 124 and 151 in his last four. A huge incentive in selecting Martin is his next two opponents in the Hawks and Dogs who leak plenty of points in the ruck department. He will be huge.
Broken Record
If you need a cheapish forward, I have to talk about Aaron Hall (FWD, $465,000) for the third week in a row. He is still getting it done with a three game average of 116 and his last month of footy rivals the best in the game with scores of 111, 112, 114 and 121. He has the Power and Swans in the last two games of the season with the Port game at Metricon (121 and 111 most recent home games) the Swans leak plenty of points to opposition midfielders. He has embraced the increased opportunities in the midfielder and remains a viable option.
Must Have
If you are one of the 75% of coaches who have completely missed the boat with Tom Rockliff (MID, $585,000) you need to bite the bullet and get it done. He is well and truly back to is best and is once again the safest 'Got to captain' in the business on the back of 124, 123, 143 and 140 in his last four. This week he plays down at Aurora and he will have an absolute field day, especially given the Hawks who will likely rest a few key personnel this week.

Click here to subscribe on iTunes.
Twitter Time
@RoyDT @DTTALK #RTT Yeo out for Heater/Boyd/Picken ?

— DK 🇦🇺 (@SparringDK) August 24, 2015
I like them all, but it's Boyd for me
@RoyDT @DTTALK Hodge is a goner, who should join him – Barlow or Ebert?

— Punchy (@MpPunchy) August 24, 2015
Very tough call… Barlow was solid on the weekend, but both could go either way. Barlow did attend a few more centre bounces which was promising.
@RoyDT @DTTALK looking for a POD in my backline what do you think of Roberton? should be back this week??

— Adriano Procida (@vizzini111) August 24, 2015
I wouldn't chase one that hard. I would just go with Enright.
https://twitter.com/RMonery/status/635714507482996736
I know I am about 160 and sliding!
If Kruz plays, keep him and trade Malceski. Kruz was apparently pretty sore at the end of the game.
@RoyDT @DTTALK Houli in for Yeo?

— Ben Walter (@BJ_Lad) August 24, 2015
Great trade! I like him, Enright and Laird in that price bracket
https://twitter.com/BenCoombes7/status/635715076356358144
If you are in the Prelim, get Jacobs now.
@RoyDT i bought in Hall for and benched Mitchell. Who starts this week?

— The Frost (@xcircax) August 24, 2015
Mitchell no guarantee to play, but I would consider throwing him in the middle and playing both.
@RoyDT @DTTALK Lambert to Zaharkis or wait till next week and get a Uber-Premo?

— Chris (@hedge59) August 24, 2015
I'd prefer Hall, but get the best you can this week. Only two weeks left.
https://twitter.com/GusHarding30/status/635716030682148864
Bartel for me, but if you are the underdog and chasing a big score for this week's prelim, Gunston could go nuts.
Lambert to stevie J or Whitfield to prid? #RTT @RoyDT

— Ariel Zelwer (@AZelwer) August 24, 2015
I would be getting rid of Lambert, not sure Stevie would be the best option though. Having said that, Pies leaking plenty of points so should be fine.
@RoyDT @DTTALK who's the better option – Gilbert or Hunter? (Higgins the DEF/FWD swingman) #RTT

— Hop (@bhopsaints) August 24, 2015
If Gilbert keeps playing mid, he looks a safe 90.
@WarnieDT @CalvinDT @RoyDT Who will be the highest scorer rd 23? Worth trading that person in now or wait until next week? #AFLFantasy

— John Freed (@John__Freed) August 24, 2015
Rocky at the pig sty in Launceston
Good Luck in the Prelims
Feel free to hit me up on Twitter: @RoyDT