The Weekend Wash-Up – Round 21
Matt is coming good at the business end of the season… but that doesn't make his wash-up any less entertaining!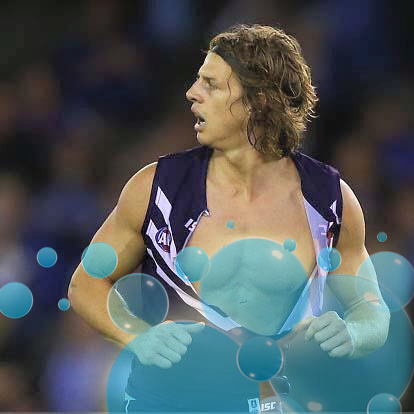 The General is back in town, and that can only mean one thing… Panic! After what has been an awesome season for the wash-up and a less successful one for my squad, I've turned the corner. It took until Round 20, but consecutive 2400+ scores isn't going to comfort anybody other than myself. However as we head into the penultimate round of the season, there's an awful lot to consider (For those who's teams are still alive that is). It's time for the weekend wash-up!
Legends
Ellis (140) – Incredible. I literally quoted last week that he hasn't scored over 140 for 2 years, and he goes and does it… That is the markings of a legend. His average of 104 is extremely solid, if he had played 5 years ago it would be considered spectacular! He's a Dream Teamer for years to come…
Rockliff (140) – When things get serious, the pigs step up their game. Rocky and Swanny were fantastic again this week, but the King has re-taken his place as perma captain in our sides with ANOTHER 140. There's no more need for captaincy gambles people! Rocky and Ablett are going to make picking our sides so much easier next year…
D.Martin (126) – Just the standard Martin procedure. I won't be selecting him as a mid as I don't plan of having heart problems before the age of 30, but the scores he is capable of pumping out makes him fun to own, even if he's a popular pick!
Sloane (117) – BEAST! I have had my doubts with Sloane over the years, but he has just earned a spot in my side for next season. Don't hold grudges people, he is a bargain!
Sidebottom (131) – He has been mostly miserable for my team, but I've gotta give him credit for stepping up when it counts the most. 2 more nice tons and I can almost forgive him. Would I recommend him next year? Unless you love roller coasters, not a chance. The tags are coming…
Shaw (119) – Ah, this is why we kept picking him in our sides over the years. I've finally brought him in, so let's pray there's no Heater madness to follow in the next 2 weeks… He was awesome AGAIN this week, taking his average ever closer to 100. What. A. Season. Heath Shaw averaging 98 summarises Fantasy in 2015.
Kennedy (127) – My theme this week is highlighting the need to pick up fallen premiums throughout the season. Finishing your team is so much easier when you are able to separate the value from the over performers. One thing we learn every year is that players scores usually average out. By this I mean that guys like Steven (Who were incredible picks early) may have averaged 117 for the first 15 rounds and been priced at $640k, however he has since averaged 94 in his last 5 and is plummeting towards $500k. Anyway, at his bye JPK was priced at $516k averaging 96.8. Since then he has averaged a monstrous 117, returning to his standard yearly average of 106. What a jet.
Motlop (139) – Motlop showed promise early in the season, but fell away dramatically. His 5 round average of 104 has culminated in a monster score this week, he certainly has the potential to win you (Or lose you) a league final. Massive gamble.
Priddis (124) – He couldn't do it again, could he? Thankfully Fyfe has been cleared, it was a high free kick and nothing more. However Priddis is making a late season charge for the brownlow. Pridda has closed down a 15 vote gap in Fox Footy's player of the season to just 4, and has been brilliant again this season. Mr reliable both in Fantasy and on the field.
Johnson (117) – If you don't mind not sleeping at night, then Johnson could be a perfect differential. He has lifted recently, averaging 107 in his last 3. Priced at $470k and knowing what he can deliver makes him a sumptuous prospect, however he is playing predominantly as a forward… Don't do it. There's so much quality elsewhere in the forward line this season.
Guthrie (115) – Did anyone follow this form line last week? I'm still not sure if it's a role change or just a temporary spike in form, but Guthrie continues to pump out massive scores. At 500k his value is now questionable, but his form (107 avg last 5, 119 last 3) is certainly not.
Houli (121) – I'm not sure if anyone actually owns Bachar, but good on him. Ever since that horror kick in he has averaged a massive 106, anyone who can produce numbers like that in defence during finals deserves some credit. $500k though? Don't go near that…
Tippet (135) – Mmmmmmmm. Nope.
McKernan (135) – This could've been handy 10 weeks ago Shaun. For some weird reason he is still owned by 13% of coaches. F7? I hope so…
Sandilands (119) – Sandi is winding back the clock at the moment. His 5 round average of 100 would require our immediate attention if not for the 2 big guns in the ruck.
Kruezer (110) – There were 7 tons by rucks this week! Remember when we said they were all trash? I have to mention Kruze, his performances have slid well beneath my radar. Having been priced at $240k, he has averaged 86 and gained $200k. Why oh why did he have to get injured at the start of the season!
Vickery (138) –
Hall (121) – Sneaky! Hall has a 5 round average of 109 (Yes don't rub your eyes) and is still priced at $465k. Trust me, we are going to learn to miss the vest at the end of the season, it has gifted us some bargains over the years! At the start of the season? Not so much…
Kennedy (157) – When Kennedy plays the bulldogs, you put him in your moneyball team. Lesson learnt. Legend!
S.Martin (151) – I always like to save the best for last. This is a special one for me. Not only has he scored 54 more points than Goldstein since I traded him in, that $100k I made has finished my team! My love for this man grows every week. I'll say it again, WHERE ARE THE HATERS? Martin v Goldstein could decide some match-ups over the next couple of weeks, it certainly did this week.
*Stef blocking out the haters*
Losers
Not many losers this week, thank god. I love having 22 premiums…
Boyd (-) – God damn it. I thought the vest he recieved a few weeks ago may have been his rest, but hindsight suggests that was always wishful thinking. Kolodjashnij posted a respectable 64 for me, you now owe us Boydy… Big time.
Mitchell (-) – Talk about a headache! The problem this week wasn't so much under-performing premiums, but premiums that were missing when we needed them the most! I had completely missed the Mitchell news until Friday afternoon, trust me that was quite the shock. Eye injuries are never straight forward, and knowing Longmire I had to get rid of him. From what I hear he is no guarantee for this week, his selection news could be a game changer for some finals.
Hodge (73) – Ok then, thanks for that… Just what we needed Hodgey. He has been suspended for 2 weeks meaning you have to trade him. If you have luxury trades available this week it shouldn't be an issue, but if you don't… Nightmare.
Armitage (-) – Yikes… Armitage's fall from fame hit rock bottom this week as he missed with a 'shoulder' injury. I suspect it may have been a visit from 'The General' though… If he's named this week, I think you hold him. Those Saints are suffering from burnout though!
Picken (-) – Another visit from 'The General' one would suspect. He has been so good that we can excuse him this week, as long as he returns that is…
Shiels (57) – Oh… Yeah, about this one. I hope nobody listened. May have forgotten that when things get tough, Clarkson often uses Shiels as their main tagger. He did a good job of slowing down Robbie Gray, whilst destroying his own score at the same time! I'd get rid of him considering the rotation danger over the next 2 weeks.
Cotchin (58) – The fall from grace is real. Surely nobody owns him, but this is a personal stringer. I backed him in during pre-season, surely a midfielder and a captain could get more than 13 touches in such a comfortable win. What is he doing?!
Murphy (68) – This was hard to swallow for those that had brought him in during the season. He has been fantastic and was on track for another 110+ score before dislocating his shoulder. Ablett v2.0. Hopefully he gets back in time for next season…
Simpson (65) – This is the last mention Simpson will be getting from me, I'm just glad to be rid of his disease. He has been utterly horrible from a Fantasy perspective this season.
Lumumba (8) – He's priced at $238k, bargain I reckon. In fact, I'm going to put it out there. Potential bargain next season at an average of 57? That's all I'm sayin…

Click here to subscribe on iTunes.
Yeo (31) – I'd like to think those who read the wash-up every week got a leg up here! His move back to defence was always going to kill his scoring potential, although 31 would've been an even tougher pill to swallow. I have him firmly on my watchlist for next season, when he should get a move back into the mids. In this case (One of very few), don't hate the player, hate the game.
The Mark Stevens
Having little reason to follow the Friday night games this season has meant Mark Stevens has avoided too much scrutiny, until his beloved Bulldogs played my Eagles that is. I thought journalists were meant to be impartial, but I suppose some occasional bias has to be expected. Mark however doesn't feel that is enough.  All I will say it was an awesome first half of football on Sunday, and this is what he had to say…
FYI, the free kick count ended up being 20-15… Hardly a blowout. But of course, umps give WA teams a free ride don't they! Oh I almost forgot,  when they travel over east there is NEVER any dodgy home state decisions! Always blame the west… Either way the umpires had nothing to do with that game. Keep on producing your fine work Mark, the carnival continues… (Boom)
Nominations time… Here is a chance to get behind those blokes who have saved your team mid-season!
Ellis – Those who have held the faith were rewarded when it counts the most. In any other week he would get my vote… Gun.
S.Martin – This isn't any other week though. Stefan you are a hero! He is a point scoring machine.
Hall – Anyone jump on the Hall train? If so you've been handsomely rewarded!
Kruezer – Here's a belated chance for those who picked up Kruezer to show their respects, he has been fantastic!
J.P.Kennedy – Another chance to vote for a bloke who has picked up his game mid-season. He has averaged 117 since his bye, having been priced at $510k… What a pick-up he was!
Who will get your vote?
This Game Sh*ts Me
It has taken me 19 rounds to get my act together, but things are finally clicking. Unfortunately, that's not how Fantasy works. I now have to spend the next 6 months on my life pondering the 'ifs' and buts' of my season, whilst wasting more paper lighting printouts of Lumumba's head on fire. I'm not quite sure how I'm going to do it… It's a long off-season in AFL, and that's why this game sh*ts me.
The Other Bits and Pieces
*Never give up*
Honestly, if I had showed you my team a month ago you'd never believe what it looks like now. This season has taught me that mid-season trades are absolutely vital. I missed the Montagna bargain bus at $540k, and have regretted it ever since. After that moment I took the initiative to find value wherever it presented itself, at the very least to make sure I completed my team. Macrae for $530k has been a god for me. I got on Selwood at the perfect time, just before his 140 when he was lagging around $460k. Beefing up my defence was comforting, knowing I didn't have to put up with guys like Yeo trashing my rounds. Getting Hunter at $330k was a steal, god bless the vest. Lambert has been a saviour, not only making $200k, but also scoring well on my ground. Getting Sloane last week for $465k was the cherry on top.
Picking up these bargains has catapulted my squad forward, even though I only have 4 of the top 15 averaging players this season. To be fair, holding Lewis at $670k was one of my biggest mistakes anyway.
However my trade of the season (And probably my Fantasy 'career') was dropping Goldstein to Martin a few weeks ago. The trade made me $100k, and I was in desperate need of cash. No matter what it gave me though, I was getting rid of clearly my best player. He did go onto score 150 the next week, but Martin has been HUGE. Sometimes this game requires thinking outside the box, and some massive kahunas. So, even though its been a poor season overall, the lessons are clear. We have 44 trades, you have to use them to maximum effect. That means no one is safe, and value is paramount. Keep it in mind! I can always downgrade a bench spot to upgrade Jacobs to Goldstein so I can sleep easy if I make it to the grand final.
What did I manage this week? 2401! This score has bumped into the top 2k, having been ranked outside of the top 5000 just 2 weeks ago. It's a nice consolation, but more importantly I'm storming towards a few league trophies with my completed side!!! I hope your seasons have taken a turn for the better as well. If not, as always let me know in the comments! I love nothing more than a good sob story, as you well know by now. Good luck next week you lovely people! Happy Matt signing off… Next week will be the seasons final wash-up, before I write up an end of season 'debrief'. Boy, will some of us need it…