The Friday Scramble: Round 21
If there is one thing you can be sure of it is that there will be some absolute carnage during the Supercoach finals! So for what I sure won't be the last time we strike trouble this year, let's Scramble!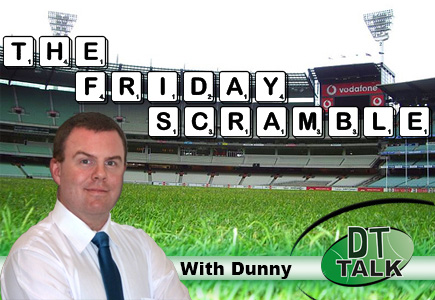 One week down for our Fantasy finals and hopefully you are still alive, even better, you might have gotten yourself into a Prelim final.  However, as usual there is a snag in the road and his name was Luke Parker… but if that is where we thought the snags would end then we were sadly mistaken. Selection was an absolute nightmare after being good for us for the last few weeks. We need to have a good look at him and what the hell we will do and also what we are going to do with our trades that remain in RDT and SC.
Should I Double Downgrade this week?
Well there are plenty of things you can think about here in AFL Fantasy. If you have the week off you might like to take the plan of double downgrading for cash so that you can do some big upgrades next week. This is a strategy that many will employ. However, I just want to bring to your attention a potential pitfall here. The only circumstance that I would consider doing this is if your team is absolutely perfect and you have no on field issues. If you have an issue I would fix that up this week, mainly because you have no idea what might happen next week. You might pick up two issues that need to be dealt with next week and because you didn't fix them this week you could find yourself in trouble in your Prelim.
More Injury Problems!
Well another week another injury. Now we have Luke Parker that won't be in our teams for the remainder of the year. Unfortunately he lost a bit of cash this week ($30k in AF and $27.9k in RDT) and is down to $478k in AF and $472,500 in RDT. You can't ride him out so we have to look at some trade options. I am going to give you options at around the same price, obviously if you are flush with cash then you should be getting in the best available player.
The guys around Parkers price that I would be looking at would be Rory Sloane at ($456,100 RDT and $465,000 AF). I know that he has had his issues and may have been in and out of your team already this year, but given he is so cheap and we know he can score (136 last week) and he has the Lions at Adelaide Oval this week, he would be my best value bet. At basically the same price you could pick Trent Cotchin .($472k RDT and $478k in AF) The Tigers have been going well although his scoring hasn't been the best. So he may be tempting, but I don't think I would pick him myself. If you are in the 49% of the competition that don't have Robbie Gray you can get him for just $13k more in RDT and $6k more in AF. However given the way the Doggies are going, Mitch Wallis is one that you can consider and he will cost you only $14k extra in RDT and $6k in AF. I was going to recommend Tom Mitchell however, we all know how that story ends!
Selection Table
Bloody hell!  What happened!
Well firstly we have no Buddy back still this week, this is 3 weeks out now. We know about Parker so that wasn't a surprise.  But, then the first one I noticed as the teams came in was Jack Steele has been Rested.  Rested… are you kidding me? The guy only played a half against Port and even then only had 8 touches and 4 tackles, hardly a day that would see him stuffed. But as I scanned that game I then noticed that Tom Mitchell is out again.  And not for the first time I went off in my twitter holster and called for Longmire's head! However, I then learnt he copped a poke in the eye today at training. When is this guy going to catch a break! There were the conspiracy theorists who thought it might have been Horse himself that did it, but others such as our own Griff put his hard earned on the fact it was Tippett.
However, this wasn't the end of the carnage.. ooohhh no, not yet.  Popular choice Andrew Boston is also out, but seriously he should only be covering your bench at this stage. Are you still carrying Daniel Rich? Well now you have an excuse to get rid of him as he is out with a sore Glute. Now I am not sure what happened at Saints training this week, but they should have stayed home! No fewer than 7 Saints are out injured. But the biggest name of the seven was David Armitage. He hasn't been in the same form as he was earlier in the year, but still, we don't want to have to use a trade.
Are we finished yet? Noooo way! Then, down to Doggie land and we have two that will hurt us!  Matty Boyd has had his regular check in with the General, and then the great surprise packet, Liam Picken is out with a sore back!
So there you have it, a horror week at selection to go with our injuries suffered this week.  But there was some good news to be had.  We saw Adam Treloar, Stephen Coniglio, Nic Naitanui and Mark LeCras all return.
In terms of what all this means to you, well if you are in an elimination final this week, then Trade Trade Trade.
So should I trade these guys out?
Tom Mitchell went out with that poke in the eye and the Swans have said that it is obviously one game, but it may be two weeks.  This spells alarm bells to me. I am quite concerned and I will be looking to trade him out.  If we were half way through the season and had a heap of trades then I would be holding. But if you are going to have to put him on the bench and bring on someone that is likely to score 50 points less than him, you simply can't afford to do it. You can't go into a knockout final and know you have a player that won't get you as many points as a premium would.
With David Armitage I haven't been able to find out how long he may be out for, given it is a shoulder we may be looking at more than one week so I would trade him.
Matty Boyd's General Soreness is only expected to keep him out for the one week according to Luke Beveridge on the Doggies website. So if you have him in RDT or SC and actually have good cover then you could consider keeping him. Obviously if you have no decent cover, Trade.
Things To Remember:
Don't get eliminated trying to save trades. If it looks like you won't win your game without trading, then trade! You don't want to go out of your league finals with trades in the bank.
Trade for the future. Look for guys that have had a bit of a rest recently or are absolutely no chance to get a rest. You don't want to be trading yourself into trouble.  Look for teams that are going flat out for a ladder position like Adelaide, Geelong and Sydney.  Particularly Sydney as they have the best run home.
Did someone say Captain? Make sure you check out Calvin's Captains this week to see what he has to say.  One guy that I am staying clear of is Goldy as he is up against Sandi. That just spells risk to me, however the one saving grace is Etihad Stadium where he is averaging a massive 140 in SC and 119 in DT.
Don't trust a Lyon. We know what he is like.  When trading in this week be very careful.  They play Melbourne at home next week.  I am expecting him to rest players then, there may even be late outs this week I reckon.
Good luck in your finals this week, I hope you all have a win (unless you are playing me of course) and get yourself through to either a GF in Supercoach or the Prelim in DT and AF.  I would be keeping a close eye on twitter today as I am sure we haven't heard the last of the changes this week.  Catch you all next week.