Lampe's Price Watch – Semi Finals
The epic Price Watch from Lampe is here for round 21. Get your fantasy trades sorted for the semi finals.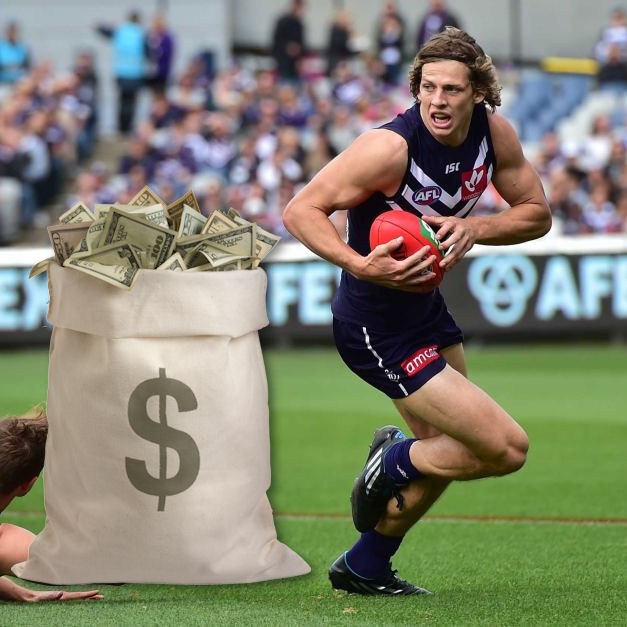 Wow, what a week round 20 was for many of us! It was one of the highest scoring rounds in recent memory and our players delivered in spectacular fashion for the first week of finals.
Round 21 marks the second week of finals, with the teams playing off in league matches this week facing all or nothing elimination battles. Whether you are desperately looking to upgrade for a league match, have the week off, or you're playing for pride and your best ever overall ranking, the premiums you trade in now will literally make or break your year.
Here is a look at some of the best and worst options, in each of the four lines.
Defenders:
Buy:
Jarrad McVeigh ($492,000): I've backed him in a few times lately and he hasn't always delivered, but if there was ever a time for McVeigh to get back to his very best it is now. McVeigh has the friendliest run home of all the premium defenders, coming up against GWS, St Kilda and Gold Coast in the final three rounds of the fantasy season. He posted 111 and 131 on the Giants and Suns earlier this year, as well as 129 in his 2014 encounter against the Saints. McVeigh has hit back with monster scores of 125 and 131 in two of his last three matches, and could be in for a massive finish to the 2015 season.
With the Swans pushing to make the four, McVeigh should be going full bore in the final three rounds of the home and away season. If you're into fixture trading, this is about as good as it gets.
Corey Enright ($465,000): Could Enright come up trumps one last time, as the Cats push to make the finals? In what looks like being his final season, the Cats and Enright will be giving everything in the last three rounds to try and sneak into eighth spot. He has a favourable run home with matches against Collingwood, St Kilda and Adelaide, having already scored a monster, season high 150 against the Pies earlier this year. Enright had 92 and 108 against the Saints and Crows last year, and has been in good form with a five round average of 91.2. It's not of the upmost importance now, but with a break-even of just 76, he can easily be sideways traded if things don't turn out as planned.
I am backing Enright to up his game, in what could very easily be the last three matches of his brilliant career. He is an absolute champion, with a favourable draw ahead and good recent history against his upcoming opponents.
Avoid/Trade Out:
Elliot Yeo ($417,000): Unfortunately the Yeo-Yeo Coaster is on a downwards spiral that might not be able to be stopped, at least in 2015. Yeo had an incredible patch of form between rounds 5-12, but has been significantly down in his output of late, with scores of just 51, 47 and 69 in his last three matches. He looks to be spending less time in the guts with some of the Eagles more hardened and experienced players returning, and he is seemingly locking down more heavily on opposition defenders, given that virtually the entire first choice Eagles backline is sidelined through injury. Yeo's break-even has ballooned out to a sizeable 120, and this could be the ideal week for the 11.81% of owners to upgrade him to one of the big boys before another hefty price drop.
Yeo still has the potential to produce big numbers, but it is looking less and less likely as the season goes on. I'd avoid the risk of a stinker in a high stakes elimination final and trade him to one of the big guns while you have the chance.
Midfielders:
Buy:
Tom Rockliff ($556,000): I don't want to talk about the same players every week but I would be misleading people if I didn't mention Rocky again right now. Imo, he will be the number one fantasy player for the remainder of the finals series. He is incredibly under-priced, looking very close to full fitness, and is getting back to top form. Rocky pumped out his highest score of the year last weekend (143), adding to his totals of 123 and 124 before that. He faces Adelaide this week, a team had 18o on last year, and they rarely if ever use an out and out tagger. This is indicated by Heppell (128), Goddard (125) and Stanton (118) all managing big numbers last week, despite being demolished by 112 points.
Rockliff is getting closer to his best with each passing week, and should end the year with some fantastic scores. His break-even is only 68, so if you wait another week, it will be considerably harder to afford the Lion's captain.
Nat Fyfe ($521,000): I wasn't in favour of jumping straight on board the Fyfe train last week, as he was returning from a two week injury layoff. This was primarily due to the number of players who have scored poorly or re-injured themselves, shortly after their return (Ablett, Rocky and Sloane quickly spring to mind). However, after watching his incredible second half against the Eagles, and factoring into consideration that he is significantly under-priced, I think he is now worth trading in. Fyfe comes up against the Kangas, Dees and Port in his next three encounters, having already notched 111, 113 and 95 on them earlier this year. As long as he can stay injury free, I think he is one of the better value options for the remainder of the year.
Given his immense talent, low price and the fact that there are only three weeks left, I am willing to take the punt on him and I am predicting Fyfe to go 100+ in each of his final three matches.
*Side note*- If you're looking at going real cheap and saving some dollars, than Rory Sloane ($465,000) is your man. He had a season high 136 last weekend, and plays Brisbane this week. He had 160 on them last year and he should be very good again this weekend.
50/50:
Liam Shiels ($562,000): Shiels is one of the competitions most underrated players, both in terms of AFL and fantasy. He quietly goes about his business, leaving the flash and recognition to others and simply gets the job done. Shiels has been in incredible form lately, scoring six hundreds form his last eight matches, including 126 and 130 in his last two. He is not afraid to get in and under, regularly recording 8 or more tackles (including 11 and 17 in his last two matches), as well as 20-30 touches to go with a handful of marks. Shiels looks to have been released from the tagging role that significantly hindered his fantasy game over the last few years, and cops virtually no attention himself, given the plethora of superstars around him.
The only reason I have Shiels as a 50/50, is that rightly or wrongly, I still don't have full confidence in him come a big elimination final. However, he has been in sensational form and has a terrific run home against Port, Brisbane and Carlton.
Avoid:
There are a few midfielders who need to be traded, or should be avoided right now. For those that have Luke Parker ($478,000) he is the obvious must trade. Many were holding onto him in the hope he could return to form with his easy run home, however this was no guarantee, and the forced trade might turn out to be a good thing in the end. Michael Barlow ($465,000) is one that I have kept backing in to return to form, but I have finally given up on him after his horrendous outing against the Eagles. Seriously, 19 points and a vest, what is that!? Brad Ebert ($495,000) is a player that I have avoided the temptation of getting for many years and I have instantly regretted it since giving in to desire. I would advise coaches to look at upgrading him if you have the luxury trade, and to avoid jumping aboard the roller coaster in coming years, no matter how good his first five rounds are.

Click here to subscribe on iTunes.
Rucks:
Buy:
This is how I would order the big three this week:
1) Stefan Martin ($606,000): Martin is the clear stand-out behind Goldstein in the rucks this year. He has had scores of 134, 138 and 124 in his last three matches, and has unbelievable consistency for a big man. He plays the Crows this week, a team he had 136 on earlier this year, and should smash them once again.
2) Sam Jacobs ($492,000): I had to go with Jacobs as number two for reasons that will be further outlined below. He is incredible value at under 500k, has a break-even of only 83 and has posted two hundreds on the trot. Both Martin and Jacobs should go 100+ against each other, as both will win the majority of their points around the ground, in what should be a free flowing contest.
3) Todd Goldstein ($659,000): No-one can take anything away from what Goldy has achieved this year. He has had by far his best year, and is considered by some to be a real Brownlow chance. However, he did go under 100 (92) for the first time in 10 matches last weekend, and comes up against Sandilands this week. He only posted 73 against the Dockers earlier this year, and he may be in line for another sub 100 score and subsequent price drop this week. For those of us that haven't been able to afford him, his break-even is 140, and he may finally be reachable next weekend when he comes up against the Bulldogs, and… Ayce Cordy.
Forwards:
Buy:
Tom Mitchell ($496,000): Mitchell was freed up last weekend, and left to show the full extent of his abilities against the Pies. 41 possessions and 138 fantasy points later, he left us in little doubt as to just how good that is (Possibly with the exception of Longmire, who seems to have a vendetta against him). Mitchell is only sub 500k due to his green vest against the Eagles, and the only other time he has gone under 87 fantasy points, was on the occasion he copped the red vest against the Tigers (Surely he will play the entirety of the remaining home and away fixtures, given his match winning performance last weekend though…). If you need more incentive to jump on the Mitchell bandwagon, he could be off the charts in his final three outings, when he comes up against the Giants, Saints and Suns (I'm predicting 130+ in the Prelim and Grand Final).
His break-even is only 58, and with his draw ahead, it wouldn't surprise me if he finished the year above 550k. Mitchell's only in 33% of teams, so he is unique enough that he may be the difference between a win and a loss in a big DT Final.
50/50:
David Zaharakis ($408,000): Another player out of left field. Zaharakis has had a poor year given his lofty potential, but has managed to recapture some form over the last month. He has posted scores of 92, 91, 66, 97 and 87 in his last five matches, however his average is still down an enormous 23 points from last year (96 to 73). His 2015 campaign has been predominantly derailed through a serious ankle injury that forced him to miss two months in the middle of the season, along with the untold burden of the Essendon supplements scandal (even if he was one of the players not involved). However, given his potential and return to form, and the fact that the Bombers are going to be "freed up" against the Suns this weekend, he could be in line for his first 100+ score of the year.
Zaharakis is a massive risk heading into elimination finals, but he has the potential to pull it off and average 90+ from here on out. Personally, he is too risky for me, but at just over 400k and with only 1.6% ownership, it will pay off big time if he comes up with the goods.
Tom Lynch ($452,000): Another player who is very high risk, but is a sneaky chance to end the year with a bang. Lynch has actually been quite good this year, averaging over 86 points per game, but he has been overshadowed by the exploits of other star fantasy forwards. He faces the Lions this week and although he only had 74 points on them earlier this year, he should be better than that considering the Crows are pushing hard for a finals berth. He faces West Coast the week after, and although he only had 63 on them last time round, he should be better considering they barely have a first choice defender left to choose from. The final match against Geelong is almost guaranteed to be an open affair (Geelong will do everything in their power to make it so), presuming a finals place is on the line, when you take into account that Geelong will likely have to make up significant percentage in order to sneak into the eight.
Lynch is definitely not for everyone, but if you are strapped for cash or looking for a unique option that could end the year strongly, he is one to cast your gaze upon. He has a five round average of 91, and if things go his way, he could be better than that in the final few rounds.
Final Thoughts:
Lampshade's Lads scored 2477 in round 20, leading to an increase of 539 spots in the rankings to 1615th overall. Even though it was an incredibly high scoring round, this was enough for me to move straight through to a preliminary final in two weeks' time. In terms of my trades this week, I would have liked the opportunity to double downgrade, but unfortunately like many others, I was struck with the Luke Parker injury. Therefore, I am looking at upgrading Parker to either Fyfe, Shiels or Macrae, while downgrading Alex Pearce to a basement priced rookie.
If you have any comments or queries I will be happy to answer them in the comments below, or if you follow me on twitter @David_Lampe1 I will get back to you there.
Good luck to everyone for week two of the finals, hopefully you are still fighting it out in your league and you have a chance to gain your highest year end ranking to date.