Calvin's Captains – Rd. 21
Argggg, crack open a rum and join the Irish pirate for the best captain options for this week. Ignore the fakes and enjoy the original and best right here.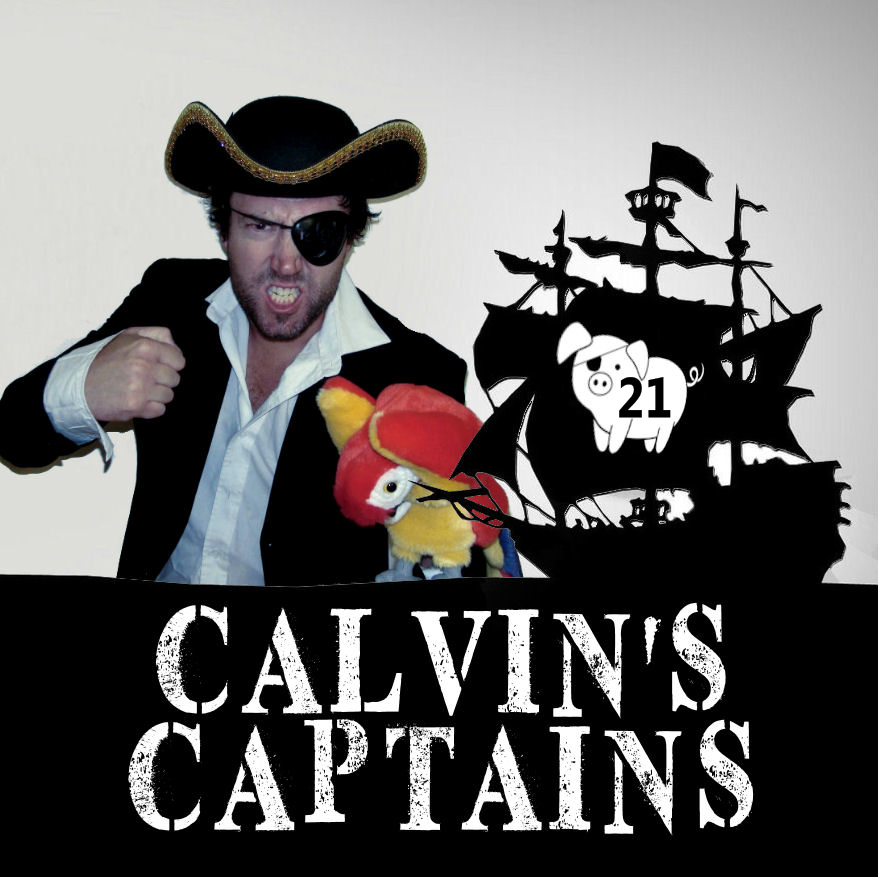 #1 – Tom Rockliff v Adelaide @ Adelaide Oval
Ranked #4 on form over the last 3 weeks, this pig will fly all the home from here on in. He scored 143, 123 and 124 in his last 3 games (avg. 130) and even posted a massive 180 on the Crows last year. Add to that, in his last game at Adelaide Oval (2014) he scored 133 and should be a good thing this week.
Last week, Essendon's big three… Heppell (128), Goddard (125) and Stanton (118) all got the job done on the Crows, and so will this little pig on Saturday night.
#2 – Dustin Martin v Collingwood @ the MCG
Owww…. So so close to my #1 this week so if you are looking at someone different and want to be a little gutsy, take Dusty on this week against a team that Tom Mitchell (138), McVeigh (125), JPK (120) and Hannebery (119) all went nuts on last week.
He has scored 140 and 116 in his last two games and is averaging 109 in his last 5. He also scored 109 and 107 on the Pies in his last 2 runs and will go big against them this week.
#3 – Brent Stanton v Gold Coast @ Metricon Stadium
Oh I hate to say it, but Warnie will be excited again this week. Stanton loves teams like this and has form to match the hype with an average of 120 in his last 3 games this year. Dusty (140), Houli (110), Ellis (104) and Cotchin (100) were all good last week against them and we know they can certainly bleed points on their day.
With Hirdy gone, the Bombers will fire up and win this week and Stants will be huge again.
#4 – Dane Swan v Richmond @ the MCG
Oink oink… he's sitting #1 on form over the last 3 weeks, averaging a massive 137. He has been doing this for a while now averaging 123 over the last 5 rounds and oinking his way around the park like the pig always does.
He scored 117 on the Tigers earlier this year and actually has 6×110+ scores against them in his last 7 games.
Swanny loves playing at the MCG with 6×100+ in his last 7 games there and based on all these stats, I guess you're wondering what the problem is.
The Suns (1×100+), Adelaide (3×100+) and Hawthorn (3×100+) prove that on their day, Richmond are still very hard to score against.
He still sits at #4 though lads, so he's still a bloody gun option this week.
#5 – Jordan Lewis v Port Adelaide @ Etihad Stadium
Lewis has now averaged 108 in his last 3 games and posted 111 in his last game at Etihad. His last 6 scores against the Power go… 130 (Rd. 7), 77, 136, 105, 115 and 130. Solid as.
#6 – Tom Mitchell v GWS @ SPO
Mitchell has scored 93 and 113 in his last two games against the Giants and with Parker tragically on the sidelines, even more opportunities will now be given to this magnet, who had his best score for the year last week thanks to 41 touches.
#7 – Dan Hannebery v GWS @ SPO
He's ranked at #6 on form with an average of 123 in his last three and cruising nicely at the moment. Had 119 last week and 111 against the Giants earlier this year. Might cop a tag from Bugg though, who randomly held Boak to 71 last week. Good luck to him I say.
#8 – Todd Goldstein v Fremantle @ Etihad Stadium
His record against Sandilands is like my record kicking at goals with my left foot. It's sh*t!
He has scored 73, 62 and 86 on the Roos in his last three games and in some of those games, Sandilands didn't even play.
He still scored 92 last week, his lowest score in his last 11 games. His form is still amazing and should never be written off. I'm still expecting 110 from his as he should dominate Sandi over the ground with his run and newfound fitness.
#9 – David Mundy v Kangaroos @ Etihad Stadium
117 and 127 in his last two games, plus has scored 121, 123 and 125 on the Roos in his last 3 games. Wowzers.
#10 – Stef Martin v Adelaide @ Adelaide Oval
Averaging 132 in his last 3 this year (rank #3) sees big Stef on fire. He scored 136 and 123 on Adelaide (Jacobs) in his last two games and certainly appears to have his measure.

Click here to subscribe on iTunes.
WHY NOT CALVIN?
Ok, here I am going to only mention the players that people actually care about and have in their teams. So here is a brief explanation as to why, they were not in my top 10 this week. So…
Why not Nathan Fyfe? Although he has a good record of 111, 119 and 112 in his last 3 against North Melbourne, the tag from Ben Jacobs who held Steven (70) last week is too scary.
Why not Leigh Montagna? Form says 'yes' with his average of 118 in his last 3 but he only managed 64 against the Cats last year.
Why not Jack Steven? 70 last week and an average of 94 in his last 5 means this gun is on the slide. Only managed 57 on the Cats last year as well.
Why not Scott Pendlebury? 113 and 123 in his last two games is as solid as you'll see, but in round against the Tigers, he only had 77, and that was without a tag.
Why not Dyson Heppell? Yeah… I do like Heppell this week but he has been unreliable this year. Scored 128 last week and 122 (2013) in his last game against the Suns. But yes, big roughie.
Why not Luke Hodge? 109 last week and 84 against the Power in round 4. 134 and 66 on them last year, are all just random scores for me. Too risky.
Why not Joel Selwood? Ranked at #5 on form in his last 3 games with an average of 123, but he only managed 70 on the Saints last year.
Why not David Armitage? He scored 112 last week, his best score in his last 6 games. He has never cracked the ton against Geelong in his career 6 games, with just 73 last time he played them.
Why not Sam Mitchell? Cause I don't really like him. He scored 110 and 117 in his last two games this year and usually gets tagged by Port, but not this week. Loves playing at Etihad with scores of 124, 90 and 130 in his last 3 runs. I just don't like him sorry.
Why not Rory Sloane? Was in my top 10, but would now sit at #11. He scored 136 last week and last time he played the Lions he scored 65 at the half, until he got injured on 68. He had 160 and 100 before that and should be good on his home track this week.
Cheers lads. Hook me up for a chat on Twitter: @CalvinDT