Roy's Trade Talk – Semi Finals
Injury, suspension and a new level of spud have forced our hand leading into the second round of finals.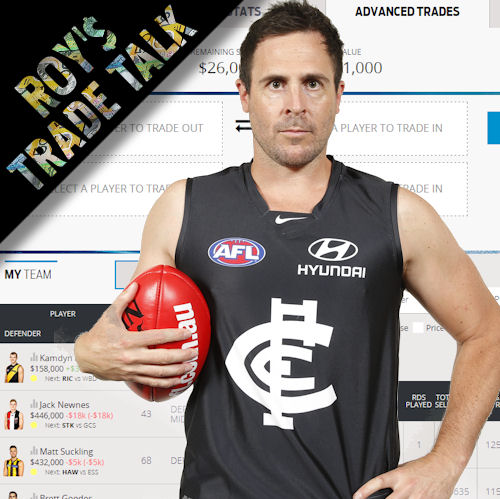 Obviously not everyone got the memo that it was finals time! Michael Barlow (MID, $465,000)… what the bloody hell was that? One of the biggest finals chokes of all time, that's what it was. How about the bad luck, with the likes of Luke Parker (MID, $478,000) going down?! I have both of these guys and my twitter feed has been filled with questions of what to do with at least one of these guys, so that will be my primary focus.
Ok, these two spuds have dropped dramatically in price since the start of the year so it is certainly slim pickings for a straight swap but I have found some food for thought.
Straight swaps/downgrades:
Rory Sloane (MID, $465,000)
has had an injury interrupted season but he finally looks to be back on track. He has dropped 127K since the start of the season, but things are on the way back up with a break-even of just 58 on the back of his 138 against the Bombers. This week he plays the Lions in Adelaide and he had a great history against them with 160 last year and 68 in just over two quarters in round 13 this year before going down with an injury.
It would take a DPP swing but I am going to talk about Aaron Hall (FWD, $423,000) again, regardless of the backlash. He is in amazing form since hi move to the midfield where he has become the Suns most prominent ball winner. Last week he had 114 despite playing a tough game in Melbourne against the Tigers where he racked up 29 touches and a goal. That gives him a three game average of 112 and a break-even of just 21 leading into a home game against the Bombers who are giving up points galore.
Throw a bit of cash on them
Tom Mitchell (FWD/MID, $496,000)
is a superstar, and only comes at such a bargain price due to Horse Longmire derailing his year with a combination of vests and tagging roles. Last week he was finally freed up which resulted in a best on ground performance in which he scored an impressive 138. He had a vital 41 possessions and led the Swans to victory and keeping this in mind, along with Parker being out… It is surely safe to assumes the vests will be a thing of the past. SURELY!
If you are in a must win game, Dyson Heppell (MID, $506,000) looks set to provide an instant reward against the Suns. He is coming off a great score of 128 last week and the Suns have been providing a frenzy of points to opposition teams. He provides great value after dropping 100K since the start of the year despite averaging 103 for the season and his break-even of 80 reinforces his value.
Unique option
Mitch Robinson (FWD/MID, $547,000) is in career best form and his Fantasy numbers reflect that with a five round average of 121 and a three round average of 133. He has not dropped infer 114 in his last four games and is coming off a whopping 166 on the weekend to give him a break-even of just 40 leading into this week's match against the Crows.
Top 5 Premo Mids for the run home-
(Excluding MID/DEF because all good DEF should be sitting back there)
Tom Rockliff (MID, $556,000)
Dane Swan (MID, $619,000)
Dan Hannebery (MID, $594,000)
Brent Stanton (MID, $604,000)
Tom Mitchell (FWD/MID, $496,000)
Patrick Dangerfield (MID, $590,000)
Scott Pendlebury (MID, $586,000)
Mitch Robinson (FWD/MID, $547,000)
Leigh Montagna (MID, $586,000)
Dustin Martin (MID, $549,000)
Sorry boys: Steven, Armo, Adams, Lewis etc.

Click here to subscribe on iTunes.
Twitter Time:
@AFLFantasy Thoughts on going Parker/Smith to Sloane/Hibberd? Or just turn Parker into Dangerfield? Into the prelims :) #AFLFantasy #Podcast

— Luke Crisafulli (@DarthNoctis) August 17, 2015
I like it, Sloane is great value and Hibbo should rip up this week.
Missy doing what Missy does best in Fantasy Finals…F All! #AFLFantasy

— Jeppa (@JeppaDT) August 15, 2015
Like clockwork.
https://twitter.com/billystretchy/status/633194718571065344
Tom Mitchell will have a massive finish!
@RoyDT @WarnieDT @CalvinDT Whats the best trades for yeo and parker

— Corey Tucker (@SoFuzzie) August 17, 2015
Griffen and Sloane
@RoyDT @CalvinDT @WarnieDT Thoughts on cam guthrie? last 3 116,117,124

— Jordan Tran (@JordanTrann) August 17, 2015
Great numbers! I just don't trust him for some reason.
@WarnieDT @RoyDT @CalvinDT with finals now I've traded Ziebell to Stanton. If I have extra trades is it worth using it?

— Jack Cooksey (@triggywiggy) August 17, 2015
Fix up a bench spot and make some cash
All the best guys,
@RoyDT
Ps. To those people that had a sook about the players I mentioned last week, have a quick look at how Gilbert, Hall, Hunter and Hill performed. (Yes, Higgo sucked but that was after he was injured while leading disposals early in the first).